NEWS
Pre-match day report for futsal international friendlies between Japan and Croatia (16 Dec)
17 December 2014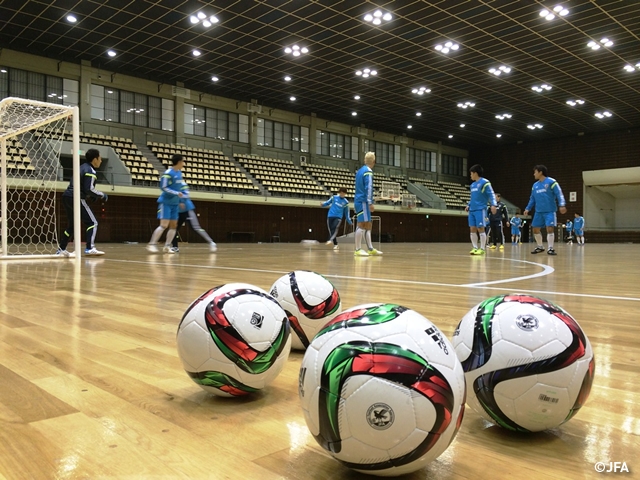 Japan National Futsal Team's preparation for international friendlies against Croatia National Team went into the day 2.
Since the first day was spent solely for recovering, the players looked more energetic today. But again the morning was spared for some more resting, and they started practicing in the afternoon. It was not too intense, and rather remained as reviews of corner-kicks, kick-ins and free-kicks. Although the rain was falling unfortunately and the temperature was low, the players' concentration was there for the only international match opportunity in a year played at home in Japan.
In the one-hour workout, the all players appeared moving crisply and showed they had been doing good conditioning. The first match on 18 is two days away, and the team certainly look to stay in good shape.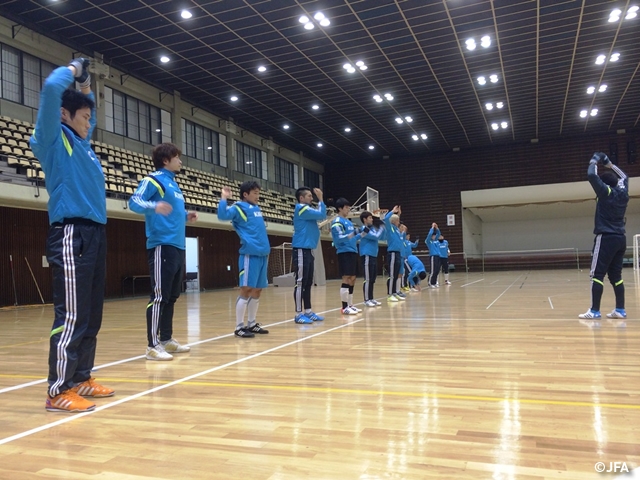 Comments
NIBUYA Kazuhiro (Vasagey Oita)
I could sleep very well because we didn't have practice in the morning. In the afternoon, we started with light jog and reviewed corner-kicks and kick-in plays. We have been doing good preparation, so I will keep focusing on it tomorrow. I am looking forward very much to the national team match at home. We will play together against Croatia, enjoy playing and show everything we have. And we will win.
KATO Ryuma (Bardral Urayasu Futbol Sala)
We just had light workout today. We reviewed some set-pieces today, but we could do those with good amount of concentration. I personally think I will definitely be nervous playing a national team match in front of our home crowd, but even so, I will make sure to play my style of futsal. Tomorrow we will have a good practice again and get prepared well for the match.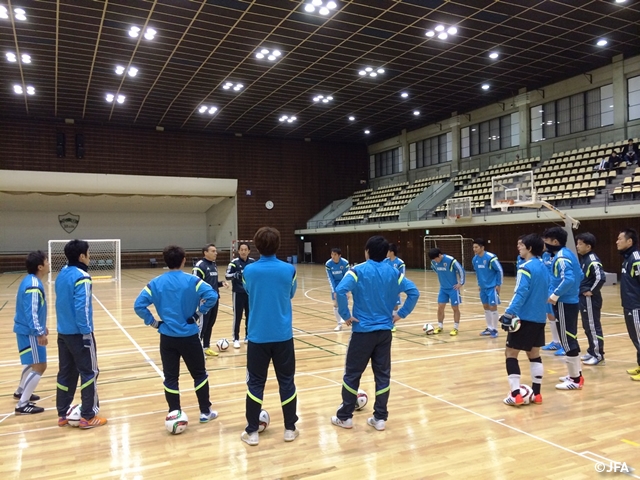 Schedule
Mon. 15 December
AM
Training
Tue. 16 December
PM
Training
Wed. 17 December
PM
Official Training
Thu. 18 December
19:00
International Friendly Match vs Futsal Croatia National Team
(Komazawa Olympic Park Gymnasium)
Fri. 19 December
PM
Official Training
Sat. 20 December
18:30
International Friendly Match vs Futsal Croatia National Team
(Green Arena Kobe)
International Friendly Match
Thu. 18 December (Komazawa Olympic Park Gymnasium)
International Friendly Match vs Futsal Croatia National Team
Kickoff 19:00 (plan)
Sat. 20 December (Green Arena Kobe)
International Friendly Match vs Futsal Croatia National Team
Kickoff 18:30 (plan)