NEWS
Japan's futsal squad assemble for Croatia clash!
16 December 2014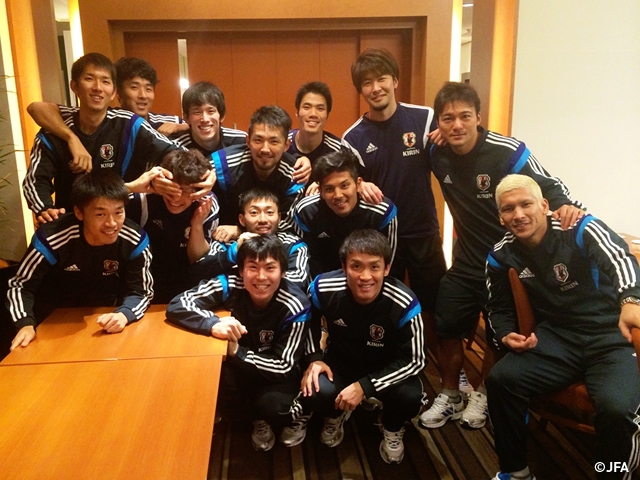 Japan National Futsal Team began their training camp on Sunday 14 December in preparation for the international friendlies against Croatia on Thursday 18 in Tokyo and Saturday 20 in Kobe.
As the squad just finished the F.League matches on the Central Series last week, they seemed to be tired. On the first day, the players focused on recovering from the fatigue with eyes for the first match on 18.
After the squad had breakfast and took a rest for the rest of the morning, they took a walk in the neighbourhood round the hotel and went through stretching before lunch. In the evening, they all went to spa and relaxed laying down in a big bath and enjoying a water bath. Their entire day was spent for resting their bodies.
When the players were chatting after dinner, coach Miguel started to talk to them. "Croatia are very good with modern tactics and they had good matches against top teams in the European Championship. But don't be scared and fight out just like you always do. It's an opportunity to show how the Asian Champions play to your family and friends. We need to make the performance in the AFC Championship final our standard and add up something on it." The boss motivated his players with his words for the upcoming Croatia matches.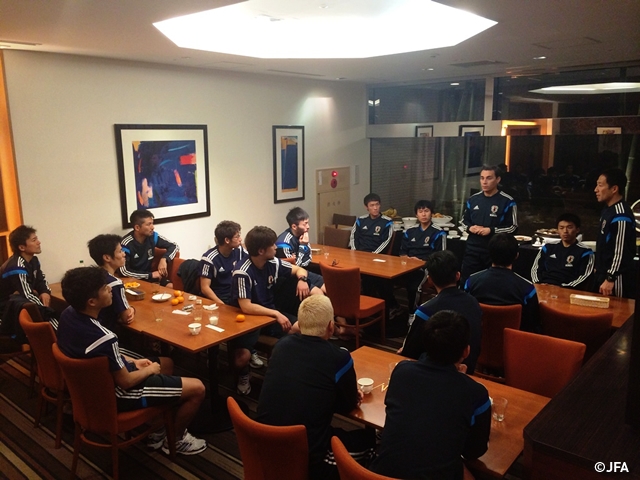 Comments
NISHITANI Ryosuke (Deucao Kobe)
We began the training camp for the Croatia matches held in Japan. I had two (F.League) Yokohama Central matches so I focused on recovering today. We took a walk around and went to spa together to communicate with each other and keep good level of tension. Personally, it's my first time to play a national team match at home. I may get tensed but I will try not to relax too much. I will keep the match on my mind and show what I have when the time comes.

YOSHIKAWA Tomoki (Nagoya Oceans)
Today we spent our time for recovering and went to spa to refresh our mind and body. The F.League is now in the final phase, so everyone has had the fatigue level going up to be honest, but I will fight against Croatia feeling the pleasure to play a match in front of Japanese fans. Now it's three days to go. We will get well-prepared for the match. Come and see our match in Komazawa and Kobe. We will show you the heated contest.
MINAMOTO Akira (Fuchu Athletic F.C.)
Preparation for Croatia matches began today. As matches in the league are ongoing, we are preparing to take on those matches in good form. Friendlies in Japan is a very important opportunity for us as it takes place once a year or even it does not happen at all. We will deliver you how the sport of futsal is fun. And we will try to live up to fans' expectations, making them think "they may make it happen" in the 2016 World Cup.
Schedule
Mon. 15 December
AM
Training
Tue. 16 December
PM
Training
Wed. 17 December
PM
Official Training
Thu. 18 December
19:00
International Friendly Match vs Futsal Croatia National Team
(Komazawa Olympic Park Gymnasium)
Fri. 19 December
PM
Official Training
Sat. 20 December
18:30
International Friendly Match vs Futsal Croatia National Team
(Green Arena Kobe)
International Friendly Match
Thu. 18 December (Komazawa Olympic Park Gymnasium)
International Friendly Match vs Futsal Croatia National Team
Kickoff 19:00 (plan)
Sat. 20 December (Green Arena Kobe)
International Friendly Match vs Futsal Croatia National Team
Kickoff 18:30 (plan)