NEWS
Futsal Japan squad begin training camp before Croatia games
02 December 2014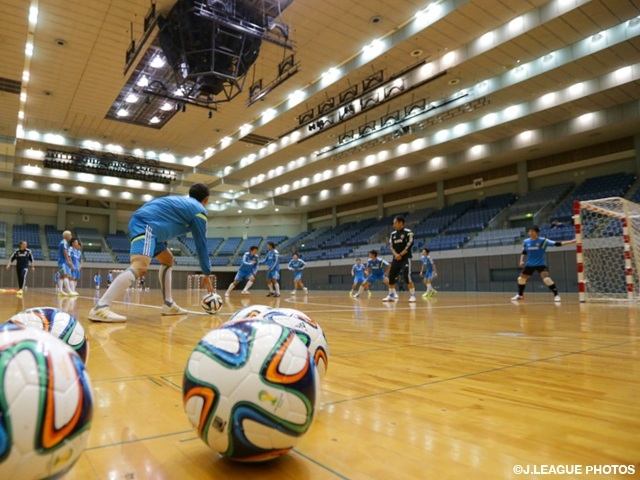 Futsal Japan national team began their training camp in Chiba Prefecture to prepare for games against Croatia on 18 and 20 December. The 17 players will practice for three days until the 3rd.
Considering the fatigue of the players who just came out of their league play, they got to go through light menus on the first day. They played tag in which they could only move on the lines drawn in the gymnasium to warm up, and then they were divided into two groups to play pass exchanges in narrow areas to increase the workload.
They checked on their set pieces in the end. They went through training, which three players were asked to make shots within eight one-touch passes against one defender and a goalkeeper. The intensity was low, but the players were asked to have better derision-making as they were limited to have eight one-touch passes or less.
They had higher motivation as they'd set to play against Croatia, though they were showing smiles while keeping their concentration.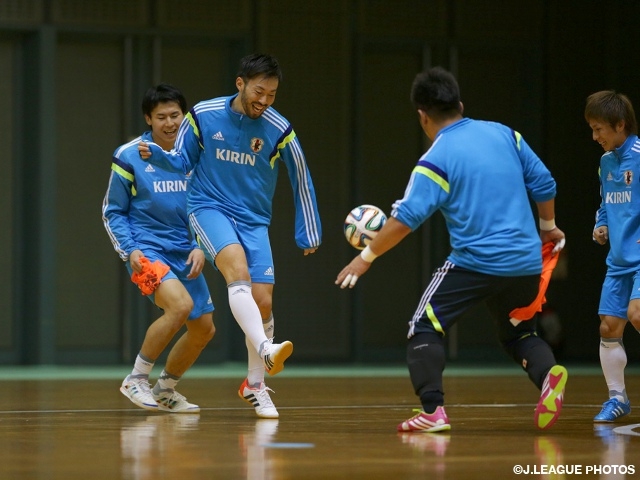 Comments
TAKITA Manabu (ASV Pescadola Machida)
This is a training camp held during the league is being played, but as we get to play against Croatia in international friendlies, our motivations are getting higher. Honestly, we have some fatigue from our league games, but we will do our best effort that we can in this three day, so we can make it fruitful time for me and the team.
FUJIWARA Jun (Bardral Urayasu Futbol Sala)
We've began a training camp for the first time in a while to prepare for our games against Croatia. I think that while our time is limited, it will be important how much we will be able to maintain our concentrations and communicate with each other. Individually, I would like to firmly take communication with my teammates who I usually don't play with. Also, we have this training camp at Chiba Port Arena in Chiba Prefecture, and we would welcome anyone would come to observe our training.
NISHITANI Ryosuke (Deucao Kobe)
We began our training camp from today. We went through light menu, partially trying to recover ourselves, and lightly checked on our tactics. Our time are limited to just three days in this training camp, but we would like to make every day so valuable, taking communications inside the team, while we would like to deepen the understanding of our tactics. We would like to go about our training, keeping our tension.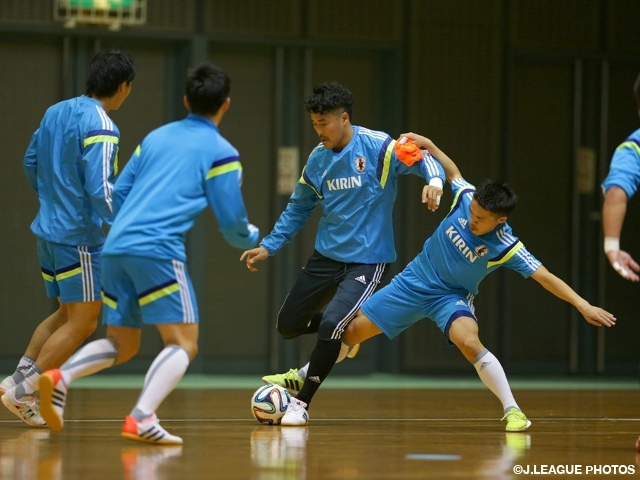 Schedule
| | | |
| --- | --- | --- |
| Mon. 1 December | PM | Training |
| Tue. 2 December | AM/PM | Training |
| Wed. 3 December | AM | Training |
Following Schedule
Sun. 14 to Wed.17 December
Training Camp
Thu. 18 December
International Friendly Match vs Futsal Croatia National Team(Komazawa Olympic Park Gymnasium)
Sat. 20 December
International Friendly Match vs Futsal Croatia National Team
(Green Arena Kobe)
International Friendly Match
Thu. 18 December (Komazawa Olympic Park Gymnasium)
International Friendly Match vs Futsal Croatia National Team
Kickoff 19:00 (plan)
Sat. 20 December (Green Arena Kobe)
International Friendly Match vs Futsal Croatia National Team
Kickoff 18:30 (plan)