NEWS
Japan's futsal team wrap up training camp, set for Croatia match
04 December 2014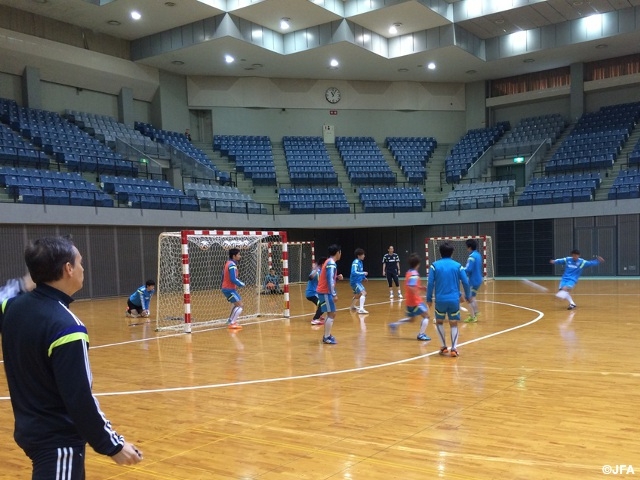 Japan's futsal squad worked out in the morning of the third and final day of their training camp.
After divided into three teams, the players worked on game-style practices as they reviewed the attacking formations that they went through on the first two days and the basic defensive tactics in detail. The team finished each set of drills with set plays and shared various pattern of free kicks and corner kicks.
Head Coach Miguel called out aggressive plays to the players from the outside of the pitch, and occasionally stopped the practice and got onto the pitch to adjust where on the pitch players should be and which direction they should face in every key play. .
The camp was wrapped up after four training sessions in three days. Miguel's side are scheduled to have international friendlies against Croatia on Thursday 18 and Saturday 20 December with the 14 players selected out of the members who took part in the camp.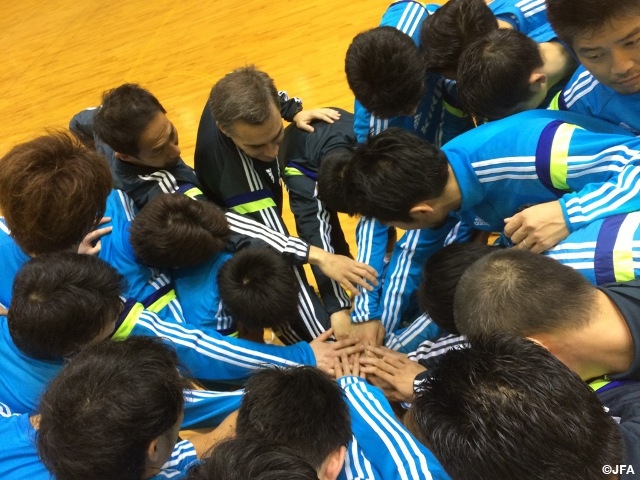 Comments
MORIOKA Kaoru (Nagoya Oceans)
The training camp was less intense compared to other gatherings, and we were able to review lots of set plays for Croatia matches. And we were asked for more one-on-one challenges and more finishes. We had good concentration on each workout even  though it was a short camp. The team mood was also good as usual and we finished up the three-day training as we support each other well.
SEKIGUCHI Yushi (Espolada Hokkaido)
We had practices in quite good atmosphere and finished the fulfilling domestic camp. On the second day, we had goalkeeper training and I was able to review what I needed to improve. I've personally never played a national team match in Japan, so I want to stay on the 14-man squad to play the matches here in Japan.
SATO Toru (Shriker Osaka)
For the Croatia matches, we as a whole had great training with good tension and good atmosphere during three days. At both ends of the pitch, we went through detailed tactics as a team and had communication between players for every little thing. I will work hard on my individual assignment that I found in this camp and hope to capitalise it for my future.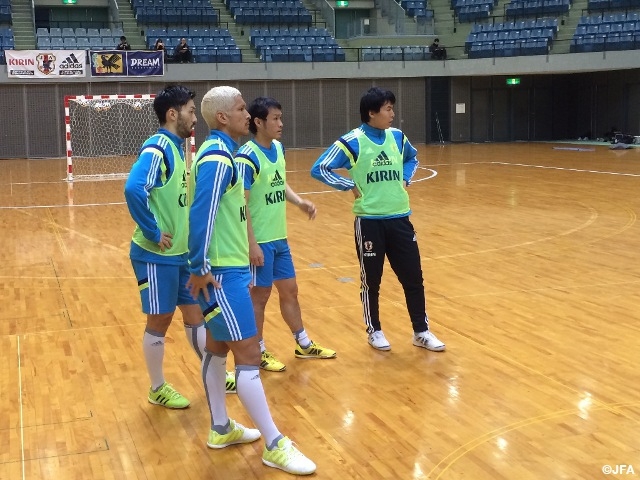 Schedule
| | | |
| --- | --- | --- |
| Mon. 1 December | PM | Training |
| Tue. 2 December | AM/PM | Training |
| Wed. 3 December | AM | Training |
Following Schedule
Sun. 14 to Wed.17 December
Training Camp
Thu. 18 December
International Friendly Match vs Futsal Croatia National Team(Komazawa Olympic Park Gymnasium)
Sat. 20 December
International Friendly Match vs Futsal Croatia National Team
(Green Arena Kobe)
International Friendly Match
Thu. 18 December (Komazawa Olympic Park Gymnasium)
International Friendly Match vs Futsal Croatia National Team
Kickoff 19:00 (plan)
Sat. 20 December (Green Arena Kobe)
International Friendly Match vs Futsal Croatia National Team
Kickoff 18:30 (plan)