NEWS
Japan women's futsal national team's activity report from the Women's Futsal World Tournament (6 Dec)
07 December 2014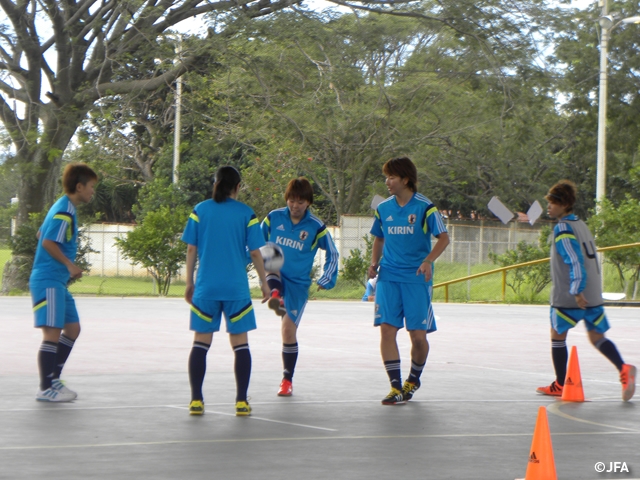 The Japan women's futsal national team, who will participate in the fifth Women's Futsal World Tournament, gathered together at Narita airport on 5 December. They flew to San Jose, the capital city of Costa Rica, via Atlanta, arriving in the evening on the same day. Despite the long flight, the players did not seem to be tired.
They held a practice session from 9:00 in the morning on 6 December. In the meeting before the practice, Arihara, the head coach, told the player: 'think about the team first, rather than your own game. Let's show the world Japan's unique playing style.' The players shared the team's concept once again. In the morning session, they did light exercise, such as juggling the ball and passing & controlling the ball. After the training, the players spent some time playing futsal together with the pupils, who attended the local Costa Rican Japanese culture school.
In the afternoon, the players held more practical training in a match-like situation.They paid a visit to the Embassy of Japan in Costa Rica that night and enjoyed beautiful food. The players got many words of encouragement from the staff at the embassy.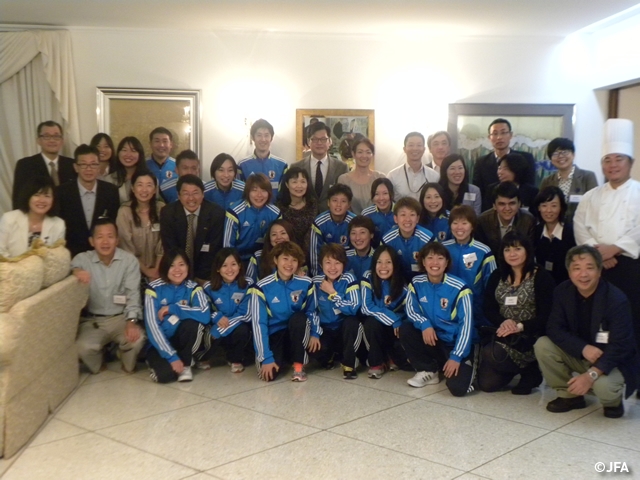 Comments
ARIHARA Masaaki, Head Coach
We arrived in Costa Rica safely and started to acclimatise to the local time and weather. Our rivals in the same group, including Portugal, Russia and Brazil, are all very tricky and formidable opponents. Having said that, if we believe in our new playing styling, enjoy daily change or improvement and get ourselves ready for our first match, we will have an opportunity to advance to the semifinal. Three countries in our group have constantly ranked in the top four until the previous championship. In our first game, we need to show more than we can normally do. On the other hand, we can focus on each match with a fresh mind, as we haven't got anything to lose. We'd like to prepare ourselves for our first game, finding many more positives.
NAKANO Emi (arco-iris KOBE)
Throughout our first day, we enjoyed our practice and stayed vocal. Although there were some difficult moments during our practice session, we eagerly communicated with each other to solve issues.
As it's our first time to play altogether in Costa Rica, there might be some confusion. However, we're getting ourselves ready as a united team for our first match against Portugal in the World Tournament. It's very rare occasion to face three strong teams consecutively in the Women's Futsal World Tournament.
Against those strong opponents, we'll stay positive, focusing both on attack and defence all the times, aiming at our top target.
I think it's a good opportunity to watch the Japan women's national futsal team's game. So please come and enjoy our international friendly at the Green Arena Kobe once we're return from this tour.
YOKOYAMA Junko (FUGADOR SUMIDA Ladies)
I enjoyed focusing on our practice in a limited time on our first day of the tour, despite some negatives, including a new environment in Costa Rica, language problems, an unfamiliar practice ground, climate and jetlag.I think we started understanding our theme, 'density', better, as the players are pretty focussed towards the championship.
Within a limited time, I'd like to practice in order to be able to use every player's good skills. I will play internationally for the first time. I'm looking forward to experiencing the level of international players and knowing how I can play. I'd like to try hard every single moment to make the most of my time joining this tour in Costa Rica.I'll do my best to show what we've been practicing as a united team.
Schedule
Sat. 6 December
AM/PM
Training
Sun.7 December
AM/PM
Training
Mon.8 December
AM/PM
Training
Tue.9 December
AM/PM
Training
The 5th World Women's Futsal Tournament
Wed.10 December
16:00
vs Portugal
Thu.11 December
16:00
vs Russia
Fri.12 December
18:00
vs Brazil
Sat.13 December
AM/PM
Training
Sun.14 December
Semi-Final
Mon.15 December
Third Place Decider/Final
Fri.19 December
AM/PM
Training
Sat.20 December
15:00
International Friendly Match vs Opponent Still To Be Decided(Kobe Green Arena)
*The schedule is subject to change without notice upon the team conditioning, the weather, etc.
International Friendly Match
Sat. 20 December 2014 Green Arena Kobe/Hyogo
Japan Women's Futsal National Team vs Opponent Still To Be Decided
Kickoff 15:00(plan)
More information