NEWS
Futsal Japan National Team training camp report on day two (2 December)
03 December 2014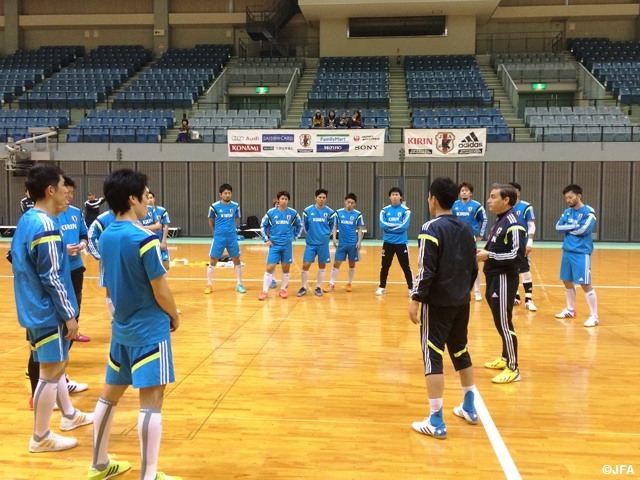 The training camp of Futsal Japan National Team entered the second day with two practice sessions, one in the morning and the other in the afternoon. In the morning, the squad started their training on a full-sized pitch with 6 on 3 passing drills and shooting drills. In the following 2 on 2 and 3 on 3 drills, they reviewed combinations with second and third players based on 1 on 1 play by "ala"s. In those drills, they also shared the finishing strategy, which they have tried to improve. In the end, the players, divided into two groups, played a match to finish up the session.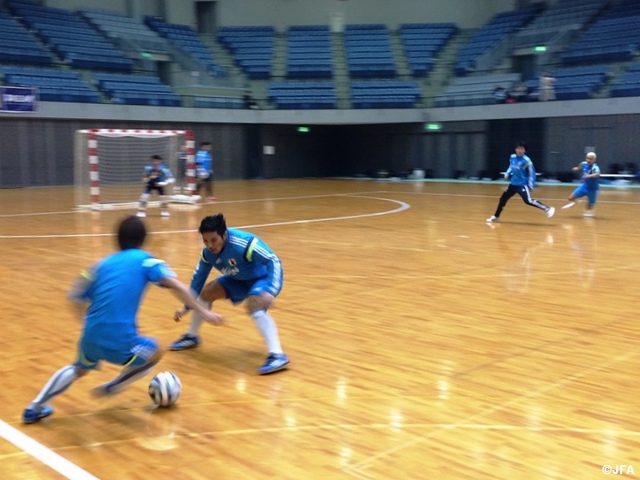 In the afternoon, three goalkeepers started their workout a bit earlier under coach Komori. An hour later, with field players coming out, all players went through the tactics of how to attack from three-man passing combinations to finish, which would be the lifeline of Japan's possession futsal.
The training of the second day was full of intense workouts, but the players communicated well with each other with smiles to get ready for the Croatia matches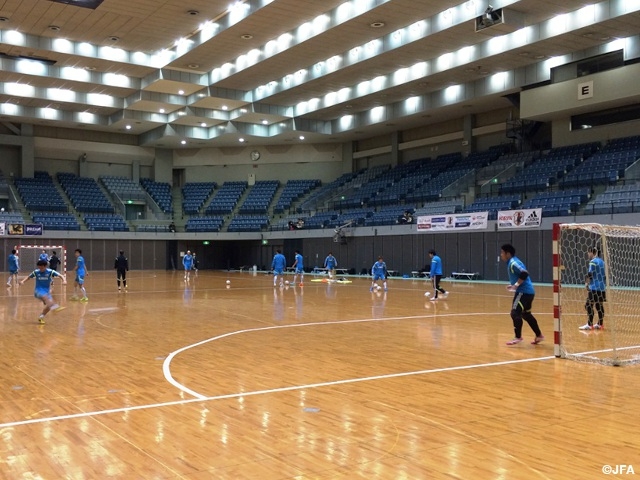 Players Comments
HOSHI Shota (Bardral Urayasu)
It's been a long time since we had the last domestic training camp, but we are being able to practice under great atmosphere and moderate tense as we all peers know each other. We went through various forms of attacking build-up and that made us have more opportunities to utilise our strengths. Now that we need to share everyone's play styles in more detail. We had lots of conversations and tried to convey our opinions today. We don't have much time to the friendlies in Japan, but to achieve the big goal in the future, we want to use time efficiently to show our strengths more aggressively.
OSODO Nobuya (Vasagey Oita)
Our training become more intense as it moved from morning to afternoon. But the mood in the team was good and we had lots of communication, which made our practice fulfilling. We will keep it up for the last practice and make it fruitful.
MAEDONCHI Matias Hernan (Nagoya Oceans)
Personally, it's been a while since I had the national team training camp last time, so I want to play well with other players. I'll keep my focus on the last day, and try to show what I have in preparation for the Croatia games.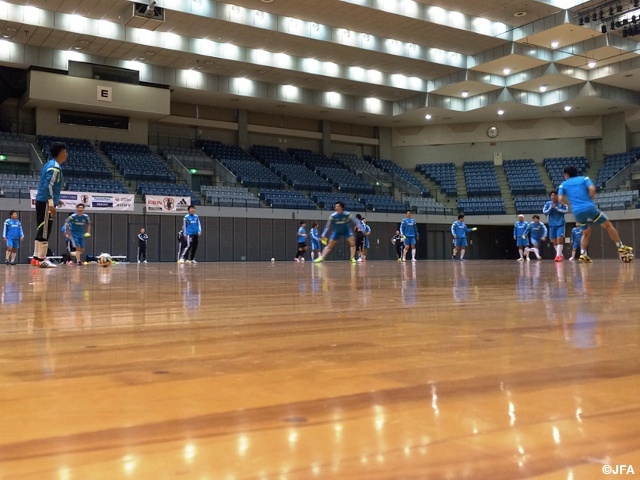 Schedule
| | | |
| --- | --- | --- |
| Mon. 1 December | PM | Training |
| Tue. 2 December | AM/PM | Training |
| Wed. 3 December | AM | Training |
Following Schedule
Sun. 14 to Wed.17 December
Training Camp
Thu. 18 December
International Friendly Match vs Futsal Croatia National Team(Komazawa Olympic Park Gymnasium)
Sat. 20 December
International Friendly Match vs Futsal Croatia National Team
(Green Arena Kobe)
International Friendly Match
Thu. 18 December (Komazawa Olympic Park Gymnasium)
International Friendly Match vs Futsal Croatia National Team
Kickoff 19:00 (plan)
Sat. 20 December (Green Arena Kobe)
International Friendly Match vs Futsal Croatia National Team
Kickoff 18:30 (plan)