NEWS
Top scoring team of the EAST, Shimizu to face Kashima, while Cerezo Osaka and Avispa Fukuoka clashes in the WEST at the 5th Sec. of Prince Takamado Trophy JFA U-18 Football Premier League
02 May 2019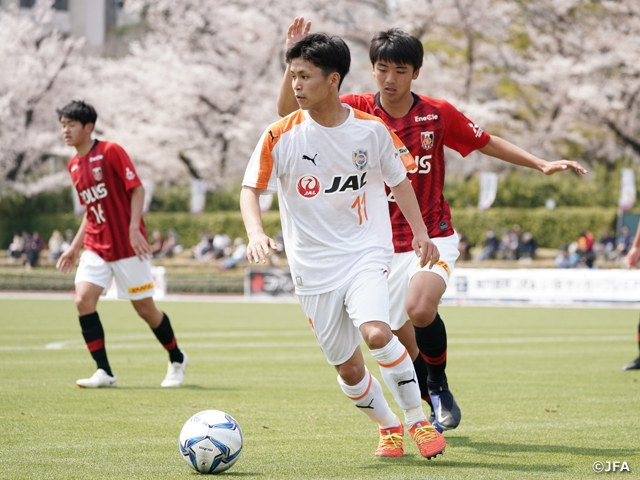 On Saturday 4 and Sunday 5 May, the fifth Sec. of Prince Takamado Trophy JFA U-18 Football Premier League will take place.
EAST
In the EAST, Ryutsu Keizai University Kashiwa High School (Chiba) will welcome Omiya Ardija U18 (Saitama) to their home. With the team conceding three goals, Ryutsu Keizai suffered a complete loss in the previous game week. This week the Kashiwa side will seek to bounce back through their aggressive pressure applied from the front line. After dropping the season opener, Urawa Red Diamonds Youth (Saitama) has been carrying an undefeated run since. The Urawa side will try to keep that streak alive when they face Jubilo Iwata U-18 (Shizuoka) this week.
The match between Shoshi High School (Fukushima) and Funabashi Municipal High School (Chiba) features two strikers who were selected in the Japan High School Select Team. Shoshi's SOMENO Itsuki (#9) and Funabashi Municipal's SUZUKI Yuito (#10) both returned to their team last game week, but both blanked in their returning match. It will be interesting to see how the two aces perform this week. Third place Aomori Yamada High School (Aomori) and second place Kashiwa Reysol U-18 (Chiba) will square off against each other, as the performance of the two goalkeepers, SATO Shibuki (#1) and SHIGA Kazumasa (#1) will play a key role in this close matchup.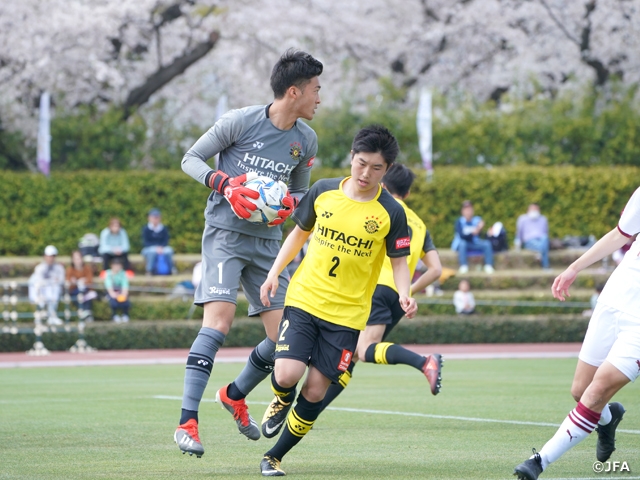 The pickup match of the EAST will feature Shimizu S-Pulse Youth (Shizuoka) and Kashima Antlers Youth (Ibaraki). With their defender NORIEGA Erick (#4) scoring three goals, first place Shimizu is currently the top scoring team of the EAST. The league leaders will certainly be looking to score multiple goals this week as well. Kashima on the other hand, has been dealing with numbers of injuries as they suffered consecutive losses from the season start, but finally got their first win last week. YANAGIMACHI Kaiyo (#10) will lead their offence to rally back.
WEST
After suffering a 0-2 loss to Gamba Osaka Youth (Osaka) last week, Higashi Fukuoka High School (Fukuoka) will welcome Sanfrecce Hiroshima F.C Youth (Hiroshima) to their home. Their key to success lies on their defence led by MARUYAMA Kaito (#4). Fourth place Ozu High School (Kumamoto) has conceded in every match since the season start. They will be facing third place Nagoya Grampus U-18 (Aichi), as their defence will be tested by Nagoya's offence led by TANABE Kohei (#10).
The match between Vissel Kobe U-18 (Hyogo) and the league leaders Gamba Osaka will feature an intriguing matchup in the midfield. Kobe's YAMAUCHI Kakeru (#7) will led his way to take the initiative of the match through their passing football. After starting off the season with a victory, Ehime FC U-18 (Ehime) has been winless since. They will try to bounce back this week when they face Kyoto Sanga F.C. U-18 (Kyoto) at home.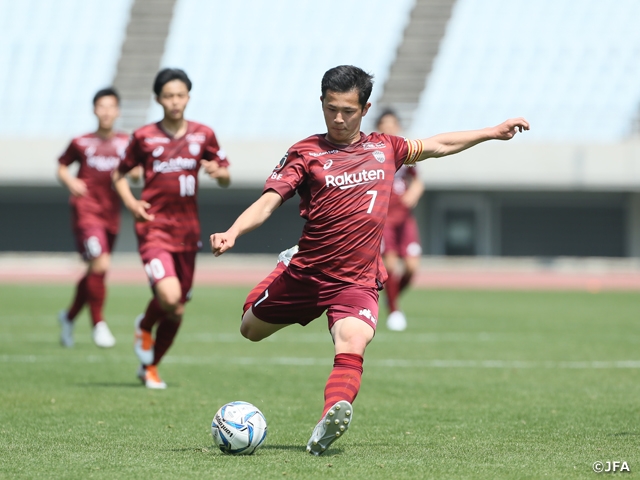 The pickup match of the WEST is the fixutre between Cerezo Osaka U-18 (Osaka) and Avispa Fukuoka U-18 (Fukuoka). Cerezo Osaka earned their first win of the season against Kyoto in the third Sec. but suffered a disappointing loss to Ozu High School last week after firing more shots than their opponents. This week, they will seek to capitalise their opportunities to earn their second win of the season. Avispa Fukuoka on the other hand, has managed to rebuild their shaky defence last week as they earned a shutout victory over Kobe. They will try to showcase a solid performance in defence to earn back-to-back wins. It will be interesting to see which side will earn the three points to gain momentum in the league.

EAST 4th Sec. Highlights
WEST 4th Sec. Highlights
Prince Takamado Trophy JFA U-18 Football Premier League 2019
League Duration: Sat. 6 April - Sun. 8 December 2019