NEWS
EAST features the "Chiba Derby" between Kashiwa Reysol and Funabashi Municipal, while Gamba Osaka and Higashi Fukuoka clashes in the WEST at the 4th Sec. of Prince Takamado Trophy JFA U-18 Football Premier League
25 April 2019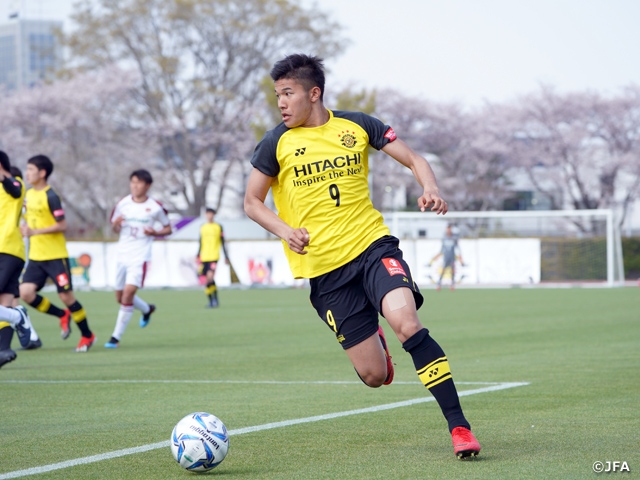 The fourth Sec. of the Prince Takamado Trophy JFA U-18 Football Premier League will take place between Saturday 27 and Monday 29 April.
EAST
Urawa Red Diamonds Youth (Saitama) will welcome to their home the only undefeated team of the EAST, Aomori Yamada High School (Aomori). With Urawa seeking to remain in the top half of the rankings, they will try to keep it a low scoring match to squeeze out their third consecutive 1-0 victory. Kashima Antlers Youth (Ibaraki) will be looking to earn their first win of the season against Shoshi High School (Fukushima). The defending champions have started the season with three consecutive losses, and they will seek to stop the streak this weekend.
The match between Jubilo Iwata U-18 (Shizuoka) and Omiya Ardija U18 (Saitama) features two top class goalkeepers, as Iwata's SUGIMOTO Mitsuki (#21) has shown superb saves from the season start, while Omiya's JONES Rei (#16) displayed a solid performance in last week's match. It will be a match between two team's with excellent defence.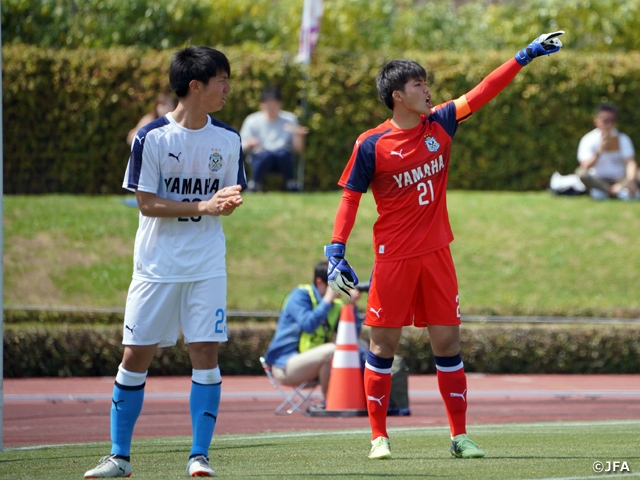 After scoring four goals in their previous match, Shimizu S-Pulse Youth (Shizuoka) has a home match against Ryutsu Keizai University Kashiwa High School (Chiba), where they will seek to earn consecutive victories.
The pick-up match in the EAST will be the fixture between Kashiwa Reysol U-18 (Chiba) and Funabashi Municipal High School (Chiba), where the two sides from Chiba prefecture will clash. Despite dropping the season opener, Kashiwa has won consecutive matches with the help of their ace, OKUDA Hiryu (#9). Funabashi Municipal also features a strong offence, where two of their four goals came from set-plays. The two offense-minded teams will go head to head in the Chiba derby.
WEST
After conceding seven goals in their previous match, Avispa Fukuoka U-18 (Fukuoka) must find ways to rebuild their defence when they welcome Vissel Kobe U-18 (Hyogo) to their home. Team captain TAKASU Naoki (#3) will play a pivotal role to lead his defence to contain the Kobe offence. Although Sanfrecce Hiroshima F.C Youth (Hiroshima) did not get the start they were looking for this season, the team has gradually found their groove to create more and more opportunities. The defending champions of the EAST will face Ehime FC U-18 (Ehime) to seek for their second win of the season.
In the match between Ozu High School (Kumamoto) and Cerezo Osaka U-18 (Osaka), the focal point will be set on their aces, as Cerezo's FUJIO Shota (#9) will be coming off a match where he scored the game winner last weekend, while Ozu's HANDAI Masato (#9) can also be critical in front of the goal. Kyoto Sanga F.C. U-18 (Kyoto) and Nagoya Grampus U-18 (Aichi) will play their match following the Meiji Yasuda J2 League fixture between Kyoto and Tokushima Vortis. It will be an interesting match to see how the academy players play under the same environment with the pros.
The pick-up match in the WEST will feature Gamba Osaka Youth (Osaka) and Higashi Fukuoka High School (Fukuoka). The Osaka side scored seven goals in their previous match against Avispa Fukuoka U-18, where their two forwards, OTANI Yuto (#18) and TOYAMA Shoji (#9) each scored a brace.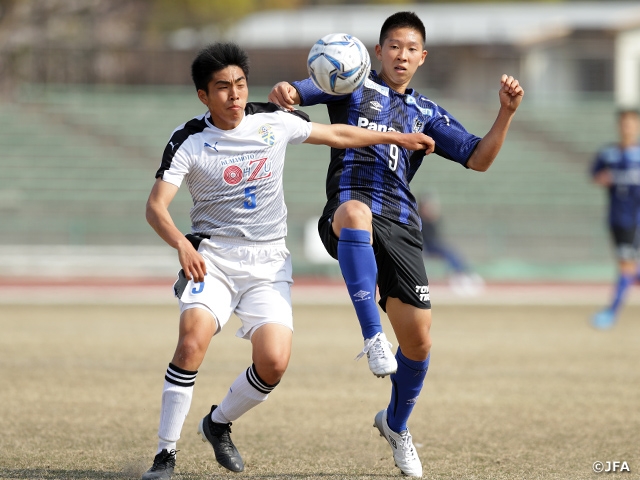 It is expected that Higashi Fukuoka will be forced to be in the defensive end for this match, but they still have plenty of gunpowder as their midfielder IWAI Takuro (#28) has scored in two consecutive matches this season. The emphasis will be on how critical each side can be in the attacking third.

EAST 3rd Sec. Highlights
WEST 3rd Sec. Highlights
Prince Takamado Trophy JFA U-18 Football Premier League 2019
League Duration: Sat. 6 April - Sun. 8 December 2019