NEWS
Aomori Yamada remains in first place despite drawing match against Omiya at the 3rd Sec. of Prince Takamado Trophy JFA U-18 Football Premier League EAST
22 April 2019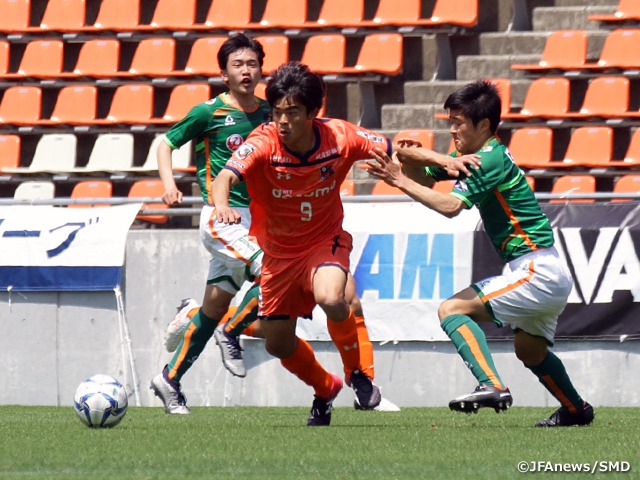 The third Sec. of the Prince Takamado Trophy JFA U-18 Football Premier League EAST took place on Saturday 20 and Sunday 21 April, as Omiya Ardija U18 (Saitama) hosted Aomori Yamada High School (Aomori) at NACK5 Stadium.
Pick-up Match
Omiya Ardija U18 2-2 (0-2, 2-0) Aomori Yamada High School
For Omiya, NACK5 Stadium is the match venue used by their senior team, giving them an extra motivation to get fired up for the match against Aomori Yamada, as Coach TANNO Yusuke mentioned, "Playing a match on this field gives us a strong intention that we cannot afford to lose."
The opening goal came in the early minutes of the match, as Aomori Yamada initiated an attack from a short counter. The ball delivered by GOTO Kenta (#11) from the right side was headed back by URAKAWA Rukia (#8), allowing TANAKA Shota (#9) to tap the ball across the goal line with his chest.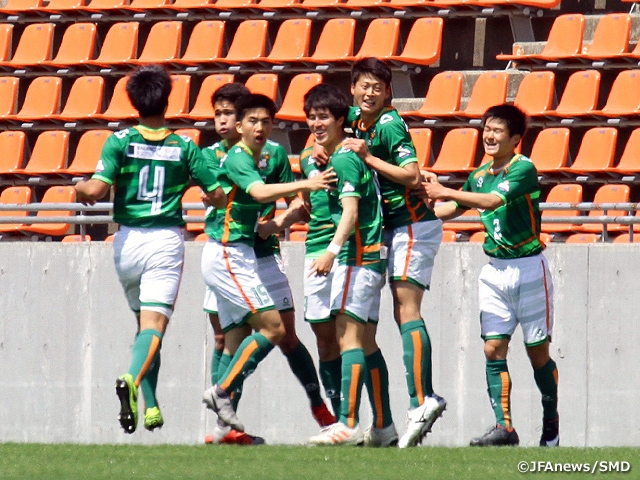 Omiya made their efforts to level the match by moving the ball around and keeping a high possession, but Aomori Yamada showed their persistence through their well organised defence. The second goal of the match came in the 42nd minute, when Aomori Yamada's KANDA Yusei (#3) broke through the left flank before sending a cross towards the centre. It was once again Tanaka who connected with this delivery, as his towering header captured the net to double the lead for the Aomori side.
After conceding two goals in the first half, Omiya's TAKADA Soya (#10) reflected on the team's atmosphere during halftime, "There was a negative vibe surrounding the team at the locker room," but continued by mentioning, "Our coach helped us get our minds straight." With the pep-talk given by their coach, Omiya came out strong to start off the second half. This approach taken by the home side proved to be effective as they managed to score back a goal in the 47th minute. The goal came when Takada broke through the centre before sending the ball towards the left flank. ARAI Seijiro (#9) delivered an accurate return pass to allow Takada to take a direct shot that found the back of the net.
A pivotal moment of the match came in the 51st minute, when an Aomori Yamada player was ejected from the match after receiving his second yellow card of the match. With the tides shifting towards the home side, Aomori Yamada was forced to utilise their substitutes to play a defensive game to protect their lead, but the equaliser came in the 78th minute, when Arai struck a shot from no angle to make it 2-2. The two sides showcased a thrilling bout in the remaining minutes, but the score remained tied at two apiece, giving both teams a point each after the final whistle.
Coaches and Players' Comments
TANNO Yusuke, Coach (Omiya Ardija U18)
A match can get more difficult when your opponent is playing with less players. It happens all the time even in the J. League. So, with that in consideration, I think our players did a great job today. It would've been even better if we scored the third goal, but I am satisfied with our result. However, we have conceded in each of our matches thus far, so we must improve ourselves in that aspect. The players of Aomori Yamada kept on communicating with each other, even when they were a man down. That is something we must learn from them.
MF #10 TAKADA Soya (Omiya Ardija U18)
It was a match we could have won, so I am a bit disappointed. Our coach has been stressing the importance to keep our movements going, even after we pass the ball, and that was exactly what I did in the scene where I score the goal. It was a type of goal I have never scored before. I am now in the third grade and I don't have the older players helping me out like last year, so I will do my best to get things done in the right way.
KURODA Go, Coach (Aomori Yamada High School)
In the second half, we conceded a goal in the third minute and had a player ejected in the sixth minute. That completely ruined our game plan. None of our players were part of the regular squad from last year, so in that sense our lack of experience was exposed today. It was very costly, but I hope the players can learn from this experience. At the high school level, a match like this can help a team get better, so we will continue to work hard.
MF #11 GOTO Kenta (Aomori Yamada High School)
We managed to enter the match in good form, score the opening goal, and entered halftime with a two-goal lead. However, despite the ideal start to the match, we conceded a gaol in the early minutes of the second half. (Reflecting on the opening goal) It is our style of football to finish off our plays with a shot or a cross, so that goal was a result of it. Since arriving to Aomori Yamada, I have been working on my response to deal with loose balls, so that has really helped me in that situation.
Results of other matches
Funabashi Municipal High School 0-1 (0-1, 0-0) Urawa Red Diamonds Youth
Shoshi High School 1-4 (0-1, 1-3) Shimizu S-Pulse Youth
Jubilo Iwata U-18 1-1 (0-0, 1-1) Ryutsu Keizai University Kashiwa High School
Kashiwa Reysol U-18 3-2 (2-2, 1-0) Kashima Antlers Youth
In the match between Funabashi Municipal High School (Chiba) and Urawa Red Diamonds Youth (Saitama), the 18th minute goal scored by Urawa turned out to be the deciding goal, as the Red Diamonds earned three points. After the match was tied at 1-1, Shimizu S-Pulse Youth (Shizuoka) scored three goals in the second half to win over Shoshi High School (Fukushima). Jubilo Iwata U-18 (Shizuoka) and Ryutsu Keizai University Kashiwa High School (Chiba) shared a point each after both sides scored a goal in the second half. Despite giving up the lead twice to Kashima Antlers Youth (Ibaraki), Kashiwa Reysol U-18 (Chiba) came from behind to record their second straight victory.
Prince Takamado Trophy JFA U-18 Football Premier League 2019
League Duration: Sat. 6 April - Sun. 8 December 2019