NEWS
Gamba Osaka remains in first place after defeating Higashi Fukuoka at the 4th Sec. of Prince Takamado Trophy JFA U-18 Football Premier League WEST
30 April 2019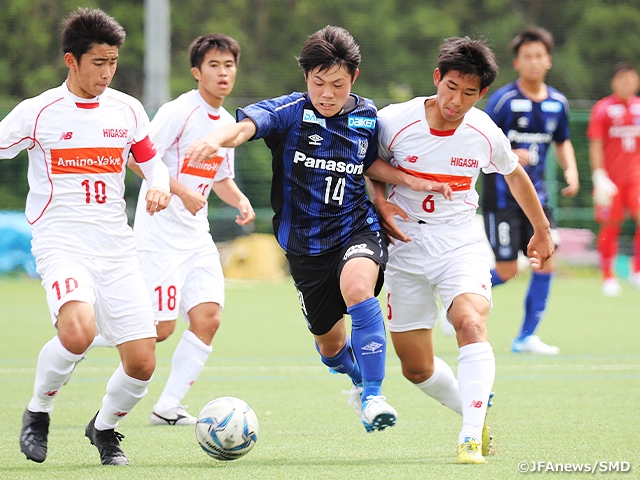 Gamba Osaka Youth (Osaka) and Higashi Fukuoka High School (Fukuoka) played against each other as the Prince Takamado Trophy JFA U-18 Football Premier League WEST had its fourth Sec. played on Saturday 27 and Sunday 28 April.
Pickup Match
Gamba Osaka Youth 2-0 (1-0, 1-0) Higashi Fukuoka High School
It was Gamba Osaka who took control of the match in the early minutes, as they showed great ball movements in their defence while mixing up some long balls up the field. Osaka's midfielder KAWASAKI Shuhei (#8) recalled after the match, "It felt like our opponents were pressing up their line, so I thought one pass into the space behind them can create a major chance." With the team anticipating for their opportunity to send the ball upfront, the two speedy strikers TOYAMA Shoji (#9) and OTANIM Yuto (#18) repeatedly made their runs to break away.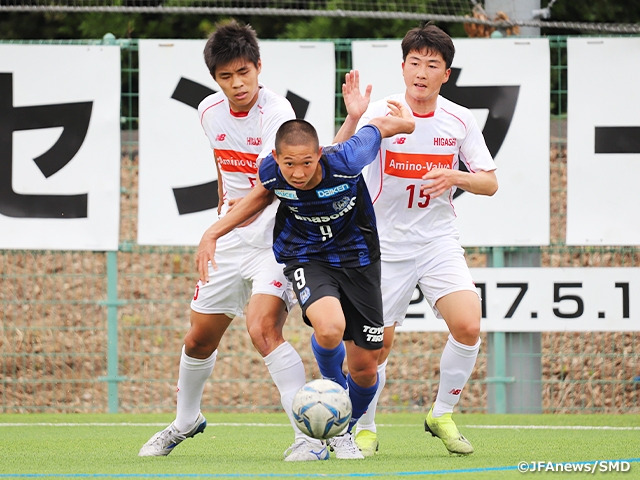 With the Osaka side taking the initiative, Higashi Fukuoka had to endure a tough stretch for a while. Their defender OGUSHI Shohei (#5) mentioned after the match, "We knew that they were going to attack the space behind us, but we just couldn't defend against them." In the 41st minute, Gamba Osaka's midfielder NAGAO Yuto (#6) sent a pass into the open space, which NAKANO Ayumu (#14) quickly reacted to. With the opposing goalkeeper coming out of the box, Nakano collided with the goalkeeper. Otani went after the loose ball and fired a shot to the open goal, which went off the goal post, but Toyama was there to calmly slot the ball into the net, as Gamba Osaka took the lead.
The second half saw Gamba Osaka continue to dominate the match. In the 50th minute, Kawasaki carried the ball deep in the opposing territory before sending a ball towards the goal, as he later reflected, "Our full-backs were making effective runs into the space, so I knew if I can deliver a good ball, we can score another goal." Just as they drew it out, defender MURAKAMI Keishi (#3) reacted to the ball before dribbling passed the goalkeeper to find the back of the net.
Despite taking a two-goal lead, the Osaka side started to lose their consistency in their build-up plays, giving Higashi Fukuoka more opportunities to create chances. In the 59th minute, Higashi Fukuoka came close to scoring a goal when MIZUNO Seren (#7) struck a shot unmarked, but the Osaka defence line led by NISHIMURA Sho (#4) showed great persistency to hold onto the clean sheet, as Nishimura later mentioned, "We focused on charging the ball while covering each other, so that the space behind us doesn't get exposed." With the 2-0 shutout victory, Gamba Osaka registered their third win of the season to remain in first place of the WEST.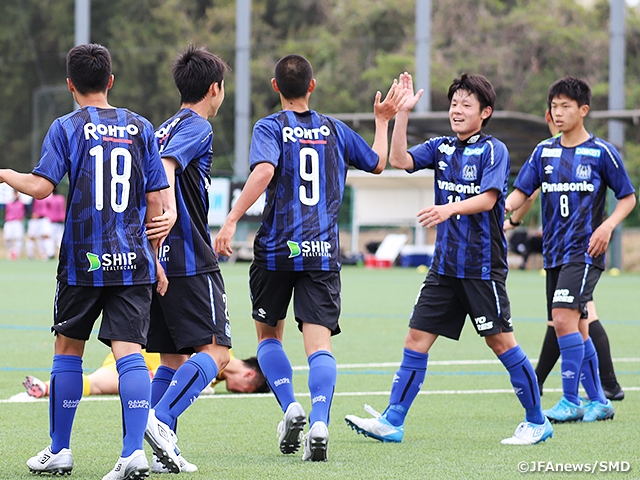 Coaches and Players' Comments
SHIMADA Takahiro, Coach (Gamba Osaka Youth)
Although this was our first shutout victory, I wasn't really pleased with our performance today. We allowed our opponents to possess the ball way too long in the second half. We managed to keep them away from scoring, but they could have scored at any given point. I wanted our players to exploit the space behind the opponents to create more opportunities, especially when our opponents were pressing forward to score goals. Two of our players who played in the J3 league match started on the bench today, but these kind of competition within the team is always welcomed. I am looking forward to seeing who will make a case for themselves on the pitch next.
DF #4 NISHIMURA Sho (Gamba Osaka Youth)
It was great that we managed to score two goals while keeping a clean sheet. Our opponent employed a formation with one striker upfront, so between the two centre halves, we made sure one of us would always be covering that player. Although we managed to respond well in the first half, we allowed them to create numbers of opportunities in the second half, so we need to improve in that aspect. With that being said, we have been conceding goals in the closing minutes of our recent matches, but we were able to shutout our opponents today. That makes us feel like we are getting better as a team, so I am proud of this result.
MORISHIGE Junya, Coach (Higashi Fukuoka High School)
We wanted to defend more collectively, but our players might have been a little too eager to be the hero. We conceded way too many opportunities until giving up the first goal. Although we managed to finish many of our plays with a shot, we lacked quality to capitalise on any of those opportunities. As a team, we were rushing our plays and made too many mistakes. This match has given us the opportunity to realise what we lack. We must keep this match in mind as we continue to work hard to improve ourselves.
DF #5 OGUSHI Shohei (Higashi Fukuoka High School)
In the first half, our team was not on the same page. We struggled to deal with our opponents' build-up plays and conceded a goal from a long-ball. It was a goal we gave up from our lack of communication between the defence line and the goalkeeper. It was a regretful goal that we must not repeat again. In the second half, we told each other to apply pressure from the front line. Although there were some flaws to our approach, we still managed to keep more possession of the ball. This result was disappointing, but the fact that we were able to make adjustments during the match is something we can be proud of, so we hope to keep that trend going in our following matches.
Results of other matches
Avispa Fukuoka U-18 1-0 (0-0, 1-0) Vissel Kobe U-18
Sanfrecce Hiroshima F.C Youth 2-0 (0-0, 2-0) Ehime FC U-18
Cerezo Osaka U-18 1-2 (0-0, 1-2) Ozu High School
Kyoto Sanga F.C. U-18 1-3 (1-0, 0-3) Nagoya Grampus U-18
Avispa Fukuoka U-18 (Fukuoka) scored a dramatic game winner against Vissel Kobe U-18 (Hyogo) in the closing seconds of the match to register their first victory of the season. Sanfrecce Hiroshima F.C Youth (Hiroshima) earned a 2-0 shutout victory over Ehime FC U-18 (Ehime), while Ozu High School (Kumamoto) scored two goals in the second half to win over Cerezo Osaka U-18 (Osaka). Despite conceding the opening goal to Kyoto Sanga F.C. U-18 (Kyoto), Nagoya Grampus U-18 (Aichi) came from behind after scoring three goals in the second half.

WEST 4th Sec. Highlights
Prince Takamado Trophy JFA U-18 Football Premier League 2019
League Duration: Sat. 6 April - Sun. 8 December 2019