NEWS
Kashiwa wins match between two Chiba sides at the 4th Sec. of Prince Takamado Trophy JFA U-18 Football Premier League EAST
30 April 2019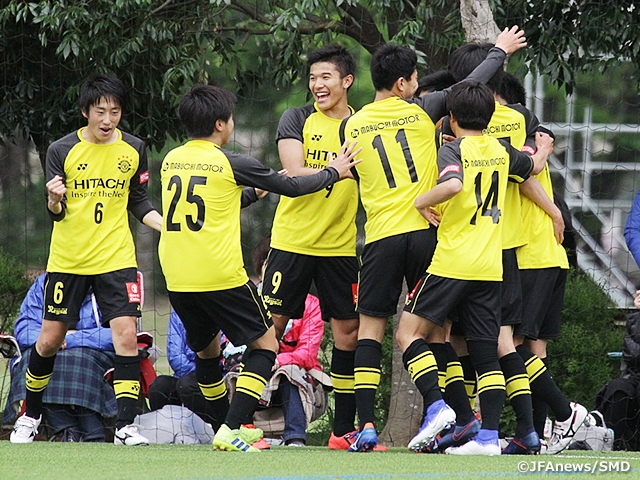 The fourth Sec. of the Prince Takamado Trophy JFA U-18 Football Premier League EAST took place between Saturday 27 and Monday 30 April, as Kashiwa Reysol U-18 (Chiba) welcomed another team from Chiba, Funabashi Municipal High School (Chiba) to their home field.
Pick-up Match
Kashiwa Reysol U-18 3-0 (2-0, 1-0) Funabashi Municipal High School
Following their 0-3 loss against Shoshi High School (Fukushima) in their season opener, Kashiwa bounced back to record two consecutive wins. Ahead of their fourth match of the season, Kashiwa's defender IDE Keita (#4) mentioned, "We were utterly beaten in our first match, but we held our heads high and showcased good performances in the following two matches."
On the other hand, Funabashi Municipal has a record of one win and two losses through the first three weeks of play, but this week their ace, SUZUKI Yuito (#10) returned to the team from his Europe tour with the Japan High School Select Team, setting up a enticing matchup between the two Chiba sides.
The match saw Kashiwa taking the initiative in the early minutes, but Funabashi Municipal did well to keep their composure, as defender TAKAHASHI Travis (#4) led the defence-line to deny any opportunities from being created. Conversely, the Funabashi side came close to scoring the opening goal in the sixth minute, when Suzuki's shot struck the cross bar.
However, an indirect freekick inside the penalty box was given to Kashiwa in the 27th minute, when Funabashi Municipal's goalkeeper was charged for catching a back-pass. Kashiwa's TAMURA Soki (#14) passed the ball to IBI Shunto (#15), who struck a shot into the net to give the home side the lead. Just before halftime, Tamura struck a right-footed shot that captured the goal, to double the lead for Kashiwa. Funabashi Municipal's Coach HATA Shugo reflected on the scene, "That second goal really hurt us."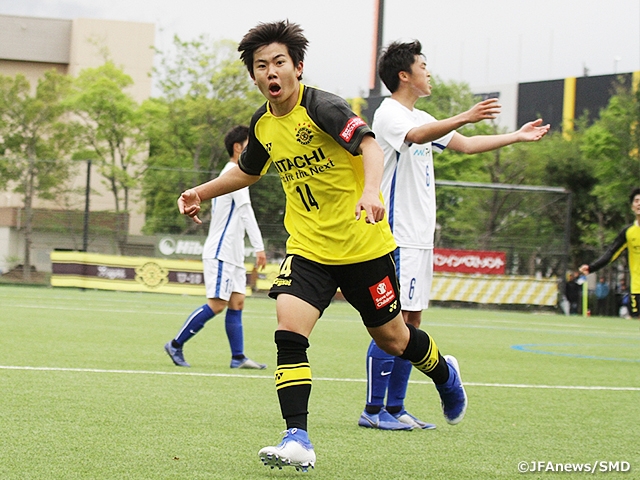 In the second half, Funabashi Municipal made strategical adjustments and came out playing with high intensity in defence. Despite taking control of the match, the Funabashi offence struggled to score a goal, as Kashiwa's goalkeeper SHIGA Kazumasa (#1) made numbers of superb saves. Kashiwa's patience was paid off in the 68th minute, when OKUDA Hiryu (#9) converted a loose ball following a corner kick situation to seal the deal.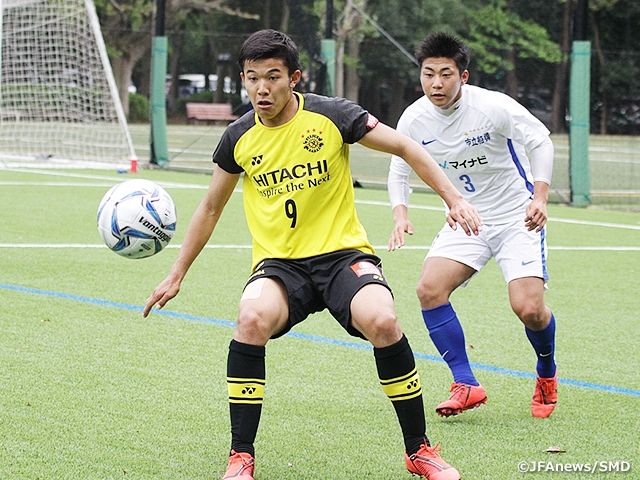 Kashiwa went onto secure a clean sheet victory with a score of 3-0 to mark their third consecutive victory. Coach YAMANAKA Shin reflected on the match as, "It was a nerve-racking match," but continued by praising his players, "They've done a great job."
Coaches and Players' Comments
YAMANAKA Shin, Coach (Kashiwa Reysol U-18)
Since the start of the season, our eyes are set on winning the title. Compared to last year, we have more players with an aggressive play style, so rather than holding onto the ball, we are aiming to increase the number of our attacks. That is why we must force more turnovers as well. Although we struggled to deal with the opponent's intensity in the second half, our players did a great job making the necessary adjustments.
GK #1 SHIGA Kazumasa (Kashiwa Reysol U-18)
I am not the type of player that can showcase a spectacular play, so I always emphasis how I prepare myself. During my trainings, I always try to mimic the plays of KAWASHIMA Eiji and HAYASHI Takuto. I feel like that is why I was able to keep my composure and make that save.
HATA Shugo, Coach (Funabashi Municipal High School)
After conceding a freakish goal in the first half, we really wanted to minimise the damage, but we ended up giving up another goal before halftime. We entered the match with the intention to play patiently, so in that sense, our players did a great job to execute the game plan. However, we need our players to make better decisions according to each situation, receive the ball more often in between the lines, and make more plays facing forward.
MF #10 SUZUKI Yuito (Funabashi Municipal High School)
This match really made me realise that I need to become a better player. As a team, I feel like we did a better job in the second half. Our intensity dropped after we conceded a goal, so that is an aspect we must improve on. We must feed off of this bitterness and work even harder in our daily trainings. This sense of urgency is something we must share as a team.
Results of other matches
Urawa Red Diamonds Youth 1-1 (0-1, 1-0) Aomori Yamada High School
Kashima Antlers Youth 3-1 (0-1, 3-0) Shoshi High School
Jubilo Iwata U-18 2-2 (2-0, 0-2) Omiya Ardija U18
Shimizu S-Pulse Youth 3-0 (2-0, 1-0) Ryutsu Keizai University Kashiwa High School
Despite taking the lead in the first half, league leaders Aomori Yamada High School (Aomori) drew against Urawa Red Diamonds Youth (Saitama) after conceding the equaliser in the 80th minute. Kashima Antlers Youth (Ibaraki) earned their first win of the season after coming from behind in the second half against Shoshi High School (Fukushima). Jubilo Iwata U-18 (Shizuoka) took a two-goal lead into the second half but allowed Omiya Ardija U18 (Saitama) to level the match to share a point apiece. Shimizu S-Pulse Youth (Shizuoka) scored three goals to earn a sweeping victory over Ryutsu Keizai University Kashiwa High School (Chiba).

EAST 4th Sec. Highlights
Prince Takamado Trophy JFA U-18 Football Premier League 2019
League Duration: Sat. 6 April - Sun. 8 December 2019