NEWS
Shimizu and Kashima share a point apiece at the 5th Sec. of Prince Takamado Trophy JFA U-18 Football Premier League EAST
06 May 2019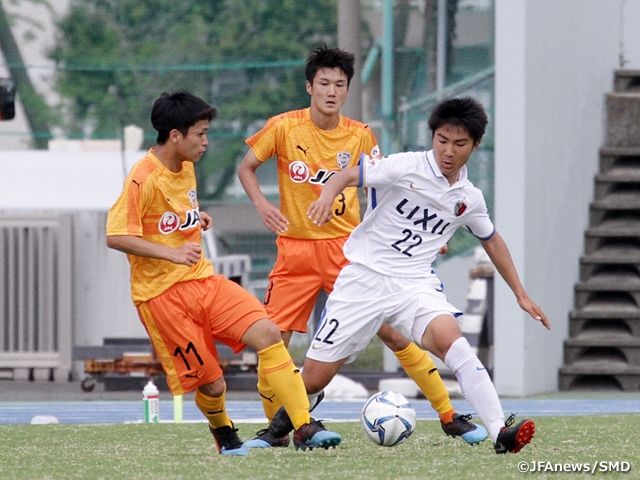 The fifth Sec. of Prince Takamado Trophy JFA U-18 Football Premier League EAST took place on Saturday 4 and Sunday 5 May at various locations. At Shimizu Comprehensive Athletic Field, the league leaders, Shimizu S-Pulse Youth (Shizuoka) squared off against the defending champions, Kashima Antlers Youth (Ibaraki).
Pick-up Match
Shimizu S-Pulse Youth 0-0 (0-0, 0-0) Kashima Antlers Youth
Following a rough start to their season, Kashima managed to stop their three-game losing streak by winning over Shoshi High School (Fukushima) last week. With positive momentum on their side, last year's EAST champions entered the match fully motivated to face the league leaders. In contrast to the struggling Kashima side, Shimizu got off to a great start this season, after registering three wins and a loss. However, as Shimizu's Coach HIRAOKA Hiroaki later reflected, "The team got overwhelmed by the opponents' intensity at the beginning of the match," it was Kashima who took the initiative of the match.
While Shimizu utilised the width of the field to effectively move the ball around, they struggled to create opportunities in offence, as the coach analysed their approach, "We weren't aggressive enough. The players were trying too hard to perfect their plays." With Kashima's KOBARI Kotaro (#3) and KIUCHI Tatsuya (#14) leading the solid defence, Shimizu were kept without a single shot in the first half.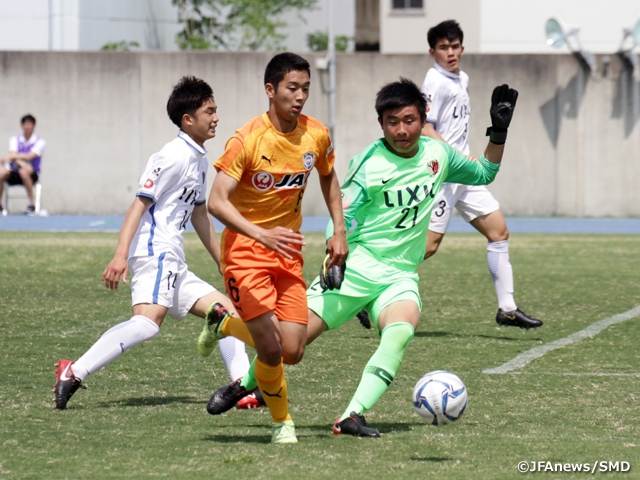 As NAMAIZAWA Yohan (#8) later mentioned, "We were able to take full control of the match from the first half," Kashima managed to execute their game plan, but still struggled to score a goal. A close opportunity came in the 17th minute, when KURIMATA Shoichi (#11) struck a shot, but his attempt was saved by Shimizu's goalkeeper ISHII Hyuma (#1).
The second half saw the two sides showcasing an equally matched bout. It was Kashima who created more goal scoring opportunities, but they fell short from converting the chances. A golden opportunity was created for Kashima in the 62nd minute, but the shot taken by Kobari was denied by the goal post. With both sides failing to score a single goal, the two sides shared a point apiece with a scoreless draw.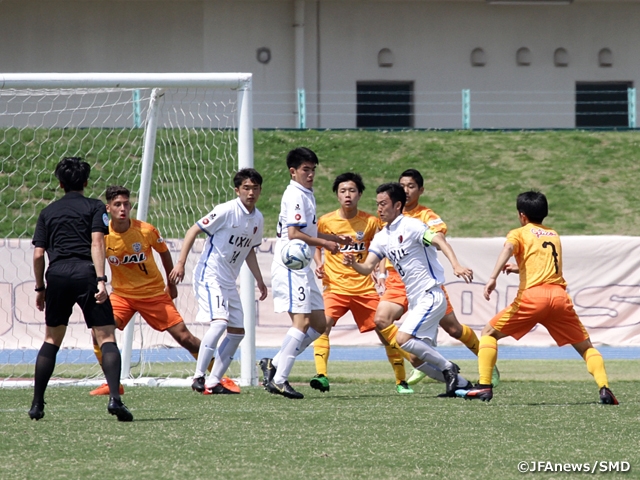 Coaches and Players' Comments
HIRAOKA Hiroaki, Coach (Shimizu S-Pulse Youth)
It was certainly not our best performance, but it wasn't necessarily bad neither. Despite losing three matches to start the season, Kashima proved that they are a strong team. They built a strong block in defence which made it hard for us to break through. That is why I wanted my players to be more aggressive at the individual level, and that's an aspect we must improve on.
DF #4 NORIEGA Erick (Shimizu S-Pulse Youth)
We couldn't create many chances and it was a very tough match for us. However, we still didn't lose the match, so that was good. Our team is always eager to win matches, and that was definitely on display today. The players of Shimizu S-Pulse Youth are very skilful and strong in the air. Regardless of where I'm positioned, I am happy that I am playing in the match.
NAKAMURA Kosei, Coach (Kashima Antlers Youth)
Even during our losing streak, I've always thought that we were playing good football and our players remained positive to work on our new challenge. However, we did take another look on our approach to fight for the ball, and we hope to improve our ball possession in the future matches. If we could have possessed the ball more in today's match, we might have been able to exhaust our opponents.
DF #3 KOBARI Kotaro (Kashima Antlers Youth)
We were facing Shimizu who were in first place, so we entered the match with the intention to shorten the point difference with them. We were working collectively in both offence and defence to gain positive momentum. We also managed to create many opportunities but failed to convert them. I personally missed out on a goal scoring opportunity when I struck the post. I hesitated for a split second because I wasn't sure which feet I should take the shot with.

EAST 5th Sec. Highlights
WEST 5th Sec. Highlights
Results of other matches
Ryutsu Keizai University Kashiwa High School 0-2 (0-1, 0-1) Omiya Ardija U18
Urawa Red Diamonds Youth 1-0 (0-0, 1-0) Jubilo Iwata U-18
Shoshi High School 0-4 (0-1, 0-3) Funabashi Municipal High School
Aomori Yamada High School 2-1 (0-1, 2-0) Kashiwa Reysol U-18
Omiya Ardija U18 (Saitama) earned their first win since the opening week after winning over Ryutsu Keizai University Kashiwa High School (Chiba). Urawa Red Diamonds Youth (Saitama) welcomed Jubilo Iwata U-18 (Shizuoka) at home, where the 50th minute own-goal became the deciding goal to give Urawa their third victory. The match between two high school teams, Shoshi High School (Fukushima) and Funabashi Municipal High School (Chiba) was won by the Funabashi side after they scored four goals. Aomori Yamada High School (Aomori) came from behind to win their home match against Kashiwa Reysol U-18 (Chiba).
Prince Takamado Trophy JFA U-18 Football Premier League 2019
League Duration: Sat. 6 April - Sun. 8 December 2019