NEWS
Hiroshima earns a valuable point after scoring the equaliser in a dramatic fashion at the 3rd Sec. of Prince Takamado Trophy JFA U-18 Football Premier League West
22 April 2019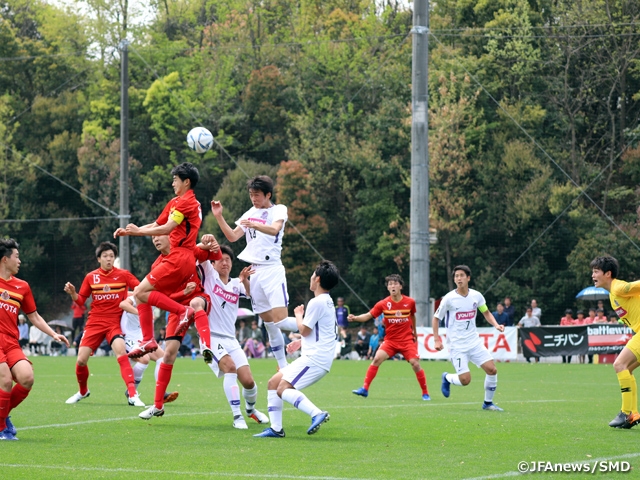 The third Sec. of the Prince Takamado Trophy JFA U-18 Football Premier League WEST took place on Saturday 20 and Sunday 21 April, as Nagoya Grampus U-18 (Aichi) and Sanfrecce Hiroshima F.C Youth (Hiroshima) went head to head.
Pick-up Match
Nagoya Grampus U-18 1-1 (0-0, 1-1) Sanfrecce Hiroshima F.C Youth
Contrary to the pre-match comment given by Nagoya's midfielder SAKAKIBARA Kyota (#8), where he mentioned, "Hiroshima was the only opponent we couldn't beat last year, so we want to build a good momentum ahead of next week's match against Kyoto by winning this match," the Nagoya side struggled to create a clear opportunity in offence. In fact, it was Hiroshima who created the first goal scoring opportunity of the match, when AYUKAWA Shun (#10) tried to meet a pass delivered by NISHIKAWA Ayumu (#6) from the left flank in the 22nd minute. But an outstanding save made by Nagoya's goalkeeper MITSUI Daiki (#1) denied the attempt. Ayukawa later recalled the play, "If we could have scored the chances created in the first half, the match would have been much easier." Nagoya had their opportunity in the 24th minute, when MITSUDA Shuto (#18) carried the ball up front in a counter-attack before sending the ball to ISHIDA Ryotaro (#9) at the right side of the box. Ishida's shot managed to get by Hiroshima's goalkeeper, but Ayukawa made an extraordinary effort to run back and block the shot.
The course of the scoreless match did not change greatly in the second half. Time went by as both sides failed to capitalise on their opportunities, until the golden moment came for Nagoya in the 67th minute. After forcing a turnover in their own end, Ishida delivered a long feed into the space behind the Hiroshima defence line. It was Mitsuda who reacted to this delivery, carried the ball into the box, and dribbled through the goalkeeper before slotting the ball into the unguarded net.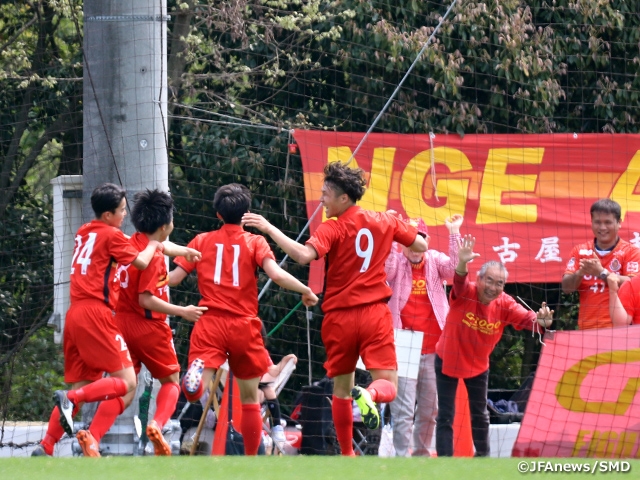 The players of Hiroshima seemed demoralised just after conceding the goal, but the team rallied back from the 85th minute mark, as they started to show added layers to their offence. In the sixth minute of additional time, Hiroshima earned a corner kick in the left side. The delivery from this corner kick drifted towards the far post where Ayukawa was there to send the ball back into the mix. The ball was once blocked by the Nagoya goalkeeper, but Hiroshima's striker KAGEYAMA Kenzo (#8) was there to convert the loose ball, as he later reflected, "I knew Shun was going to deliver the ball there, but I wasn't able to make it on time, so I was anticipating for the deflection." The final whistle blew just as the equaliser shook the net, giving Hiroshima a well-earned point in a dramatic fashion. Ayukawa showed a sign of relief as he mentioned, "I am glad that Hiroshima's persistence finally got paid off at the end."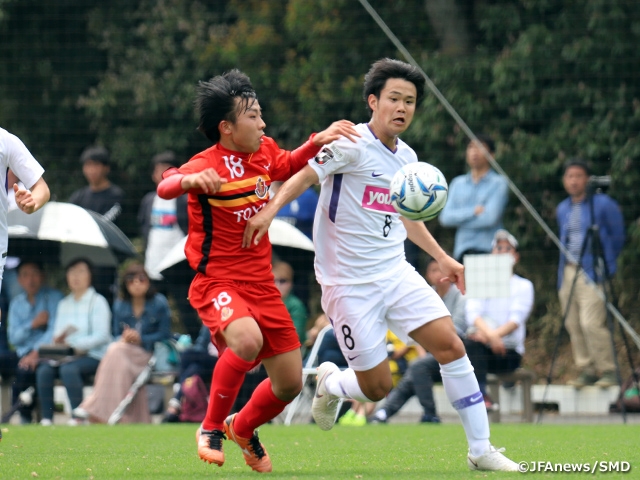 Coaches and Players' Comments
KOGA Satoshi, Coach (Nagoya Grampus U-18)
It's great that we were able to score a goal from an individual effort. Although we managed to create opportunities by forcing turnovers and making quick transitions before our opponents were prepared, we lacked quality in the final third to score more goals and dominate the match. The fact that we couldn't score the second goal is something we must work on, and we had to do a better job in defence in the scene where we conceded the equaliser. I want my players to become stronger and tougher to defend through these kinds of matches.
FW #8 SAKAKIBARA Kyota (Nagoya Grampus U-18)
It's regretful that I wasn't able to convert the chances given to me in both halves. Offence is our strong point, and the fact that we only managed to score a goal is something we must improve on. Last year, we saw many matches where we failed to capitalise on our opportunities and fell short from winning the match. If we can't score the second and third goal, we will be forced to play through tough matches down the road, so we must work on our offence to heighten the quality of our plays. However, we didn't lose against Hiroshima, so that's definitely an improvement from last year. We hope to become a team that can win through these tough matches.
SAWADA Kentaro, Coach (Sanfrecce Hiroshima F.C Youth)
Our team is still work in progress, and although we gave up the ball away a bit too much, we also managed to create some good offensive shape today. However, in those opportunities we created, often times there was only one player responding to the play. If we want to score goals from these plays, we must add more layers to our offence. Our players were not responding well against the opponent's counter-attacks, but they did a fine job to keep a clean sheet during the first half. It was an exhausting match, but we managed to run through the entire match, which is something we can be proud of.
FW #10 AYUKAWA Shun (Sanfrecce Hiroshima F.C Youth)
Last year I wasn't able to showcase a good performance despite my former teammates of FC.Fervor Aichi coming out to the match to watch me play. They were here again this year, so I really wanted to score a goal and show a positive performance, but I wasn't able to score a goal. Our defenders played with great patience to keep us in the match, but we couldn't win the match because the three attackers couldn't come through with the goals. I was able to block one of our opponent's opportunities in the first half and assist the equaliser at the end, but as a forward, my job is to score goals. I will prepare myself ahead of our next home game with a strong intention to score goals.
Results of other matches
Kyoto Sanga F.C. U-18 1-2 (1-0, 0-2) Cerezo Osaka U-18
Higashi Fukuoka High School 2-1 (1-0, 1-1) Ehime FC U-18
Ozu High School 1-4 (0-1, 1-3) Vissel Kobe U-18
Gamba Osaka Youth 7-2 (3-1, 4-1) Avispa Fukuoka U-18
Cerezo Osaka U-18 (Osaka) came from behind after scoring two goals in the second half to win an away game against Kyoto Sanga F.C. U-18 (Kyoto). Higashi Fukuoka High School (Fukuoka) came through with the game winning goal in the third minute of additional time to win over Ehime FC U-18 (Ehime). With two of their players scoring a brace, Vissel Kobe U-18 (Hyogo) captured a 4-1 victory over Ozu High School (Kumamoto). Gamba Osaka Youth (Osaka) went onto a scoring spree against Avispa Fukuoka U-18 (Fukuoka) to score seven goals that keeps them in first place with the only undefeated record in the WEST.
Prince Takamado Trophy JFA U-18 Football Premier League 2019
League Duration: Sat. 6 April - Sun. 8 December 2019