NEWS
Tokyo, Hiroshima at home while G Osaka, Urawa on road, all to face ACL Group Stage MD3
14 March 2016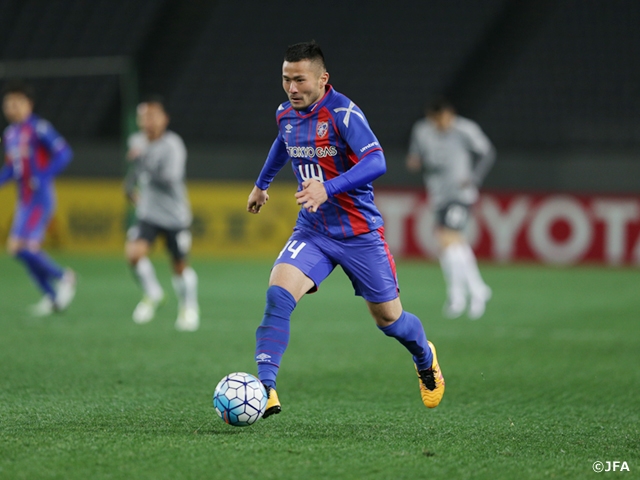 The AFC Champions League (ACL) 2016 holds its group stage matchday 3 on 15 and 16 March as two of the Japanese clubs in the tournament, F.C.Tokyo and Sanfrecce Hiroshima welcome their opponents at home while Gamba Osaka and Urawa Reds go on the road.
F.C.Tokyo take on Jiangsu FC at home on 15, who are in the ACL for the second time in their history after their first in 2013 with their former name Jiangsu Sainty. Domestically, they won China's FA Cup last year.
Before this season started, they created a buzz by acquiring midfielder Ramires from Chelsea FC of England and Alex TEIXEIRA from FC Shakhtar Donetsk of Ukraine to form a formidable Brazilian trio together with former international Joao. Ramires is not available for the F.C.Tokyo match due to suspension, but Teixeira surely requires a lot of attention now that he has scored goals in the past two straight matches.
Although Tokyo lost this year's first ACL match to Jeonbuk Hyundai Motors in Korea Republic, they have won the last three matches, the 3-1 win for the second ACL match at home against Becamex Binh Duong and two other J.League matches. Against Vissel Kobe on 11, they did not allow a single shot attempt in the second half, which coach JOFUKU Hiroshi was satisfied with, saying "we could play consistent defence not allowing any unguarded moment throughout 90 minutes." It is another bright spot for the team that both forwards ABE Takuma and MAEDA Ryoichi have piled up goals so far.
Jiangsu FC are now in top spot in Group E with one win, one draw and four total points. Tokyo, tying with Jeonbuk Hyundai with three points but sitting in third place because of their head-to-head result against the Korean counterpart, are looking to go up in the standings to eventually advance out of the group stage.
Hiroshima desperate for a win
Hiroshima, awaiting Thai league champions Buriram United for the contest on 16, have lost two in a row, chasing Group F leaders FC Seoul and second-placed Shandong Luneng FC by six points. They now need to start winning to move on to the knockout stage.
Buriram have made five straight appearances in the ACL since 2012 and recently obtained forward Kaio who used to play for Cerezo Osaka and Yokohama FC. In their domestic league, their current record of two wins and one draw maintains them high in the standings. In the ACL, however, they were routed 6-0 by FC Seoul in the first match followed by the 3-0 loss in the second match against Shandong. They allowed big leads to both opponents while scored none for themselves.
The absence of forward Diogo, who suffered an injury in the first half of the match against FC Seoul, is clearly hurting the team, and to make the matters worse, former Venezuelan international defender Andres TUNEZ is suspended for the match against Hiroshima due to the ejection he received on the previous matchday. Buriram are expected to come out as desperately as Hiroshima, and considering the fact that Gamba Osaka were held to a draw by Buriram last year's group stage in Osaka, Hiroshima can never take the Thai club lightly.
As they finished the past two J.League matches with two ties, they are gradually showing signs of coming back from three straight losses including their ACL matches. Led by newly-acquired forward Peter Utaka, they are creating more opportunities in front of opponents' goal. The improvement of finishing touches is the next task for them to start grabbing wins, as coach MORIYASU says "we want to raise the quality (of finishes) to score goals."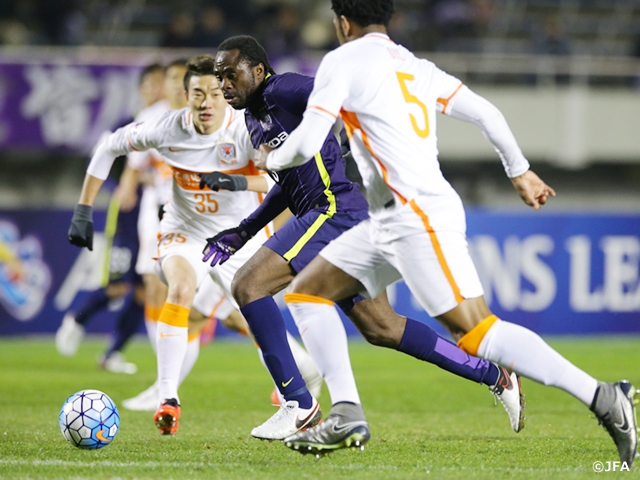 Gamba Osaka to go all out in Shanghai
Gamba Osaka take on Shanghai SIPG in China on 15. The Chinese club are relatively new, established in 2005. After getting promoted to China's Super League in 2012, they brought in former England National Team coach Sven Goeran Eriksson last season to further strengthen their presence in their third year in the Super League. The squad with the new head coach immediately showed outstanding performances, finishing the year in second place, only two points behind leaders Guangzhou Evergrande, and obtaining a spot in the ACL Playoff, where they defeated SCG Muangthong United to clinch the first-ever appearance in the Asian league.
For this season, they signed forward Elkeson who had played for Guangzhou Evergrande before. Together with Ghanaian international forward Asamoah GYAN and Argentine midfielder Dario CONCA, Elkeson is expected to boost the team's offence. Chinese international midfielder WU Lei has scored two goals in the past two ACL contests as well.
Domestically they are on a two-match winning streak while in the ACL they are currently in second place of Group G with one win and one loss. The group is led by Melbourne Victory with one point more than Shanghai SIPG, who are followed by one point by Gamba Osaka with two draws.
Since held to a draw to Melbourne Victory on the second matchday, Gamba Osaka have gotten in a better form, winning two in a row and not recording any loss in the past three. Coach HASEGAWA Kenta contentedly says after the 2-1 win against Omiya on 11 "It says a lot for us that we played such an aggressive football with quick transitions between plays at this point of a season." The upcoming away match against Shanghai is expected to be a difficult one for Gamba, where tenacious defence and transitions between offence and defence will be important factors for the Osaka side.
Urawa to face Guangzhou Evergrande
Urawa in Group H challenge the defending champions and fifth-time China Super League champions Guangzhou Evergrande on the road. Now with one win, one loss and total three points, Urawa are chasing group leaders Pohang Steelers by one point. They played against Guangzhou Evergrande in the group stage of the ACL 2013, where they shared one win and one loss.
In February Guangzhou Evergrande brought Colombian international forward Jackson MARTINEZ from Atletico Madrid of Spain, while last year's core of Brazilian international midfielder Paulinho, former Brazilian international forward Ricardo GOULART and Chinese international midfielder ZHENG Zhi are still well in place. In this year, however, they have not been able to perform as well as last year as they are still slumping in the middle of their domestic league with one win and one loss. In the ACL, they finished the opening match with scoreless draw to Pohang and lost to Sydney FC 2-1 in the following away match, which still have them at the bottom of the group with one point. To keep their hope for the knockout stage alive, they are expected to come out in full strength for next match.
As for Urawa, this coming match is certainly going to be very different from their most recent J.League match against Avispa Fukuoka where they dominated from start to finish for a win. They are required to play differently with a reenergized mindset. Although defender NAGATA Mitsuru is unavailable with accumulated yellow cards, Japanese international defender MAKINO Tomoaki, defender ENDO Wataru are midfielder ABE Yuki together stabilize their defence. Offensively, expectations is on forward KOROKI Shinzo who has scored three goals in the past six matches including the ACL.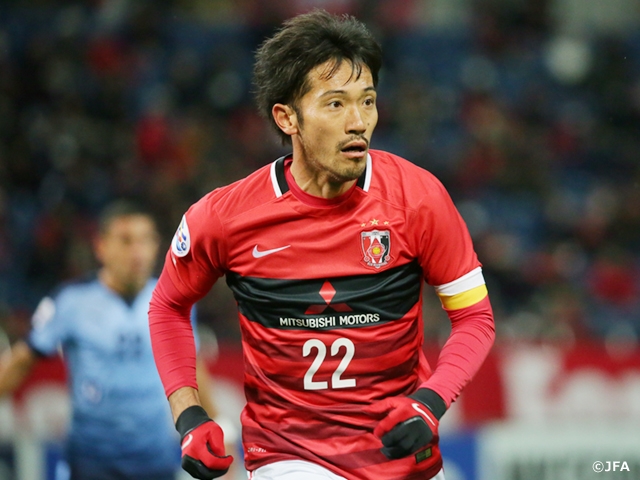 AFC Champions League 2016
27 January 2016 - 26 November 2016
Date
K.O.
Match
Venue
3/15
19:30
F.C. Tokyo
vs
Jiangsu FC
(China)
Tokyo Stadium
3/15
19:30
Shanghai SIPG
(China)
vs
Gamba Osaka
Shanghai Stadium
3/16
19:00
Sanfrecce Hiroshima
vs
Buriram United
(Thailand)
Hiroshima Athletic Stadium
3/16
19:30
Guangzhou Evergrande
(China)
vs
Urawa Reds
Guangzhou Tianhe Sport Center