NEWS
F.C. Tokyo rally to beat Binh Duong in MD2 of ACL group stage
02 March 2016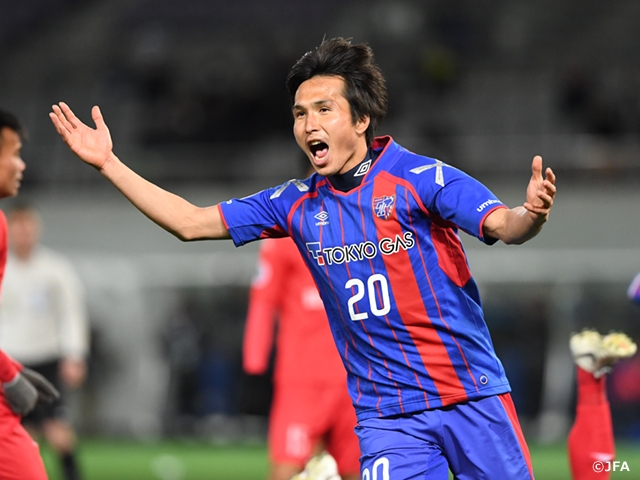 The second leg games of the group stage in the AFC Champions League were played on 1 March. At Tokyo Stadium, F.C. Tokyo and Vietnam's Becamex Binh Duong face off against each other in Group E, and the host posted a 3-1 victory.
F.C. Tokyo came in this game, substituting six players from their season-opening game in the J. League. "We still have a long way to establish our offensive combination," forward Nathan BURNS said afterwards. But the team relayed short passed and attacked on the Binh Duong goal.
F.C. Tokyo midfielder HANYU Naotake fired a middle shot in the 10th minute, but it didn't get in the goal. On the 23rd minute, Binh Duong took advantage of a chance they found in F.C. Tokyo. They robbed the ball in the F.C. Tokyo territory, and then forward Kisekka Henry had a shot from a fast attack. Fellow forward Nguyen Anh Duc, who was running toward the goal, put a loose ball into the goal to give the team a 1-0 lead.
F.C. Tokyo quickly began their rally after that. In the 27th and 34th minutes, TANABE Sotan launched shots, but one hit the goal post and the other was saved by the Binh Duong goalkeeper. F.C. Tokyo entered halftime trailing by one goal.
In the second half, F.C. Tokyo sent forward ABE Takuma into the pitch substituting for midfielder MIZUNUMA Kota. On 50th minute, Abe quickly came through doing his job. He received the ball in the left side and provided a soft loop pass into the middle. Forward SANDAZA dropped it and BURNS volleyed it into the goal to tie the contest.
F.C. Tokyo gained the momentum with the Burns goal. They went ahead with an own goal by their opponents' goalkeeper in the 67th minute. In the 84th, forward MAEDA Ryoichi headed a corner kick of defender OGAWA Ryoya, who made his pro debut this day, into the goal to widen the lead to two. With the good performance by the players who came in late, F.C. Tokyo went on to post a 3-1 win. It was their first victory in the tournament while they tied with Korea's Jeonbuk Hyundai Motors in points earned for the third place in the standings.
See more match details (Japanese version only)
Elsewhere, FC Seoul (Korea) cruised past Sanfrecce Hiroshima 4-1 at Seoul World Cup Stadium. It put Hiroshima in the third place in Group F.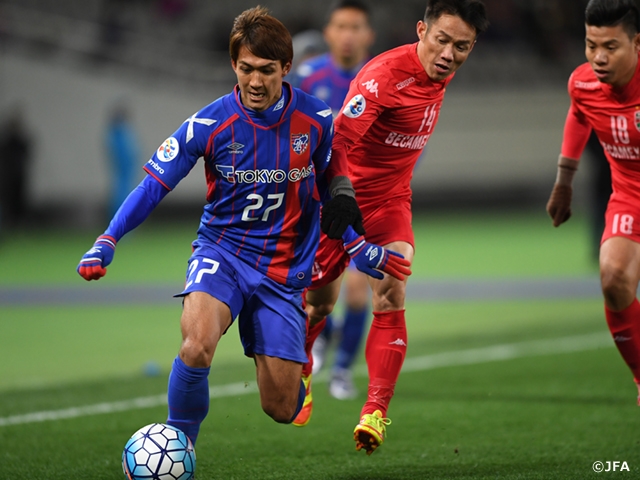 Coach and Players' Comments
JOFUKU Hiroshi, Coach (F.C. Tokyo)
It was a must-win game for us. I think that we played good earlier, but we still had to play a difficult game overall. We gave up the first goal to them, and (our players) played being nervous. While we were forced to play a tough game, we still managed to rally to get the win, that was because our players didn't get rattled and kept playing. We take it positively that we earned the three points, and we would like to take advantage of this game in which we played with our entire team for our games in the J. League.
Nathan BURNS (F.C. Tokyo)
We kept relaying the ball in the first half, and it made our opponents tired toward the end of the second half while our offence started working. Because we had to play with different members, it gave us some difficulties, but we kept trying with the entire squad, and hopefully we will make progress step by step. Offensively, we are still in the midst of developing it, but that actually means that we have a lot of rooms to grow. We would like to develop our chemistry more through our daily training.
MAEDA Ryoichi (F.C. Tokyo)
(On the scoring play) I made it thanks to Ogawa Ryoya providing me a good ball. I knew the quality of his kicks and we scored a goal with the image we would have – I'd get in for a cross following TAKAHASHI Hideto. No matter who we play, it always give you a pleasure to score a goal. Especially in the group stage, goal differences could be important, and it feels great that our team have won one.
Nguyen Thanh Son, Coach (Becamex Binh Duong)
We ended up losing the game, but we played it how we wanted to. While we lacked some of our core players, our starting players put up everything they had today. We had some time that we struggled against their set plays, but we were able to manage to hold them for most part. I would like to say congratulations to F.C. Tokyo for defeating us.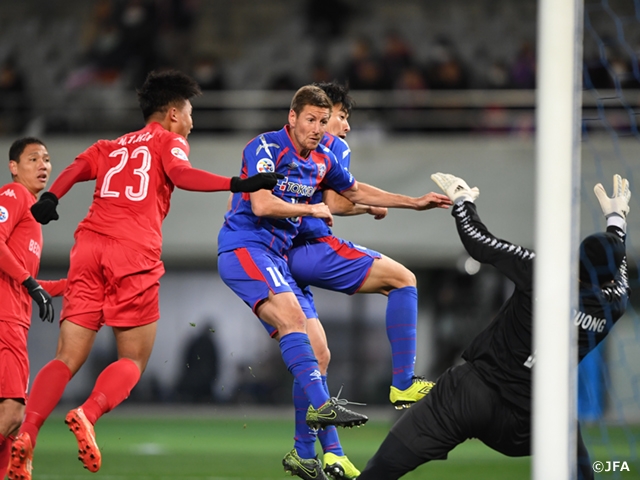 AFC Champions League 2016
27 January 2016 - 26 November 2016
Date
K.O.
Match
Venue
3/2
19:00
Gamba Osaka
vs
Melbourne Victory
(Australia)
Suita City Football Stadium
3/2
19:30
Pohang Steelers
(Korea Republic)
vs
Urawa Reds
Pohang Steelyard