NEWS
Machida capture 1st All-Japan Futsal Championship title
14 March 2016
Pescadola Machida defeated Nagoya Oceans 5-3 in the gold medal game of the 21st All Japan Futsal Championship at National Yoyogi Stadium First Gymnasium on 13 March. Pescadola captured their first championship since their changed their team name.
Observed by 3,604 fans in the stands, the contest wound up being a deserving one to determine the best team in Japan. Both team created scoring chances from early. In the 3rd minute, Ximbinha became 1-on-1 against Machida goalkeeper Higor PIRES but Pires shut it out. Then in the 7th, Machida's TAKITA Manabu fed a pass in the middle and YOKOE Reo directly volleyed it into the goal to take a lead. Nagoya, however, tied it as Ximbinha made a shot following a kick-in. And 16 seconds later, Ximbinha again netted a goal to give Nagoya a 2-1 lead.
Nagoya kept surging after that, but Machida responded with firm defence with focus. In the 17th minute, Machida equaled the game as SHINOZAKI Ryuki changed the angle of a shot by Yokoe putting it into the goal. Yet 40 seconds later, Nagoya's Sergio dribbled past defenders in the right side and sent a quick pass into the far side, and then KITAHARA Wataru made a shot with his entire body to retrieved a lead for the team. Trying to tie during the first half, Machida aggressively attacked into their opponents' territory. With 49 seconds left, Bola fired a shot and it hit a defender changing the direction. It went in the goal and the game entered halftime with a 3-all score.
As coach OKAYAMA Kosuke said after the game that they would try to go with stronger mindset as if they wouldn't mind allowing goals, Machida came on toward the Nagoya goalmouth with attacking mode even more. In the 24th minute, MORIYA Yuhta penetrated past a defender in the left side, and then launched a shot twisting his body. KANAYAMA Yuhki reacted to it and netted a goal to put the team up by one. Nagoya increased pressure around MORIOKA Kaoru, but Machida wouldn't yield a goal with their physical defensive effort. Then in the 33rd minute, Bola reacted to a vertical pass from Moriya and scored a goal after winning a 1-on-1 situation with the goalkeeper. It put Machida up by two.
Nagoya, the reigning champions, got rattled with the goal. "We allowed the goal when we should have rallied, and it rushed us," said coach Victor ACOSTA, whose Nagoya came on with a power play substituting their goalkeeper with Pedro COSTA. But they weren't able to score and were running out of time. Acosta said, "our players kept fighting patiently, but the opponents outplayed us." After all, Machida, who continued to play with concentration until the end, post a 5-3 win. In the first championship game as Pescadola Machida, they ended Nagoya's title streak at three, winning their first championship.
Meanwhile, in the third-place match which was played before the championship game, Bardral Urayasu escaped Fuchu Athletic F.C.'s late surge as they won 3-2.
Machida's Kanayama was given the tournament's MVP and Urayasu earned the fair play award.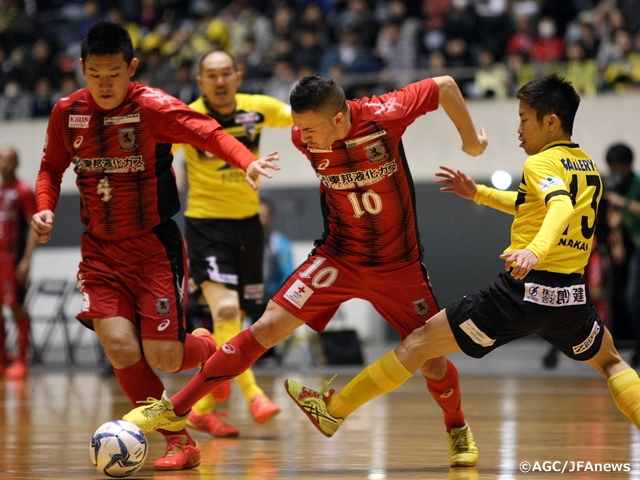 Coach and Players' Comments
OKAYAMA Kosuke, Coach (Pescadola Machida)
I'm frankly pleased. We wanted to show our strength, which is being aggressive, in the final and we came in the game with strong mindset as if we wouldn't mind allowing some goals. In the F League playoffs, we advanced as the second seed, but were really frustrated as we were eliminated in the first round. In order to play against Nagoya, whom we didn't play, we needed to advance to the final. The path has been tough, but we did get here and our players weren't satisfied and played with tough mindset, so I'm proud of them.
KANAYAMA Yuhki (Pescadola Machida)
When we won, while I came up with the joy, I felt like "great job" to Pedro Costa and Kitahara Wataru, because they are retiring at the end of this tournament. When I saw my teammates getting excited, then I realised that we've done it. I don't know if I deserve the MVP, but I was able to keep running and battling with the support from other players and staff. I don't think I won the championship and the MVP on my own but all the team members and staff.
Victor Acosta, Coach (Nagoya Oceans)
First off, I want to tell Machida congratulations. And I want to say great job to the Nagoya players too. It's been a long season and yesterday's game was another very tough game and we entred the game with some fatigue. But our players exhibited everything they had and although we ended up losing, we played a game that we have no regrets on. I would like to appreciate our players. We feel disappointed that we weren't able to deliver the victory to all the people who cheers us so hard, including our fans and supporters. This was my last game at Nagoya. I would like to express my appreciation for these three years.
MIKI Kazuyuki (Bardral Urayasu)
We wanted to finish it with the championship. We came up short finishing in the third place, but it was rewarding for us to have our smiles in the end. I'm retiring from the F League, but I felt really happy that I was able to play in front of these many fans at the wonderful setting in the end. After April, I will become an elementary school teacher, which has been my childhood dream. It was a great experience for me to have come from the regional league to Urayasu two years ago. I played for a great team.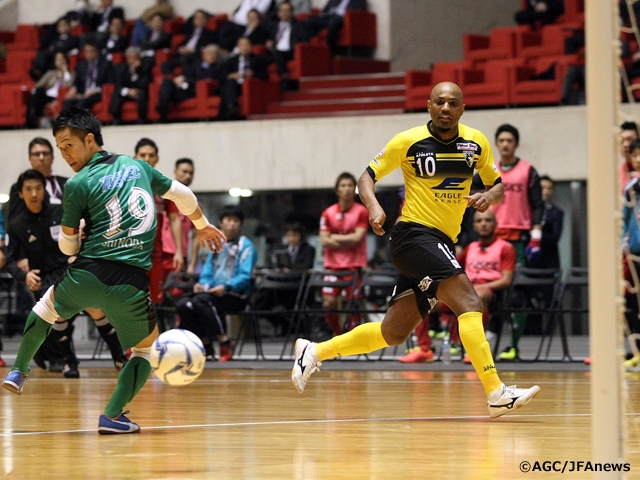 JFA-TV (Japanese version only)
Final Highlight Pescadola Machida vs Nagoya Oceans
3rd-place playoff Highlight Fuchu Athletic F.C. vs Bardral Urayasu
The 21st All Japan Futsal Championship
1st Round Fri. 4 March – Sun. 6 March 2016
Shizuoka/ECOPA Arena, Osaka/Fumin Kyosai Super Arena, Hyogo/Green Arena KOBE
(*1st Round, all matches no ticket required)
Final Round Fri. 11 March – Sun. 13 March 2016
Tokyo/National Yoyogi Stadium First Gymnasium