NEWS
U-20 Japan National Team defeat U-20 Honduras 3-2 in last friendly before World Cup Korea
16 May 2017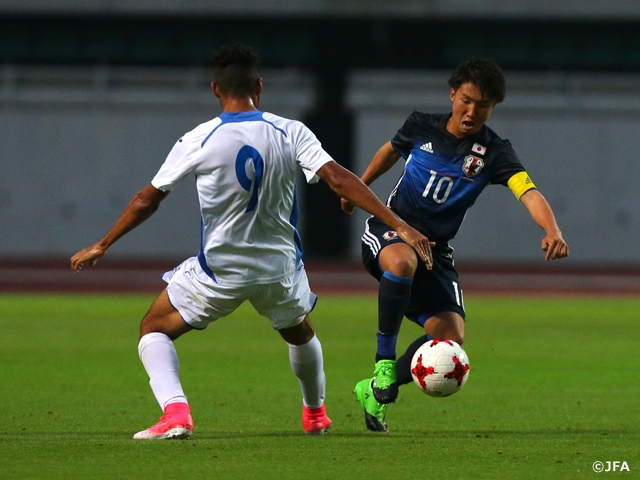 Friendly Match vs U-20 Honduras National Team
15 May 2017 (Mon.) Kick-off 18:30 Playing Time 90 min.(45 min. × 2)
Ecopa Stadium
U-20 Japan National Team 3-2(1st 1-2)U-20 Honduras National Team
Scores
15' OGAWA Koki (U-20 Japan National Team)
18' goal against(U-20 Honduras National Team)
32' goal against(U-20 Honduras National Team)
47' SAKAI Daisuke (PK) (U-20 Japan National Team)
63' ITAKURA Kou(U-20 Japan National Team)
Friendly Match Starting Line-ups
GK:KOJIMA Ryosuke
DF:FUNAKI Kakeru, NAKAYAMA Yuta, TOMIYASU Takehiro, HATSUSE Ryo
MF:MIYOSHI Koji, SAKAI Daisuke, HARA Teruki, DOAN Ritsu
FW:OGAWA Koki, IWASAKI Yuto
Substitutions
HT HARA Teruki → ICHIMARU Mizuki
HT KOJIMA Ryosuke → HATANO Go
62' MIYOSHI Koji → ENDO Keita
62' IWASAKI Yuto → KUBO Takefusa
62' SAKAI Daisuke → ITAKURA Kou
62' NAKAYAMA Yuta → SUGIOKA Daiki
62' FUNAKI Kakeru → FUJITANI So
74' OGAWA Koki → TAGAWA Kyosuke
74' DOAN Ritsu → TAKAGI Akito
87' HATANO Go → YAMAGUCHI Louis Takaji Julien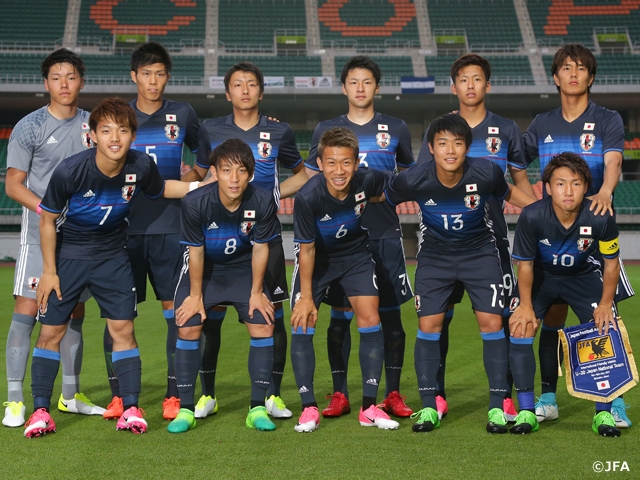 Match Report
In the run-up to the FIFA U-20 World Cup Korea Republic 2017, U-20 Japan National Team played a friendly match against U-20 Honduras at Ecopa Stadium on Monday 15 May.
The match will be "a perfect simulation", according to UCHIYAMA Atsushi, for the World Cup opener against South Africa to be held on Sunday 21, as the Honduran squad are also making their final preparation prior to entering the tournament. The young Japanese squad came out highly motivated to take full advantage of this valuable opportunity.
As midfielder DOAN Ritsu looked back as 'We got off to a good start', Japan dominated by connecting passes in the Honduras side early on, starting their build-ups from central defenders NAKAYAMA Yuta and TOMIYASU Takehiro. In the 10th minute, after midfielder MIYOSHI Koji received the ball at centre and initiated Japan's attack, Gamba Osaka duo Doan and HATSUSE Ryo combined to break down the right flank to create their first scoring opportunity. Miyoshi's shot was denied by Honduras's all-out defence, but Japan got a positive response from the play that they had been practising in training.
The long-awaited opening goal came in the 15th minute when forward OGAWA Koki headed in SAKAI Daisuke's left corner kick. Japan took a lead with Ogawa's superb goal following another that he scored against Jubilo Iwata on Friday 12. Sakai's assist was also brilliant as he later said, 'I thought it could be a good ball for Ogawa if my kick went over the near-post defender'.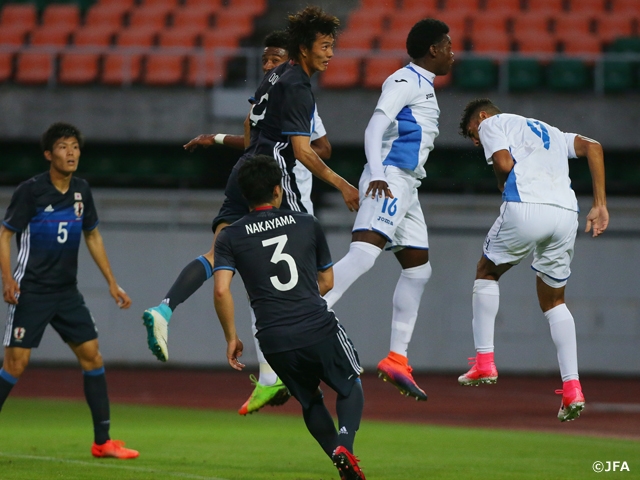 However, Honduras are a potent team who also qualified for the U-20 World Cup, and the Japanese players were made aware of the fact that such opponents could hit back once they allowed a gap. In the 18th minute, soon after the opening goal, Japan created a goal-scoring opportunity from a corner but allowed Honduras to rally back with a counter-attack. Forward Darixon VUELTO with blazing speed beat defenders staying in the other end and squared a pass to midfielder Jorge ALVAREZ. Japan goalkeeper KOJIMA Ryosuke courageously raced out, but Alvarez converted an equaliser with a slick shot. As Kojima expressed his disappointment later, 'He dodged my challenge superbly', Alvarez's skill and composure went ahead of what Kojima could offer.
Japan continued to dominate possession. After Ogawa battled in the air for Doan's ball, Miyoshi met a cross from forward IWASAKI Yuto running behind the defensive line in the 28th minute. But the midfielder's effort went over the bar to miss the golden opportunity. Conversely, in the 32nd minute, Honduras capitalised on passing error to thread a neat through pass to Alvarez, who dodged the challenge of the last defender and fired a go-ahead goal for his side. 'The opponents had two clear-cut chances only but converted both of them', said crestfallen Japanese goalkeeper Kojima. The match reminded the Japanese squad of how tough football can be.
However, Japan could not end here as well. Second-half substitute midfielder ICHIMARU Mizuki started to string better passes in midfield, and coupled with the visitors who stayed back and defended after taking the lead, U-20 Japan regained control of the match after the break. The equaliser came off a penalty in 47th minute, when captain Sakai calmly netted to level the match. Furthermore, five new players were brought in just past the hour mark, and two of them shone moments later to turn around the match for the Japanese side. In the 63rd minute, defender ITAKURA Kou headed a corner from midfielder ENDO Keita to reclaim the lead. As Itakura later commented, 'It was only my second touch of the game', he immediately impacted the game to score the important winner for his team by taking advantage of his height.
The game stayed in the balance for the remainder of the match, and U-20 Japan edged Honduras 3-2 to gain some positive momentum before entering the World Cup. Furthermore, in the subsequent 30-minute practice game, Japan secured a 1-0 win with midfielder TAKAGI Akito's goal.
Defender Nakayama summarised their day positively including the moment when they conceded a goal, saying 'It was better that we conceded now than in the actual World Cup'. Winning the preparatory match wasn't the only takeaway, but Japan also found out few problem areas they need to work on prior to the tournament.
U-20 Japan will hold their final training in Shizuoka on Tuesday 16, before making the final tune-up in Korea to prepare for the tournament opener against U-20 South Africa on Sunday 21.
Coach's and Players' Comments
UCHIYAMA Atsushi, Coach
It has given us a precious opportunity for us to share the same team concept one last time and play a game. However, our offence had several chances to score, but weren't able to capitalise on those opportunities. In the upcoming World Cup, we need to be sharper towards the end of our plays and more clinical in our finishes. Today we experienced both the physicality and speed that were comparatively superior to the Japanese players. We need to work on converting scoring chances and improve the combination among my players and the accuracy of their plays, as well as getting to the loose balls first and having more tenacity on the battles for the balls as well.
DF #4 ITAKURA Kou (Kawasaki Frontale)
I knew every single day of this training camp will be a make-or-break time for me. Today I focused on defence and build-ups and entered the game. I was subbed in as a midfielder, but I will be always ready to play as a defender as well. I am fully aware that there will be occasions during the game where I might get shifted to midfield, or vice versa. I consider my header as an arsenal for the Japanese team, and will be looking to win all the aerial battles.
MF #7 DOAN Ritsu (Gamba Osaka)
I struggled to display my style of football in the first half, but performed much better in the second, as I played without being afraid of making errors. It worked out well for the team as well. I was in good form today. I trusted and followed my game instincts. I thought it would be important not to keep the ball for too long and swiftly send a pass to find myself in space to score a goal. In the first half, I only had few times where I find myself with the ball to create chances, but the number of those occasions increased as I started to receive the ball and face towards the opposing goal in the second.
MF #11 ENDO Keita (Yokohama F・Marinos)
On this national team, I had usually been able to start it off well even in practices, allowing me to perform with positive mind-set. The primary reason for this is that every day I am feeling the responsibility of being on the national team. My teammates wished me luck before coming here, so I always try to do my best as a representative of the Yokohama F・Marinos club as well. As for the assist I made, I was able to deliver the first corner-kick of the match to an excellent spot. I have been working on the accuracy of those placed kicks.
FW #9 OGAWA Koki (Jubilo Iwata)
(Speaking of the goal scored) An excellent ball came towards me, so I am pleased that I could take advantage of it. I believe I have a height advantage, and I scored the first goal as I intended. Honduras is one of the countries that are regular in world competitions. So it turned out to be a fruitful match considering we came out with a win against them. It was significant for us that despite trailing one time, we stayed positive, kept trying and came back to win it. But we need to work on the details as well. I am really looking forward to the FIFA U-20 World Cup.
JFA-TV (Japanese version only)
Schedule
Thu. 11 May
PM
Training
Fri. 12 May
AM
1-0
Training
Training Match
vs Jubilo Iwata (Yamaha Stadium)
Sat. 13 May
AM
Training
Sun. 14 May
AM/PM
Training
Mon. 15 May
AM
3-2
Training
International Friendly Match
vs U-20 Honduras (Ecopa Stadium)
Tue. 16 May
AM
Training
Wed. 17 May
PM
Training
Thu. 18 May
PM
Training
Fri. 19 May
PM
Training
FIFA U-20 World Cup Korea Republic 2017
Sat. 20 May
PM
Training
Sun. 21 May
17:00
Group Stage 1st vs U-20 South Africa
(Suwon World Cup Stadium/Suwon)
Mon. 22 May
AM
Training
Tue. 23 May
PM
Training
Wed. 24 May
20:00
Group Stage 2nd vs U-20 Uruguay
(Suwon World Cup Stadium/Suwon)
Thu. 25 May
TBC
Training
Fri. 26 May
PM
Training
Sat. 27 May
20:00
Group Stage 3rd vs U-20 Italy
(Cheonan Sports Complex/Cheonan)
Tue. 30, Wed. 31 May or Thu. 1 June
Round of 16
Sun. 4 or Mon. 5 June
15:00/18:00
17:00/20:00
Quater Final (Jeonju/Daejeon/Suwon/Cheonan)
Thu. 8 June
17:00/20:00
Semi Final (Daejeon/Jeonju)
Sun. 11 June
15:30/19:00
3rd place play off/Final
(Suwon World Cup Stadium)
*The schedule is subject to change due to the team condition, the weather, etc.
*Local Time