NEWS
U-20 Japan National Team work on combination and defensive tactics in scrimmage practice
15 May 2017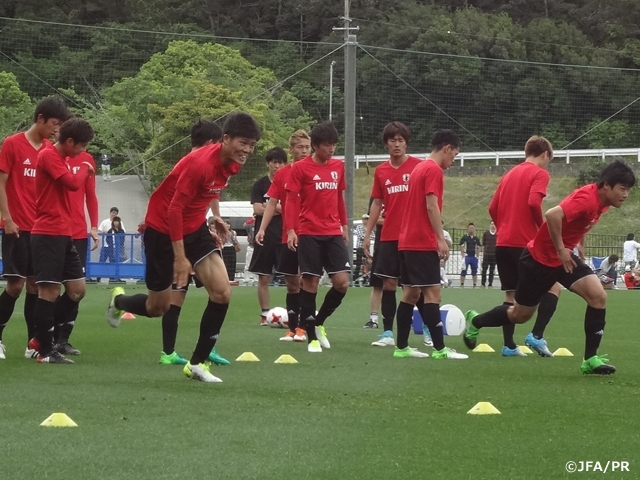 U-20 Japan National Team, who are currently holding a training camp in Shizuoka to prepare for the upcoming FIFA U-20 World Cup Korea Republic 2017, had training on Sunday 14 to work on their combination plays and defensive tactics in scrimmage practices.
In the training limited to morning session ahead of the coming friendly match tomorrow, the team went through 3-on-2 passing drills, followed by 6-on-5 and 7-on-7 small-sided games to check on their combination plays. To wrap up the day, the whole squad played an intrasquad scrimmage on a full-sized pitch. During the warm-ups, HATSUSE Ryo raised his voice to encourage the team, while the teammates responded with a focused look on their faces. SUGIOKA Daiki commented after practice, "I kept my focus during today's practice. We had an excellent training."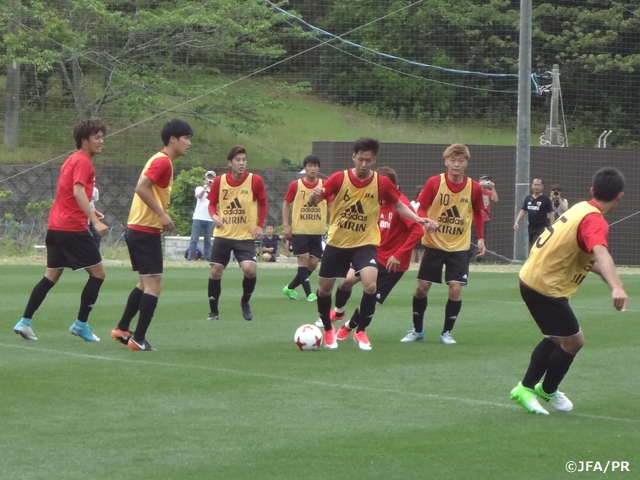 On the Monday 15, the Japanese squad are scheduled to have a friendly match against the U-20 Honduras National Team, who will enter the World Cup in Group E with France, Vietnam and New Zealand. The Honduran team are also currently holding a training camp in Japan before heading to Korea for the international tournament.
For U-20 Japan, it will be their first international friendly since March against Germany, and their last prior to the World Cup. Hatsuse has commented on the importance of this match, "We should consider this as if this were the actual opener for the World Cup. I believe our opponents will take this match seriously as well. It will be a good tester ahead of the tournament. We should get ready for it." Furthermore, MIYOSHI Koji added, "This is an important match in preparation for the World Cup. How well we perform in these matches will be crucial. Strong mentality will be required to get the desired performance."
The Japan Football Association, upon receiving a request from U-20 coach UCHIYAMA Atsushi that he wanted as many people to see his team before heading to the World Cup, has decided that the game will be held at night and will be open to public. The association also announced that there will be a live coverage on JFA-TV over the internet. A friendly match of two 45-minute halves will be shown, followed by a 30-minute practice game.
On Monday 15 May, the friendly match is scheduled to kick-off at 18:30 at Ecopa Stadium in Shizuoka.
Players' Comments
DF #3NAKAYAMA Yuta(Kashiwa Reysol)
I was called up to the national team for the first time this season, and felt the need to communicate more proactively with my teammates during the practice game on Friday (against Jubilo Iwata). It would be ideal if we can raise our level of understanding to the point where we do not have to explain to each other on the pitch. We are aiming to deepen our understanding in training as well.
I am looking forward to the coming FIFA U-20 World Cup. As it gets closer to the opening of the tournament, I am feeling even more eager to play. I am keeping a high level of motivation as well, and I believe I can enter the competition in excellent form with a good mind-set. Displaying my style of attacking football as well as showcasing the defensive aspects of my game that I have been working on, I am looking to help my team win.
FW #13 IWASAKI Yuto(Kyoto Sanga F.C.)
In the practice match on Friday, I had few chances where I exploited the space behind the backline, but failed to convert those chances into goals. We combined well upfront by communicating effectively about our next moves among the forward players. I would like to display more of my attacking style of football with my dribbling and other offensive skills.
DF #6 HATSUSE Ryo(Gamba Osaka)
I believe our main strength is teamwork. Currently, we are having excellent training, and I have no worries heading to Korea. By making minor adjustments, I think this team will be in top form for the tournament. Personally, my strength is being ambidextrous, and I can play fullback on either side. I am willing to challenge the world stages while taking advantage of this unique skill.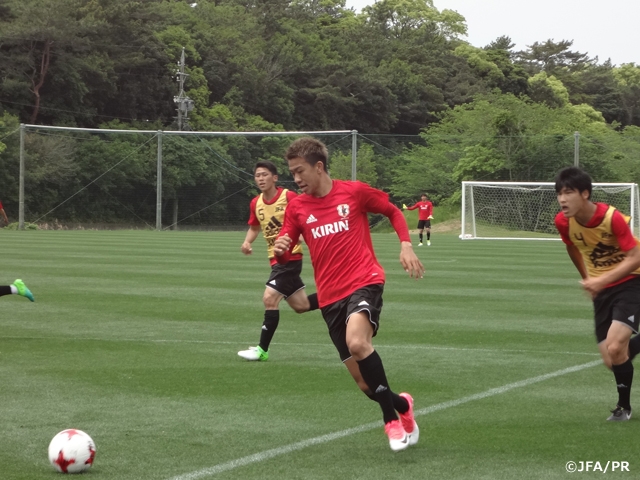 Schedule
Thu. 11 May
PM
Training
Fri. 12 May
AM
1-0
Training
Training Match
vs Jubilo Iwata (Yamaha Stadium)
Sat. 13 May
AM
Training
Sun. 14 May
AM/PM
Training
Mon. 15 May
AM
18:30
Training
International Friendly Match
vs U-20 Honduras (Ecopa Stadium)
Tue. 16 May
AM
Training
Wed. 17 May
PM
Training
Thu. 18 May
PM
Training
Fri. 19 May
PM
Training
FIFA U-20 World Cup Korea Republic 2017
Sat. 20 May
PM
Training
Sun. 21 May
17:00
Group Stage 1st vs U-20 South Africa
(Suwon World Cup Stadium/Suwon)
Mon. 22 May
AM
Training
Tue. 23 May
PM
Training
Wed. 24 May
20:00
Group Stage 2nd vs U-20 Uruguay
(Suwon World Cup Stadium/Suwon)
Thu. 25 May
TBC
Training
Fri. 26 May
PM
Training
Sat. 27 May
20:00
Group Stage 3rd vs U-20 Italy
(Cheonan Sports Complex/Cheonan)
Tue. 30, Wed. 31 May or Thu. 1 June
Round of 16
Sun. 4 or Mon. 5 June
15:00/18:00
17:00/20:00
Quater Final (Jeonju/Daejeon/Suwon/Cheonan)
Thu. 8 June
17:00/20:00
Semi Final (Daejeon/Jeonju)
Sun. 11 June
15:30/19:00
3rd place play off/Final
(Suwon World Cup Stadium)
*The schedule is subject to change due to the team condition, the weather, etc.
*Local Time