NEWS
U-20 Japan National Team began training camp prior to FIFA U-20 World Cup Korea Republic 2017
12 May 2017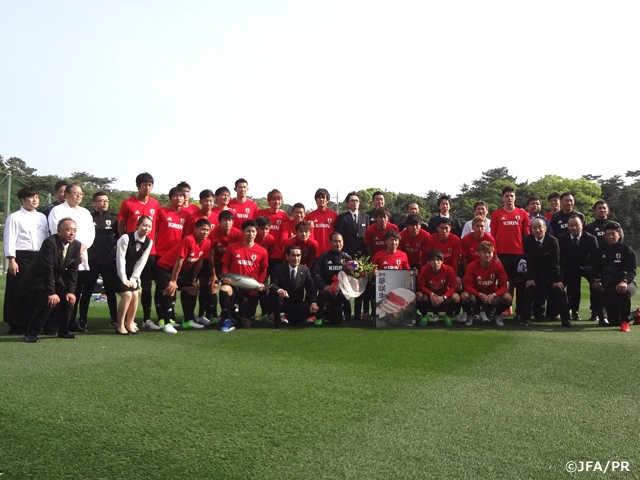 On 11 May, U-20 Japan National Team kicked-of their activities in Shizuoka prefecture for the U-20 World Cup Korea Republic which will start soon.
The team was launched in 2015. They competed in the first Asian qualifier, successfully qualified for the World Cup in the last qualifier of the AFC U-19 Championship Bahrain 2016. It has been seven months since then. The team continued to have team activities such as overseas trips to Argentina and Germany, and another domestic camp. The final 21 squad members were selected on 2 May.
It was the first day of the camp today. The players had 1 hour training sessions which included Pass & Control and another pass exercise such as 7-on-7 plus goalkeeper. The players looked highly motivated throughout the sessions. There were other players who played for their club teams on the previous day for the J. LEAGUE YBC Levain CUP, and they instead had recovery sessions.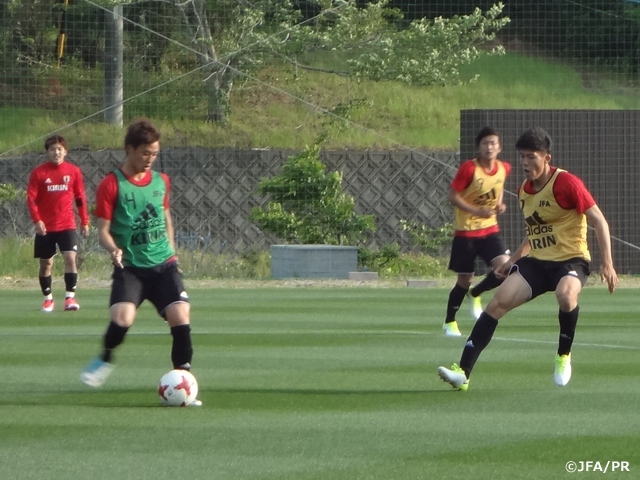 Prior to the training, Omaezaki city, where the team is having the training camp, held a welcoming ceremony. Mr. YANAGISAWA Shigeo, Mayor of Omaezaki City expressed his welcome and encouragement in his speech: "Hoping for the victory, we are happy to give fresh bonito which has just been caught locally. We hope that you will enjoy it. We also hope that you will make the wonderful result in the upcoming World Cup."
The team will have a practice match against Jubilo Iwata at Yamaha Stadium on 12 May, and a Friendly against the U-20 Honduras National Team at Ecopa Stadium on 15 May. The team's Coach UCHIYAMA Atsushi said: "In the camp we want to check what we have created amongst ourselves, the sense of shared condition and combination." Throughout the week, they are getting ready well in Japan for the first match of the group stage on 21 May.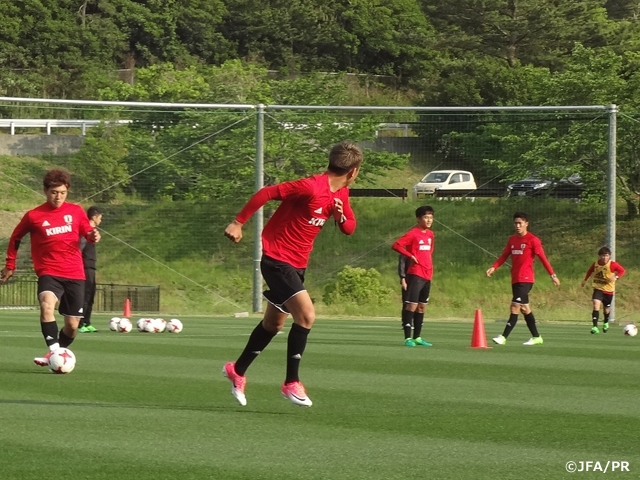 Coach's and Players' Comments
UCHIYAMA Atsushi, Coach
We know that the World Cup will be tough for us. We will have to play with a good sense of flexibility according to what will happen in each match as well as keeping consistent team- concept in both offence and defence. While we have built-up our team-concept for two years, the players always did well with high motivation. However, there are some teams we will face that will try to demolish our team-concept. Prior to the start of the training, we have talked about the importance of playing with clear sense of image, apart from our essential values which are: sense of coordination and making compact plays.
MF #16 HARA Teruki (Albirex Niigata)
As long as I was chosen as a member of the team, I have to play consistently with responsibility. The first match is very important, so we will have very good preparation to play in the best condition as a team. Personally, I want to be selected and to play which directly contributes to the team's victory. I think this will change my career as a football player. I will keep high mentality throughout this opportunity.
FW #20 KUBO Takefusa (F.C. Tokyo U-18)
I believe that each day is very important, so I will keep my mentality higher and join the camp with a good condition. The fact that I was chosen for the squad member for the U-20 World Cup gave me a big confidence boost. Considering other players who could not be called-up in this opportunity, I want to play with a sense of responsibility. In offensive plays such as dribble, pass, and taking shots, I just want to do all of what I can do.
JFA-TV (Japanese version only)
UCHIYAMA Atsushi, Coach Comment

HARA Teruki (Albirex Niigata) Comment

KUBO Takefusa (F.C. Tokyo U-18) Comment
Schedule
Thu. 11 May
PM
Training
Fri. 12 May
AM
17:30
Training
Training Match
vs Jubilo Iwata (Yamaha Stadium)
Sat. 13 May
AM
Training
Sun. 14 May
AM/PM
Training
Mon. 15 May
AM
18:30
Training
International Friendly Match
vs U-20 Honduras (Ecopa Stadium)
Tue. 16 May
AM
Training
Wed. 17 May
PM
Training
Thu. 18 May
PM
Training
Fri. 19 May
PM
Training
FIFA U-20 World Cup Korea Republic 2017
Sat. 20 May
PM
Training
Sun. 21 May
17:00
Group Stage 1st vs U-20 South Africa
(Suwon World Cup Stadium/Suwon)
Mon. 22 May
AM
Training
Tue. 23 May
PM
Training
Wed. 24 May
20:00
Group Stage 2nd vs U-20 Uruguay
(Suwon World Cup Stadium/Suwon)
Thu. 25 May
TBC
Training
Fri. 26 May
PM
Training
Sat. 27 May
20:00
Group Stage 3rd vs U-20 Italy
(Cheonan Sports Complex/Cheonan)
Tue. 30, Wed. 31 May or Thu. 1 June
Round of 16
Sun. 4 or Mon. 5 June
15:00/18:00
17:00/20:00
Quater Final (Jeonju/Daejeon/Suwon/Cheonan)
Thu. 8 June
17:00/20:00
Semi Final (Daejeon/Jeonju)
Sun. 11 June
15:30/19:00
3rd place play off/Final
(Suwon World Cup Stadium)
*The schedule is subject to change due to the team condition, the weather, etc.
*Local Time