NEWS
Japan Under-16 National Team end winless in Delle Nazioni Tournament in Italy (28th April)
29 April 2014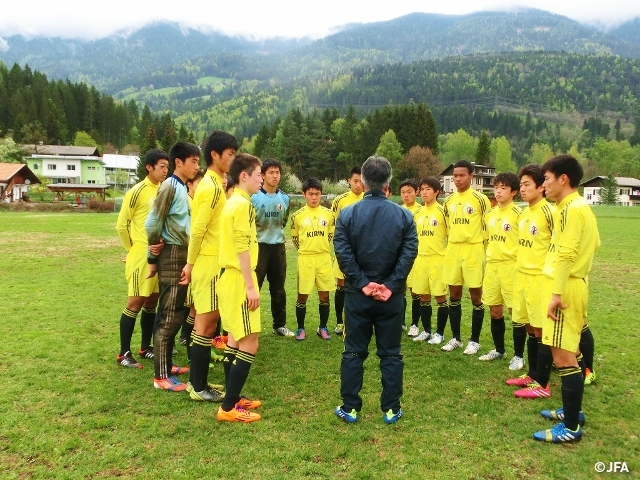 Team Japan came in their third game of the group league against Azerbaijan without a possibility to advance to the knock-out round, and they allowed the opponents to tie the contest in the final minutes to exit the tournament winless.
But sometimes you will learn a lot more in a defeat. As a matter of a fact, the coaching staffs, including head coach Yoshitake, gave the players detailed instructions as a part of their correction works, with their eyes on September's AFC Championship final qualifier.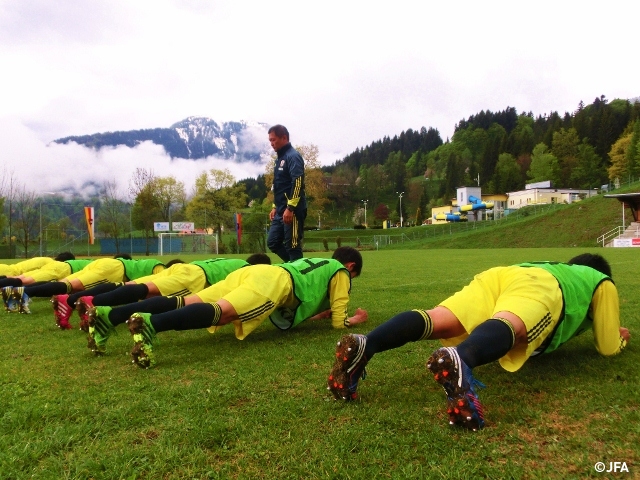 Now the young Japanese squad will move to Italy to have training matches against the United States and Zambia. We would like you to keep your continued supports for the Japan Under-16 team, nicknamed ''98JAPAN,'' which set their goal to compete in the 2015 FIFA Under-17 World Cup in Chile.
Comments from Head Coach and Players
Hirofumi Yoshitake, Head Coach
While we had already been eliminated in the group stage, we got to have our final training in a strained mood. We made our players to work on make quick decisions for the next plays by looking at the opponents' positions. And as we applied more one-touch plays, we saw some improvements in them making faster decisions. In our seventh day since we assembled, we felt like we finally got to be united as one team. But from the next activity on, we want us to act as one aiming at the same goal from Day One. We would like to keep the mood in our trainings in the remaining five days.
TANII Hiroki (Gamba Osaka Youth)
It's been three days since I was called up and I got to be used to the mood of the team, I was able to train being more relaxed today. In today's practice, we worked on 2-on-1s or 4-on-3s, situations like we were out-numbered by the opponents defensively. There were moments that I could cope with the defenders fine and moments that I wasn't able to do so well, so from the next practice on, I would like to tell our defenders what to do and increase the number of the occasions to be able to shut down.
ABE Masashi (Seiryo High School)
In today's practice, I could move a step or two when I received the ball on the sides, and I could watch the opponents well enough. I will repeat to say what coach Yoshitake and other coaching staff told us, so I can keep them in mind.
KATO Jun (Niigata Meikun Seniro High School)
I focused on watching the opponents in our training today, because you will have an edge over your opponents if you can afford to watch them. I would like to keep that in mind to observe the opponents to make the best decisions I can in our practices and training matches, and hopefully raise my level.
Schedule
The 11th Delle Nazioni Tournament

(Fri) 25th April

0-1

VS U-16 Croatia National Football Team


Kotschach-Mauthen/Austria

(Sat) 26th April

1-2

VS U-16 Chile National Football Team

Hermagor/Austria

(Sun) 27th April

1-1

VS U-16 Azerbaijan National Football Team

Amoldstein/Austria