NEWS
U-16 Japan National Team's Activity Report on the 11th Delle Nazioni Tournament in Italy (4/22-4/23)
24 April 2014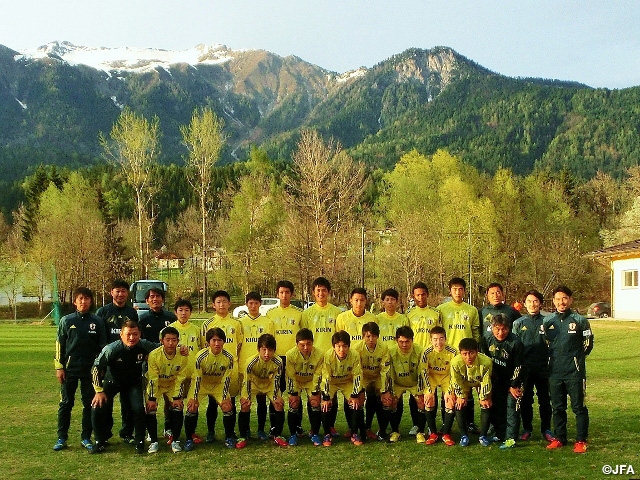 While it is still fresh in our memory that U-17 Japan Women's National Team won FIFA U-17 Women's World Cup, U-16 Japan National Team aim to qualify for U-17 World Cup held in Chile next year. They got together at Haneda Airport to participate in the 11th Delle Nazioni Tournament held in Italy.
The team will participate in the tournament as a "wining team from last year." At the tournament, there will be best teams from each country in the world. This includes Croatia, with which we competed in the final Group B match last year. It also includes Chile, the host country for U-17 World Cup, and Azerbaijan going on a tour in May.
The team arrived at Malco Polo Airport in Venezia , Italy, almost on time. The members got on a bus arranged by the sponsor of the tournament and headed to Kotschach-Maut, Austria, where 3 Group League matches will be held from 25th.
As the bus run on highways and passed through the vast plains, beautiful mountains, whose top was still covered with snow, came into our sight.
The team arrived at a hotel three hours later. After they changed their clothes and had a light meal, they again took a bus and did a little bit of training.
They will have training in the morning and the afternoon tomorrow to preprare for the first match with Croatia on 25th.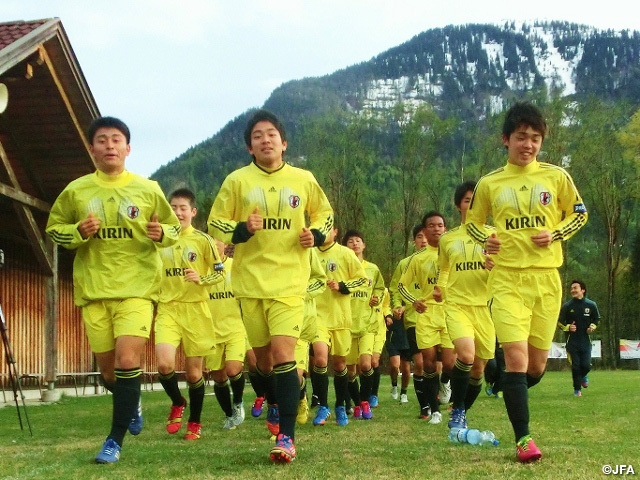 Comments from Head Coach and Players
YOSHITAKE Hirofumi, Head Coach
I'm thankful that we can concentrate on football in this great environment with comfortable accomodation, beautiful mountains and warm local people. I'm looking forward to the first match at the Delle Nazioni Tournament held from day after tomorrow.
INOUE Seiya (Cerezo Osaka U-18)
Since the tour is in Europe this time, we had to travel long distance. There is also seven-hour time difference, so we learned how to spend the time on the airplane to be able to adjust the time difference. We will have matches soon, so I want to be well-prepared and demonstrate my ability to the fullest extent.
KATO Jun (Niigata Meikun High School)
We have finished the first practice since the tour started. I think there is very good atmosphere among us because all team members try to communicate with each other. I want to maintain this atmosphere and prepare for matches so that we can win the championship.
ABE Masashi (Seiryo High School)
The destination of this tour is Europe which is very far from Japan, and there is seven-hour time difference. I learned that we needed to prepare in advance to adjust to the environment. (Changing the time to sleep, for instance.) I felt that I needed to think when to sleep and when to stay up.
Schedule
The 11th Delle Nazioni Tournament
Fri. 25 April

17:00

vs. U-16 Croatia National Team(Kotschach-Mauthen/Austria)

Sat. 26 April

15:30

vs. U-16 Chile National Team(Hermagor/Austria)

Sun. 27 April

17:00

vs. U-16 Azerbaijan National Team(Amoldstein/Austria)

Tue. 29 April

16:00
17:30
Semi-Final(Nova Gorica/Slovenia)
Semi-Final(Kotschach-Mauthen/Austria)

Thu. 1 May

16:00

Final(Gradisca/Italy)