NEWS
Japan Under-16 National Team beaten by Chile Under-16 in Delle Nazioni Tournament in Italy
27 April 2014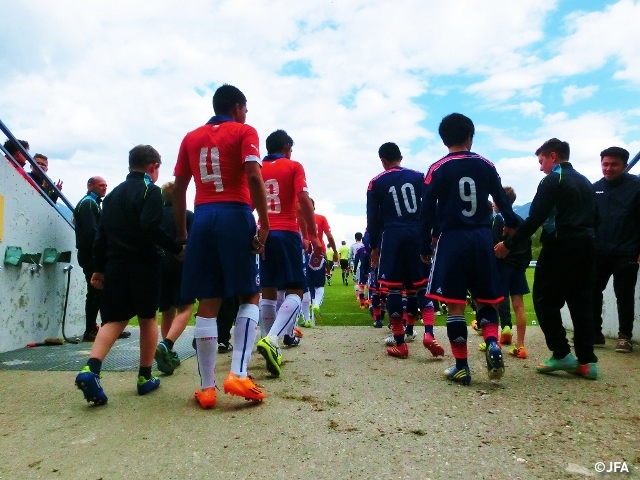 The 11th Delle Nazioni Tournament
Saturday 26 April 2014 15:30 Kick Off 60 minutes(30 minutes half)
Hermagor(Austria)
U-16 Japan National Team 1-2(1stHalf 1-1、2ndHalf 0-1) U-16 Chile National Football Team
Scores
12min IKEDA Taisei(U-16 Japan National Team)
21min Goal Against(U-16 Chile National Football Team)
55min Goal Against(U-16 Chile National Football Team)
Starters
GK:OSAKO Keisuke
DF:KATO Jun、ABE Masashi、YOSHIDA Shun、ASADA Shogo
MF:NISHIMOTO Takanobu、IKEDA Taisei、SATO Sota
FW:ONOZAWA Toshiki、SASAKI Takumi、ITO Ryoya
Substitutes
GK:TANII Hiroki
DF:KAJIYAMA Kanta、IYOHA Osamu Henry、WATANABE Kouta
MF:KANDA Ryotaro
FW:SUGA Daiki、HANYA Yosuke
HT ITO Ryoya → KAJIYAMA Kanta
44min ONOZAWA Toshiki → WATANABE Kouta
57min SATO Sota → SUGA Daiki
Match Report
Japan Under-16 national team, who took a loss in their opening game, entered their second game, in which they needed to earn some points in order to advance to the next stage.
On 14th minute, Japan struck first as midfielder Ikeda Taisei (Jubilo Iwata Under-18 netted on a line-drive shot from outside the box. But while they struggled to add another, they got tied by the opponents before the first half ended at 1 all.
Japan had hard time creaking decisive scoring moments by getting their opponents' defense off balance in the second half, and on 57th minute, Chile went ahead with a goal off a catching mistake by the Japan goalkeeper.
Later, Japan had a couple of free-kick opportunities near the goal, but were not able to score, and the game finished with a 2-1 by Chile.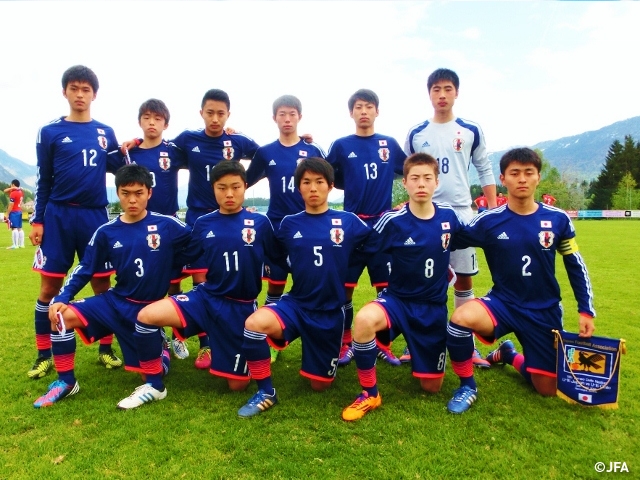 Comments from Head Coach and Players
Hirofumi Yoshitake, Head Coach
Against our 4-3-3 system, our opponents, Chile, came in the game switching their system from their previous game to a 4-1-4-1 formation, with which they tried to stop our guys in the mid-field man-to-man. It was something Japan was worst at playing against and we failed to catch the opponents off balance again. Furthermore, we lost the game as some of our men played replying too much on others and did not seem to take advantage of their traits. After all, we wound up being eliminated in the qualifying round and it was such a very disappointing result.
NISHIMOTO Takanobu (Kashima Antlers Youth)
We struck first but then tried to add one more too much, and it gave our opponents more time to possess the ball. After all, we gave up a game-tying goal, and struggled to get our pace. Personally, I should have tried to be more of a pivotal man offensively, receiving and passing the ball repeatedly.
ASADA Shogo (Kyoto Sanga F.C. U-18)
I played as a center back and we allowed two goals, so it's frustrating. When we tried to build up, we had situations that we got the ball, and thought first and then passed it, and we would like to improve on that. We will have to accept that fact that we took the consecutive losses in the group stage and grow based on the frustration we had.
IKEDA Taisei (Jubilo Iwata U-18)
We had tough times possessing the ball and crossing the half line. As the entire team, we were not able to create our own space, shedding the marks of the opponents, and also we lacked the attitudes to try to go to receive the ball from our own. For tomorrow7s game, we would like to show a spiritual game and get a win, feeling the weight of the Japanese flag.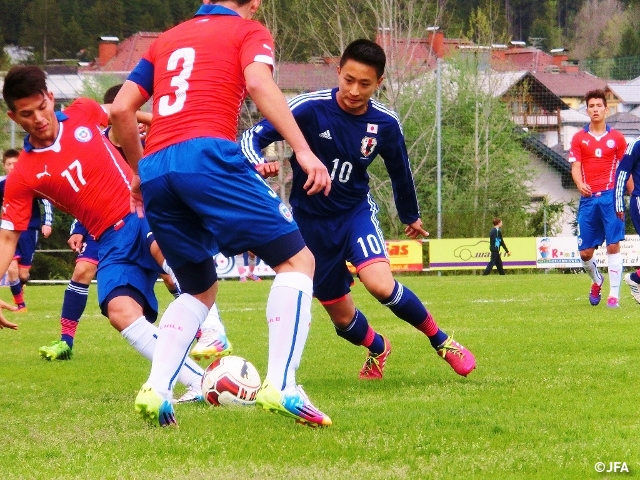 Schedule
The 11th Delle Nazioni Tournament
(Fri) 25th April
0-1
VS U-16 Croatia National Football Team
(Sat) 26th April
1-2
VS U-16 Chile National Football Team
(Sun) 27th April
17:00
VS U-16 Azerbaijan National Football Team
(Tue) 29th April
16:00
17:30
Semifinal(Nova Gorica/Slovenia)
Semifinal(Kotschach-Mauthen/Austria)
(Thu) 1st May
16:00
Final(Gradisca/Italy)