NEWS
EAST Leader Aomori Yamada to face Omiya, while WEST features an enticing matchup at the 3rd Sec. of Prince Takamado Trophy JFA U-18 Football Premier League
18 April 2019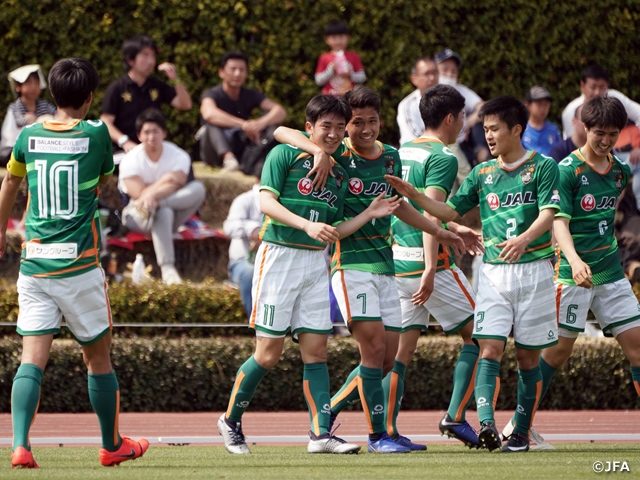 On Saturday 20 and Sunday 21 April, the third Sec. of the Prince Takamado Trophy JFA U-18 Football Premier League will take place.
EAST
Funabashi Municipal High School (Chiba) will welcome Urawa Red Diamonds Youth (Saitama) at their home filed. Following their 3-1 victory in the previous match, the Funabashi side will seek to break down the Urawa defence led by the U-17 Japan National Team goalkeeper SUZUKI Zion (#25) to pick up their momentum in the league.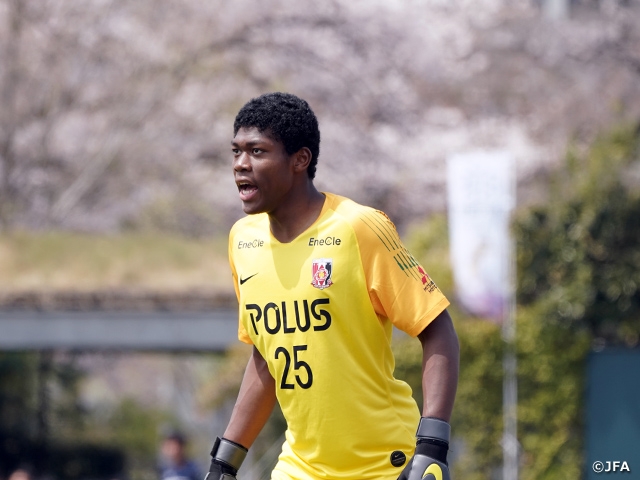 For Shoshi High School (Fukushima), this week's match will be their home opener, as they will square off against Shimizu S-Pulse Youth (Shizuoka). With their ace SOMENO Itsuki (#9) unavailable to play due to a schedule conflict with the Japan High School Select Team, the focal point will be on whether or not, Shoshi can fill his shoes during his absence.
Another team will also play their first home match of the season, as Jubilo Iwata U-18 (Shizuoka) welcomes Ryutsu Keizai University Kashiwa High School (Chiba) to their home. After being kept scoreless in their previous match, Jubilo will seek to evade the intense pressure applied by Ryutsu Keizai's offence led by FUJII Kaito (#4) and deliver the ball to the front line. Kashiwa Reysol U-18 (Chiba) will face last year's division champions Kashima Antlers Youth (Ibaraki), as their striker HOSOYA Mao (#11) will try to score goals in two consecutive matches.
Perhaps the fixture that is getting the most attention this week is the match between Omiya Ardija U18 (Saitama) and Aomori Yamada High School (Aomori). With Omiya scoring a goal from their set-piece in each of the two matches, their key to victory lies on their ability to earn freekicks. Aomori Yamada has also converted goals from their long-throws and corner kicks. The restarts will certainly play a key factor in this matchup.
WEST
The league leaders, Kyoto Sanga F.C. U-18 (Kyoto) will face Cerezo Osaka U-18 (Osaka) at home. Kyoto has scored seven goals in the first two matches, showing their good form in offence. Their forward KOMIYA Takeru (#11) will seek to score in three consecutive matches to keep their perfect record. Higashi Fukuoka High School (Fukuoka) will face Ehime FC U-18 (Ehime) after conceding four goals in their last match. The Fukuoka side needs to maintain their concentration level high to keep a clean sheet.
Ozu High School (Kumamoto) will travel to Hyogo to play Vissel Kobe U-18 (Hyogo). It is expected that Vissel will keep high possession of the ball, so the Kumamoto side must be patient to seek for their opportunity to win the match. Second place Gamba Osaka Youth (Osaka) has shown their bench strengths in their first two matches and they will now face Avispa Fukuoka U-18 (Fukuoka). The substitutions may play a key role in this match again.
The highly anticipated fixture of this week in the WEST is the match between Nagoya Grampus U-18 (Aichi) and Sanfrecce Hiroshima F.C Youth (Hiroshima). After scoring four goals, Nagoya marked their first win last week, showing what they're capable in offence. The Hiroshima side has also won their first match of the season last week, after all three of their forwards scored a goal. With both teams carrying great momentum into the match, it should be an exciting match.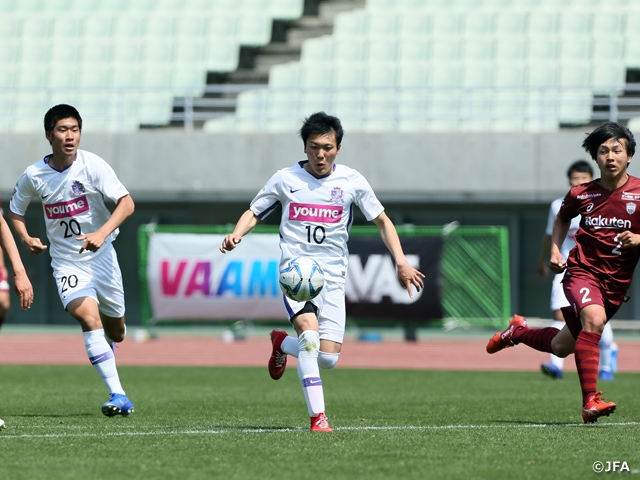 EAST 2nd Sec. Highlights
WEST 2nd Sec. Highlights
Prince Takamado Trophy JFA U-18 Football Premier League 2019
League Duration: Sat. 6 April - Sun. 8 December 2019