NEWS
Nagoya scores 4 goals in win over league leader Kyoto to stay in contention for the league title at the 17th Sec. of Prince Takamado Trophy JFA U-18 Football Premier League WEST
03 December 2018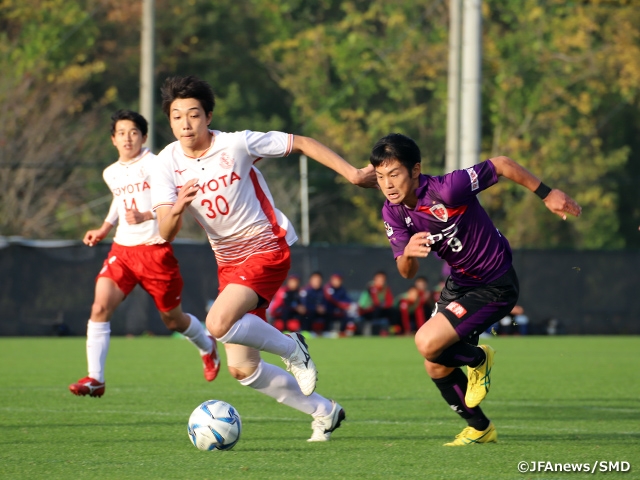 Pick-up Match
Kyoto Sanga F.C. U-18 0-4 (0-1, 0-3) Nagoya Grampus U-18
On Saturday 1 and Sunday 2 December, the 17th Sec. of the Prince Takamado Trophy JFA U-18 Football Premier League took place. In the WEST division, the league leaders Kyoto Sanga F.C. U-18 (Kyoto) squared off against Nagoya Grampus U-18 (Aichi).
Depending on the results of the other matches played in the league, Kyoto Sanga F.C. U-18 was in position to potentially win the title with a victory in their final home match which attracted over 500 spectators. While Kyoto's KOZUKI Soichiro (#14) reflected that, "We knew the league title was on the line, so we were really feeling the pressure," Coach KOGA Satoshi of Nagoya Grampus U-18 on the other hand described their approach towards the match, "We had to win in order to keep our title hopes alive. We wanted to win the match while scoring as many goals possible." The coach's intention was well conveyed to his players as Nagoya struck the goal first in the 10th minute, when TANABE Kohei (#14) provided the final pass to MASUI Ken (#20) who scored with a lobbing shot.
Following the opening goal, it was the Kyoto side who took control of the match as they utilised their speed to exploit the open space and initiate their attacks. However, as Nagoya's SUMI Seiga (#30) reflected, "We knew from our scouting that their #9 (HATTORI Kohei) has great speed, so we kept talking to each other to respond accordingly," the Nagoya defence line showcased solid efforts to deny the league leaders from taking shots. In midfield, Tanabe displayed a superb effort to keep the key players from the Kyoto side from creating opportunities, as he mentioned after the match, "After playing with (FUKUOKA) Shinpei at the SBS Cup in August, I really thought he is a good player, and I was looking forward to playing against him." With their collective efforts, Nagoya managed to contain the home side from finding the net and entered halftime with a one goal lead.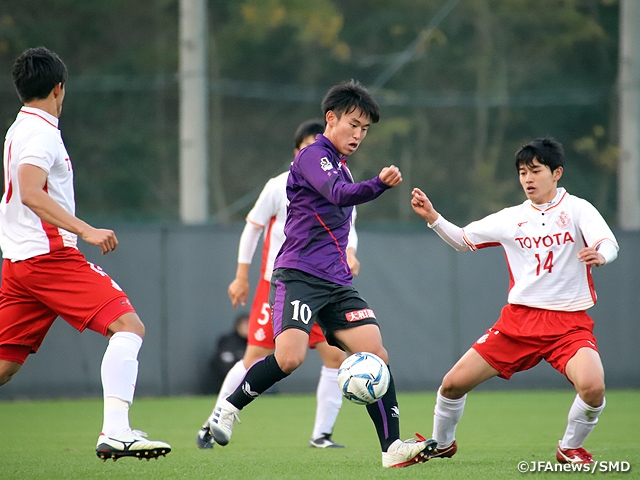 As Tanabe later shared that, "Our coach told us to win the match 5-0," the Nagoya side picked up their pace in the second half to take over the match. Led by their forward SAKAKIBARA Kyota (#27), who showcased his speed and techniques in the right flank, the strengths of the Nagoya offence line were on full display. In the 67th minute, SUGAWARA Yukinari (#7) delivered a long ball from the defence line to allow MATSUOKA Jhonattan (#10) to take on the goalkeeper one-on-one and convert the opportunity with ease. Just five minutes later, Matsuoka responded to a deflection created by a shot taken by Sakakibara and converted the ball into the net to mark his second goal of the match. In the 78th minute, FUJII Haruya (#3) capitalised on a corner kick with a header to extend their lead to four goals.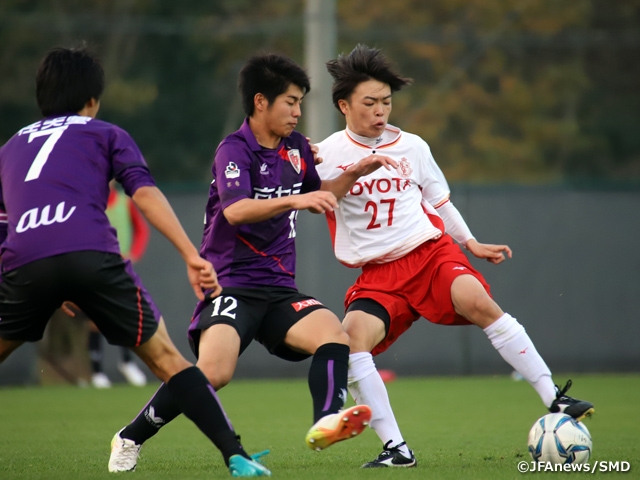 Coaches and Players' Comments
YAMASHITA Hiroki, Coach (Kyoto Sanga F.C. U-18)
With many people coming to watch our final home game, we really wanted to share the joy of victory with everyone, but it turned out in an unfortunate result. We couldn't find our rhythm in the first half and allowed our opponents to take over the match. Including the opening goal, we gave up goals too easily, so those are some aspects we must fix ahead of our next match. I hope the players will feed off of this loss and strive to improve their performance. This loss has made the equation simple for us, as a win against Hiroshima in our final Sec. will give us the title, so we will prepare ourselves ahead of the match.
MF #14 KOZUKI Soichiro (Kyoto Sanga F.C. U-18)
We usually initiate our attacks from the central area and create opportunities with our flank players facing forward, but today we couldn't control the ball well at the central area. As a result, we kept on dumping long balls to the open space and our offence lacked variations. On the other hand, Grampus kept on moving the ball around and forced us to play defensively. Even when we had possession of the ball, we didn't have enough players upfront and couldn't get anything going. This was a very tough match, as we couldn't find our rhythm in the entire 90 minutes.
KOGA Satoshi, Coach (Nagoya Grampus U-18)
We had to spend a lot of time in defence, but we managed to build up our attacks from the defence line and create enough spaces to launch our attacks. Our goals came from fast breaks, but that was a result of us staying patient in defence while creating enough opportunities to create our attacks. I feel like the players were able to showcase the fundamental aspects of what we have been working on in our daily trainings. We will continue to play our football and strive to win the final match with a score of 5-0. We will be aggressive and penetrate the penalty area as much as possible.
DF #30 SUMI Seiga (Nagoya Grampus U-18)
We were still in contention to win the title, so we entered the match with the intention to win the match what ever it took and take down the title. We came short from scoring one more goal and win the match in our previous Sec., so we were committed to score many goals today. After scoring the opening goal in the first half, we told each other to ride the momentum in the second half. As a result, we managed to score our second goal in a good shape and picked up more pace. We have been training with a higher standard, and that has really shown in the match today. Our fate depends on the results of the other matches, but we are still in contention to win the title, so we will prepare ourselves well to win our match next week.
Results of other matches
Hannan University Senior High School 3-1 (1-0, 2-1) Cerezo Osaka U-18
Vissel Kobe U-18 2-3 (1-1, 1-2) Gamba Osaka Youth
Higashi Fukuoka High School 3-0 (0-0, 3-0) Yonago Kita High School
Sanfrecce Hiroshima F.C Youth 3-0 (1-0, 2-0) Avispa Fukuoka U-18
Hannan University Senior High School (Osaka) welcomed Cerezo Osaka U-18 (Osaka) at home and won the match 3-1. Vissel Kobe U-18 (Hyogo) and Gamba Osaka Youth (Osaka) exchanged multiple goals, but it was Gamba's goal in additional minutes that decided the winner. In the match between the two high school sides, Higashi Fukuoka High School (Fukuoka) came out victorious as they scored three goals against Yonago Kita High School (Tottori). Sanfrecce Hiroshima F.C Youth (Hiroshima) also won their match 3-0 against Avispa Fukuoka U-18 (Fukuoka).

WEST Sec. 17 Highlights

Tournament Period:Sat. 7 April 2018 ~ Sun. 9 December 2018