NEWS
League title yet to be determined as two top teams Kashima and Aomori Yamada draws at the 16th Sec. of Prince Takamado Trophy JFA U-18 Football Premier League EAST
26 November 2018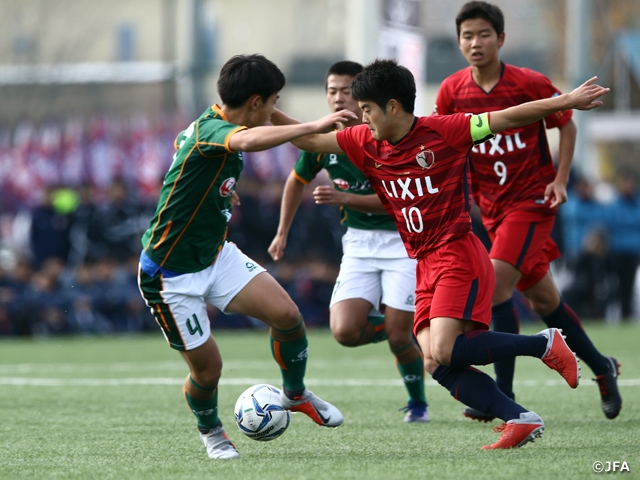 Pick-up Match
Aomori Yamada High School 1-1 (0-1, 1-0) Kashima Antlers Youth
The 16th Sec. of the Prince Takamado Trophy JFA U-18 Football Premier League EAST was held on Sunday 25 November, where the two top teams of the league, Aomori Yamada High School (Aomori) and Kashima Antlers Youth (Ibaraki) squared off against each other.
With Kashima leading Aomori Yamada by four points ahead of the match, a win by Kashima meant that they will secure the league title with two more Sec. left to be played. However, if the Aomori side won the match, there will be just one point separating the two sides, making this head-to-head encounter a highly anticipated match.
The match saw the league leaders taking the lead first. In the 12th minute, Kashima's team captain MAEDA Taira (#10) won the ball in the midfield and dribbled up the field before striking a right footed shot. As Maeda later reflected, "The space opened up in front of me, so I chose to take a shot. I was able to curl the ball well," his shot shook the net to give Kashima the opening goal.
For Aomori Yamada's Coach KURODA Go, who later revealed that, "Our plan was to keep a clean sheet," this opening goal became a major burden. On the other hand, the early goal allowed Kashima to play simple and avoid taking risks. As Maeda mentioned that "We were okay with a draw," they showcased their aggressive defence to contain Aomori Yamada from creating a goal scoring opportunity.
The second half saw the Aomori side making numbers of substitutions and utilising the width of the field to threaten the Kashima goal. In efforts to level the match, Aomori Yamada pushed up their 197cm defender MIKUNI Kenedeiebusu (#5) to play forward and employed their power play. Their persistent effort finally materialised in the 86th minute when VASQUEZ Byron (#11) broke through the right flank before sending a cross towards the centre. His cross sailed over the head of the Kashima goalkeeper and found the back of the net, equalising the match with just few minutes left to play.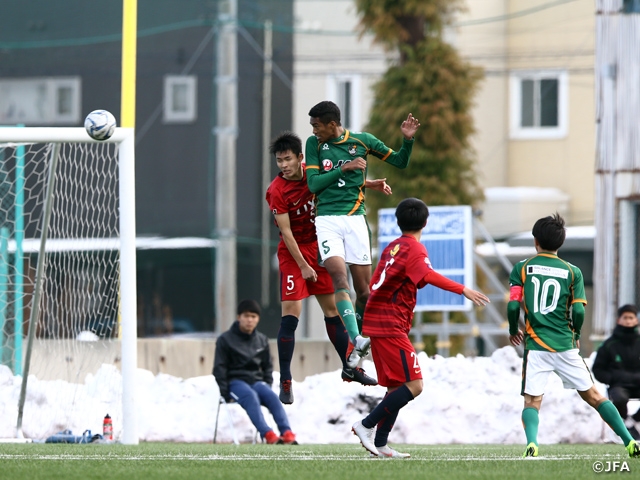 With momentum on their side, Aomori Yamada dominated the remaining minutes of the match. However, Kashima kept their composure to defend through the final minutes. Despite being forced to make a tough decision at the end, the league leaders managed to stay united and took no risks to earn the 1-1 draw. Kashima's Coach KUMAGAI Koji later stated, "It is not an easy task to win against Aomori Yamada at their home field," and regarding the fact that their lead remained at four points, the coach mentioned, "We will take that as a positive result."
With two more fixtures left to be play, Kashima will now face Toyama Daiichi High School (Toyama) on Sunday 2 December at their home. A win will give them the league title, but in case Aomori Yamada loses their match against Shimizu S-pulse Youth the day before on Saturday 1 December, Kashima will be automatically crowned as champions before their 17th Sec. match.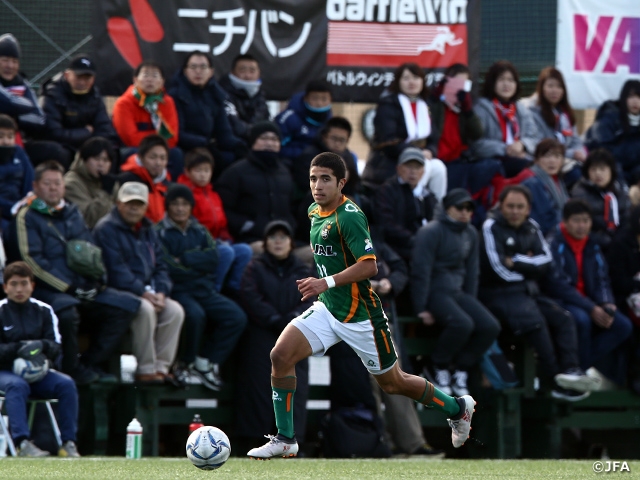 Coaches and Players' Comments
KURODA Go, Coach (Aomori Yamada High School)
Although Kashima came out applying aggressive pressure in their defence, we had to find ways to move the ball around and create opportunities in this match. I feel like we allowed only one shot that really threatened our goal, but at this level of competition that one shot can be costly as seen in this match. We will take this draw positively and prepare ourselves ahead of the next match.
MF #11 VASQUEZ Byron (Aomori Yamada High School)
We entered the match with a strong intention to win the match. However, we conceded the opening goal and allowed our opponents to drop deep in their territory. (In the goal scene) My touch was a bit long, but I delivered the cross anyways, and it luckily ended up in the goal. The fact that we couldn't win the match tells us that we just weren't good enough.
KUMAGAI Koji, Coach (Kashima Antlers Youth)
I think the players did very well. It was huge that we managed to take the lead early. When facing Aomori Yamada, every aspect of the match must go right in order to earn good results against them. Even though we are ahead of them in the league standings, Aomori Yamada is an equivalent, if not a stronger team than us. Entering a match against such team, we had numbers of game plans and our players showed great understanding of our strategy.
DF #2 YUKI Masataka (Kashima Antlers Youth)
My job was to mark DANZAKI Riku (#10). When we faced them at our home, he scored against us at the very end. If we give him enough space to build momentum, his dribble is unstoppable, so we had to apply pressure ahead of time to contain him. I focused on the small details so that I don't allow Danzaki to play freely, and that approach has allowed me to block his shot at a crucial moment.
Results of other matches
Kashiwa Reysol U-18 1-0 (0-0, 1-0) Ryutsukeizaidai Kashiwa High School
Ichiritsu Funabashi High School 0-1 (0-0, 0-1) Shimizu S-pulse Youth
Urawa Red Diamonds Youth 0-0 (0-0, 0-0) FC Tokyo U-18
Toyama Daiichi High School 0-1 (0-1, 0-0) Jubilo Iwata U-18
It was Reysol's 56th minute goal that determined the winner of the Kashiwa Derby between Kashiwa Reysol U-18 (Chiba) and Ryutsukeizaidai Kashiwa High School (Chiba). Shimizu S-pulse Youth (Shizuoka) recorded consecutive victories with a win over Ichiritsu Funabashi High School (Chiba). The match between Urawa Red Diamonds Youth (Saitama) and FC Tokyo U-18 (Tokyo) ended in a scoreless draw. The two teams fighting for their survival in the league, Toyama Daiichi High School (Toyama) and Jubilo Iwata U-18 (Shizuoka) squared off against each other, and it was the Iwata side who came out victorious. As a result, Jubilo made a step forward to avoid relegation, while it was determined that Toyama Daiichi will be relegated to the Prince League next season.

EAST Sec. 16 Highlights

Tournament Period:Sat. 7 April 2018 ~ Sun. 9 December 2018