NEWS
Hannan earns victory over their All Japan High School Athletic Federation rival in the 15th Sec. of Prince Takamado Trophy JFA U-18 Football Premier League WEST
09 October 2018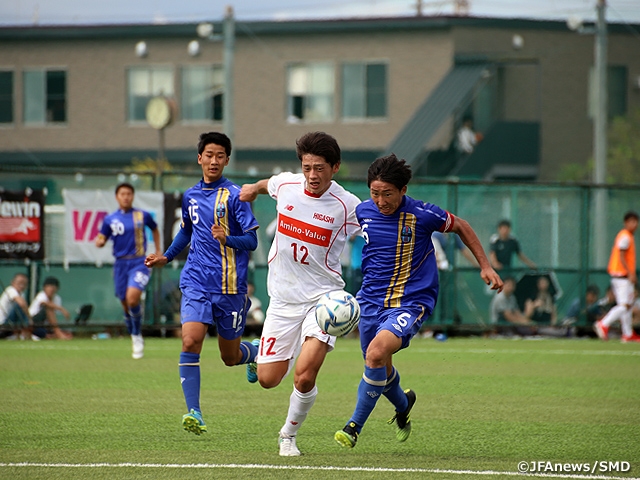 Pick-up Match
Hannan University Senior High School 4-2 (2-2, 2-0) Higashi Fukuoka High School
The 15th Sec. of Prince Takamado Trophy JFA U-18 Football Premier League WEST took place on Saturday 6 October, where Hannan University Senior High School (Osaka) played against Higashi Fukuoka High School (Fukuoka).
It was the Hannan side who struck first. With the team ranked in ninth place, they were desperate to earn three points to stay out of the relegation zone. As WADA Hagumi (#6) later reflected, "We both belong to the All Japan High School Athletic Federation, and in our last encounter, we defended very hard to draw against them. So, this time we wanted to take the initiative and win the match," the team showed great aggression from the start of the match. In the sixth minute, NAKAMURA Seiryo (#10) struck a powerful shot following a corner kick situation and scored the opening goal. The team continued to showcase aggressive pressure applied from their front line to create multiple opportunities. However, the team conceded back-to-back goals to Higashi Fukuoka in the 29th and 32nd minute. Coach HAMADA Go regretfully commented on the scene, "We became ball-watchers during the stint and conceded way too easily."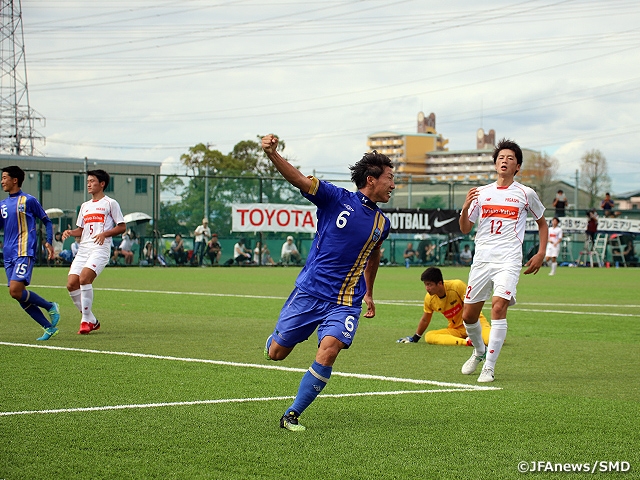 Despite turning the score around, Higashi Fukuoka couldn't seem to pick up their momentum as their midfielder MAKIYAMA Kosei (#16) later reflected, "We tend to concede right after we score our goals. We must be able to ride the momentum and score more goals." The Osaka side capitalised on their opportunity in the 40th minute when they launched a long ball from their own defence line. Forward SHIMADA Ryunosuke (#9) made the run to control the ball that landed behind the opponent's defence line before calmly converting the chance to level the match.
Similar to the first half, the second half saw Hannan take advantage of Higashi Fukuoka's lack of intensity. In the 47th minute, Wada carried the ball up front following a forced turnover in their own half. Once he reached the opponent's goal area, he dished the ball to the right side to allow TAKATSU Nao (#14) to strike the ball into the net.
After this goal, both sides created chances at each end. In the 59th minute Higashi Fukuoka penetrated the left flank and sent a cross to the middle. Forward OMORI Shingo (#9) fired a direct shot off a loose ball following this cross, but his effort struck the crossbar. Despite both ends creating multiple opportunities, the score remained the same until the 79th minute, when Hannan once again initiated a counter attack. Wada responded to the long feed delivered by their defender KITAMURA Jun (#4) and took on the opposing goalkeeper one-on-one, which he calmly converted to seal the deal. It was Hannan University Senior High School who took down the action-packed match between the All Japan High School Athletic Federation sides to keep their hopes alive to avoid relegation.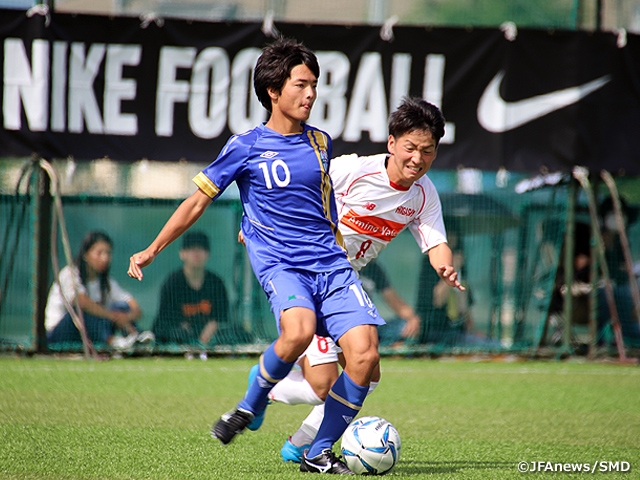 Coaches' and Players' Comments
HAMADA Go, Coach (Hannan University Senior High School)
We knew that our opponent's attack is so powerful that if we retreat, they will overwhelm us, so we decided to apply pressure from our front line and committed ourselves to attack with aggression. We managed to execute our game plan and create chances from our high pressure. Ahead of the All Japan High School Soccer Tournament Qualifiers, I gave my players a week to work on their attacks on their own. They have shown what they've been working on in offence today, as they showcased many short passes and added layers to their attacks. We hope to display a performance like today in our remaining three matches.
FW #14 TAKATSU Nao (Hannan University Senior High School)
Compared to the other teams, Higashi Fukuoka tends to utilise many long balls to the flank, so we were forced to make more runs than usual. We were given this entire week to conduct our own training sessions and I think it has allowed us to build a stronger bond between our teammates. I am glad we were able to display what we have been working on, especially in the scene where we scored the goal from the counter attacks. The passes showcased in those scenes were something we have been working on. We haven't been able to win much matches up until this point, but we all believed that we will eventually win a match. So, this victory means a lot for us.
MORISHIGE Junya, Coach (Higashi Fukuoka High School)
We must take responsibility of this result as a team. The reason why we have been conceding so many goals do not just lie on our defence, but it starts from how we turnover the ball in offence as well. Also, if we don't show better transitions we will continue to concede many goals like today. Although we managed to create some opportunities in the second half, our opponents were anticipating for their counter attack while they sat deep in their territory. At the end, the team who managed to execute their game plan more effectively won the match. A point earned after equalising the match from behind and a point earned after conceding the equaliser means totally different things. If we continue to showcase matches like the later case, we cannot win the title. In today's match, our opponent's will to avoid relegation was stronger than our will to strive for higher rankings.
MF #16 MAKIYAMA Kosei (Higashi Fukuoka High School)
We have been able to score goals in the second half of this season, but at the same time our defence has conceded four goals in four consecutive matches. I believe we can improve ourselves and earn more wins by being more vocal during the match, so that we all stay focused throughout the match. The qualifiers for the All Japan High School Soccer Tournament will start next week. We tend to get stiff in our first match of the qualifiers, so we will work as a team to motivate ourselves during the training sessions this week and enter the qualifiers with a positive vibe.
Results of other matches
Kyoto Sanga F.C. U-18 2-0 (0-0, 2-0) Vissel Kobe U-18
Sanfrecce Hiroshima F.C Youth 2-1 (0-0, 2-1) Cerezo Osaka U-18
Avispa Fukuoka U-18 postponed Gamba Osaka Youth
Yonago Kita High School postponed Nagoya Grampus U-18
Kyoto Sanga F.C. U-18 (Kyoto) won their home match with a score of 2-0 against Vissel Kobe U-18 (Hyogo). Sanfrecce Hiroshima F.C Youth (Hiroshima) earned the victory over Cerezo Osaka U-18 (Osaka) after scoring two goals in the second half. The matches between Avispa Fukuoka U-18 (Fukuoka) and Gamba Osaka Youth (Osaka), Yonago Kita High School (Tottori) and Nagoya Grampus U-18 (Aichi) were postponed due to the affects of the typhoon. Further information including the rescheduled dates will be posted on JFA .jp.

WEST 15th Sec. Highlights

Tournament Period:Sat. 7 April 2018 ~ Sun. 9 December 2018