NEWS
Ichiritsu Funabashi comes from behind to grab consecutive wins while Kashima suffers second loss of the season in the 15th Sec. of Prince Takamado Trophy JFA U-18 Football Premier League EAST
09 October 2018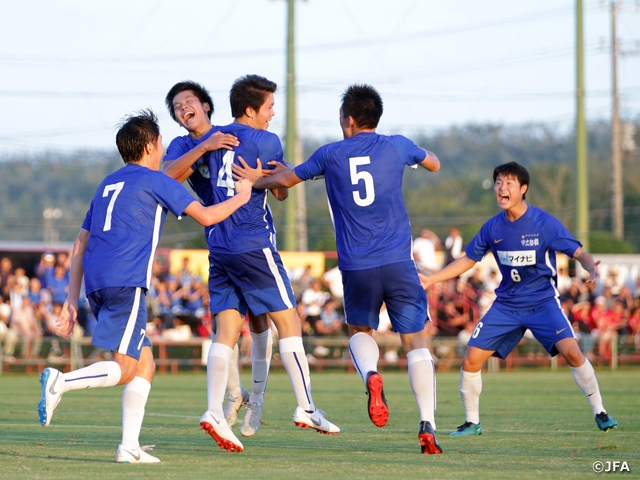 Pick-up Match
Kashima Antlers Youth 1-2 (1-2, 0-0) Ichiritsu Funabashi High School
The Prince Takamado Trophy JFA U-18 Football Premier League EAST saw its 15th Sec. take place on Sunday 7 and Monday 8 October as Kashima Antlers Youth (Ibaraki) and Ichiritsu Funabashi High School (Chiba) squared off against each other.
As second-placed Aomori Yamada High School (Aomori), who were trailing Kashima by seven points, already clinched a win before this match and eliminated Kashima's chance to win the title on this matchday, Kashima could still put themselves in a great position to win the trophy by defeating Ichiritsu Funabashi this week. Kashima proved early that they had no problem with clutch moments. In the fourth minute, forward AKATSUKA Mikhael (#19) met ONUMA Tatsuki's (#8) left corner with a diving header to give his side the opening goal.
As Kashima had won nine matches with a score of 1-0 this season, they composedly controlled the game after they scored the goal. Defender SATO Takatoshi (#5) denied the opponent's opportunity with a towering header to keep the opponents at bay.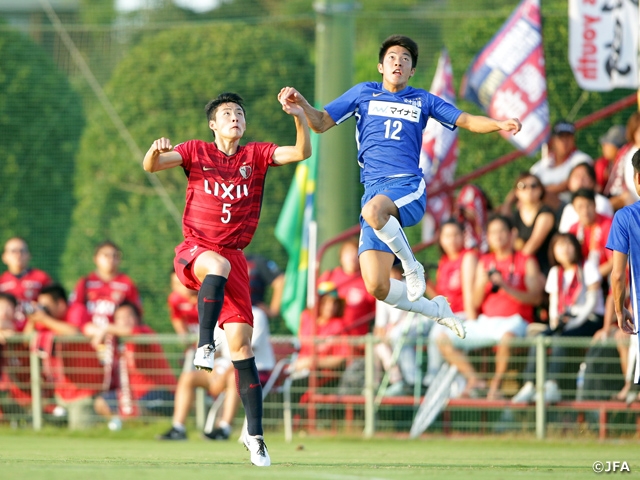 The match intensified as the time progressed and Ichiritsu Funabashi started to pick up their pace from their tenacious approach to win the ball. Eventually, they found a small gap to exploit. In the 35th minute, forward SATO Keisuke (#23) found the back of the net with his right foot after chasing down a through ball delivered by SUZUKI Yuito (#11). With the equaliser giving Ichiritsu Funabashi the momentum, Suzuki came close to scoring the go-ahead goal in the 41st minute after receiving the ball from NISHIDO Hisashi (#12), but his attempt sailed over the crossbar.
The Chiba side continued to show their strong intention to score another goal, and their efforts materialised in the closing minutes of the first half. Defender KISHIMOTO Shunsaku (#5) made a cutback from a corner kick delivered by INOUE Ren (#10) to allow TAYA Reito (#4) to convert the cross to turn the score around.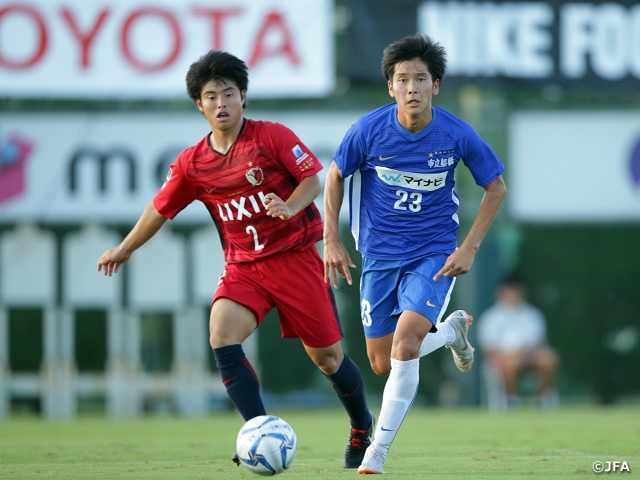 Kashima has only trailed in two occasions this season, which one of them came in the 9th Sec. against Ryutsukeizaidai Kashiwa High School (Chiba) where they suffered their only lost of the season, and the other coming against Jubilo Iwata U-18 (Shizuoka) in the 12th Sec. In the Iwata match, Kashima tied the score within four minutes and came out with a win. However, on this day, they struggled to break down Ichiritsu Funabashi's solid defensive block, despite their efforts to create an opportunity by collecting the ball to their game-maker MAEDA Taira (#10).
In efforts to level the match in the closing minutes, Kashima sent out ARIMA Kotaro (#9) into the left flank to bulk up their attacks, but their efforts came short from finding the net, as the match finished with a final score of 2-1. As a result, Kashima suffered their second loss of the season and will have to face the remaining three fixtures with a mere four-point lead ahead of the second-place Aomori Yamada. Meanwhile, Ichiritsu Funabashi increased their tally to 21 points after registering back-to-back victories and took a big step forward to avoid relegation.
Coaches' and Players' Comments
KUMAGAI Koji, Coach (Kashima Antlers Youth)
After scoring early, we got a little bit too loose. I have told my players that we must continue to get ourselves prepared for every single match, just as we had done in the past. It was our first time in the second half of the season to allow the lead during the match since we faced Jubilo. So, I think it would be a lie if I said that our players were not bothered by it. For the rest of the matches, in a positive sense, we still have the advantage. But if we take that advantage for granted, it will turn into pressure. So, once again, we must keep on doing what we have been doing and always try to get ourselves fully prepared for the match that is in front of us.
DF #5 SATO Takatoshi (Kashima Antlers Youth)
We entered the match without thinking too much about Aomori Yamada and focused on just winning the match, just as we usually do. After scoring the opening goal, we allowed our opponents to take control of the ball possession for a long stretch, so we kept on telling each other in the defence line to stay persistent. However, they effectively caught us off-guard and equalised the match. By scoring early in the match, we couldn't seem to decide as a team, if we wanted to go score more goals or to stay composed and play defensively. Our opponents took advantage of us not being on the same page. We only have three more matches in the Premier League this season, but we won't change our routine. We will continue to showcase persistent defence to keep a clean sheet and win the matches.
ASAOKA Ryuzo, Coach (Ichiritsu Funabashi High School)
We managed to outplay our opponents in each situation. It was huge for us that we scored the two goals in the first half while we executed our game plan. In the second half, we wanted to create more chances from counter-attacks, but I think our players did very well to sustain the lead. Before talking about logics and tactics of football, we were able to execute simple transitions and out ran our opponents. We also managed to defend well in front of our goal and worked along a fine line to avoid committing fouls. By winning against a team who had lost only once this season gives us great confidence.
DF #4 TAYA Reito (Ichiritsu Funabashi High School)
The fact that we conceded early in the match was something we weren't planning on, but we did well to regroup ourselves. The go-ahead goal was a play we have worked on for a while. Who applies the final touch varies from situation to situation, but I saw the open space and Kishimoto returned a very good ball for me to score. After that goal, we told each other to set our priority on defence while we anticipate for opportunities to counter-attack. We managed to stay composed and sustain the lead as a team. It means a lot for us to win a match against the league leaders and we will continue to stay focused in the remaining matches.
Results of other matches
FC Tokyo U-18 0-3 (0-2, 0-1) Shimizu S-pulse Youth
Ryutsukeizaidai Kashiwa High School 2-0 (2-0, 0-0) Urawa Red Diamonds Youth
Toyama Daiichi High School 3-3 (3-1, 0-2) Kashiwa Reysol U-18
Jubilo Iwata U-18 0-2 (0-1, 0-1) Aomori Yamada High School
Shimizu S-pulse Youth (Shizuoka) faced FC Tokyo U-18 (Tokyo) in an away match where they captured the goal three times to win 3-0. In the match between Ryutsukeizaidai Kashiwa High School (Chiba) and Urawa Red Diamonds Youth (Saitama), the Kashiwa side held on to the two goals they scored in the first half to win the match. Toyama Daiichi High School (Toyama) who sits in last place kept their hopes alive to avoid relegation as they earned a precious point by drawing against Kashiwa Reysol U-18 (Chiba) at home. Second place Aomori Yamada High School (Aomori) shortened their distance between the league leaders after winning their match against Jubilo Iwata U-18 (Shizuoka) 2-0.

EAST Sec. 15 Highlights

Tournament Period:Sat. 7 April 2018 ~ Sun. 9 December 2018