NEWS
Ichiritsu Funabashi earns precious points with win over Iwata to avoid relegation at the 14th Sec. of Prince Takamado Trophy JFA U-18 Football Premier League EAST
25 September 2018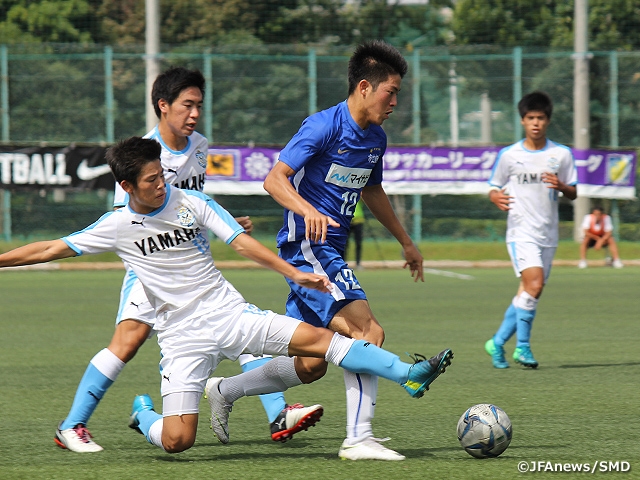 Pick-up Match
Ichiritsu Funabashi High School 1-0 (0-0, 1-0) Jubilo Iwata U-18
The 14th Sec. of Prince Takamado Trophy JFA U-18 Football Premier League EAST took place from Saturday 22 to Monday 24 September, where Ichiritsu Funabashi High School (Chiba) faced Jubilo Iwata U-18 (Shizuoka).
With the Premier League heading towards the end of the season, earning three points meant a lot for the two teams competing to avoid relegation. The match started off with both teams taking a passive approach with great emphasis on their defence, but as time progressed more opportunities were getting created by each side.
In the 37th minute, Ichiritsu Funabashi's left full back MATSUO Yusuke (#3) dribbled u the left flank before sending a cross towards the middle. Forward SATO Keisuke (#23) made a sliding effort at the far post, but merely missed to capitalise this chance. Iwata also threatened the opposing goal in the 42nd minute, when MIKI Naoto (#27) struck a header off a cross delivered by HARAGUCHI Anji (#18), but his attempt sailed over the crossbar. Despite both teams coming close to scoring a goal, the match entered halftime scoreless.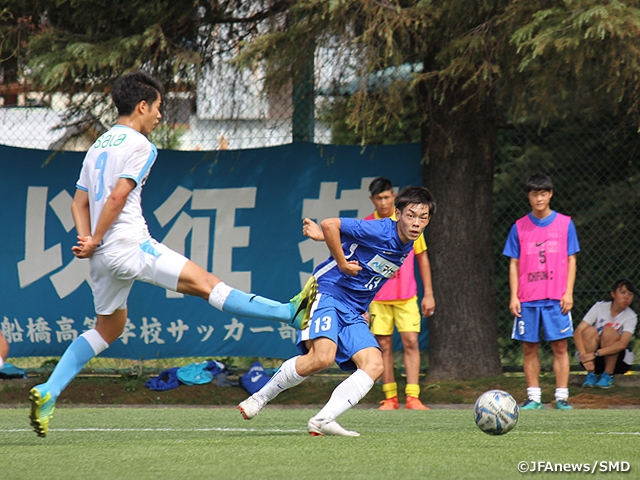 Ichiritsu Funabashi's Coach ASAOKA Ryuzo insisted that, "We have been spending all of our time working on offence," but it was their tenacious defence that shined in this match. With their aggressive approach to the ball, the team took the initiative of the match and gained momentum to start the second half. Forward GUNJI Atsuya (#42), who was brought into the match during halftime, played a major role in creating their rhythm in offence by keeping the ball upfront and through his long-throws.
The deadlock was broken in the 69th minute when INOUE Ren (#10) delivered a cross towards the centre to allow defender KISHIMOTO Shunsaku (#5) to capitalise with his header to give Ichiritsu Funabashi the lead.
Despite taking the lead, Ichiritsu Funabashi were content to stay focus as they have conceded three goals in the previous week against Kashiwa Reysol U-18 (Chiba), and the team has been conceding many goals in the second half this season. Iwata showed many variations in their attack to level the match but came short from solving the Ichiritsu Funabashi defence that were committed on keeping the clean sheet. With the sound of the final whistle, Ichiritsu Funabashi earned the precious three-points to keep themselves out of the relegation zone.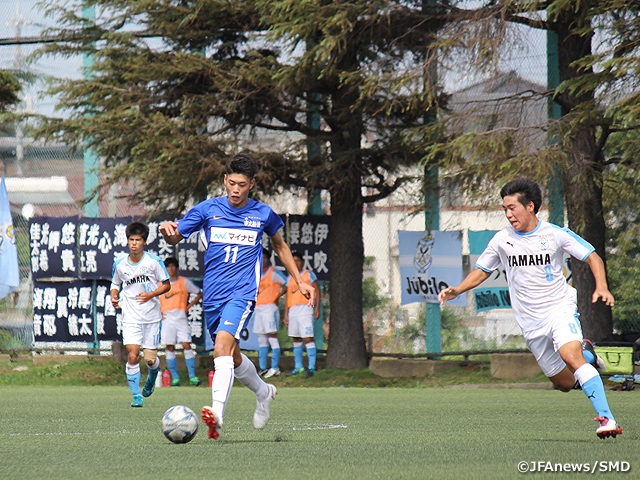 Coaches' and Players' Comments
ASAOKA Ryuzo, Coach (Ichiritsu Funabashi High School)
When we analysed all of our conceded goals, almost 70% of them came in the second half. In that sense we had a losing mentality in the second half. But today, the players displayed strong determination in defence to maintain a clean sheet. We might have been too focused on playing smart and forgot about the fundamental aspect of football. From here on we will emphasise on those simple aspects, such as running and fighting for the ball. Although we are not in the contention to win the title, we must stay aggressive and stay competitive. We will challenge ourselves in the match against Kashima in our next Sec.
DF #5 KISHIMOTO Shunsaku (Ichiritsu Funabashi High School)
In the scene where I scored the goal, I was able to showcase my move to free-up myself, which is something I have been working on in my daily trainings. Because we have been conceding many goals in the second half in our recent matches, we were committed to keep a clean sheet. Although we faced some tough situations, the team atmosphere was very positive, and I didn't feel like we were going to concede any goals today. The qualification round for the All Japan High School Soccer Tournament is fast approaching, so we hope to build our momentum in this Premier League ahead of the upcoming matches.
SETO Taiji, Coach (Jubilo Iwata U-18)
We entered the match alright, but with the team missing the two fullbacks due to suspension and duties with the national team, we seemed to struggle in our build-ups. Additionally, our opponents won almost every loose ball in the midfield area. If we allow our opponents to initiate their attacks that many times, it is inevitable that we are going to concede a goal sooner or later. It made us realise that we must be quicker to respond to those loose balls. This loss has taught us what we must work on to avoid the relegation zone. With the team losing three matches in a row, it will become more essential to earn at least a point each in the remaining matches, regardless of it being a home or an away game.
MF #7 IWAMOTO Runa (Jubilo Iwata U-18)
We focused on utilising the flanks by finding the space between the opponent's defenders and initiating our attacks through crosses delivered from the sides. However, we couldn't deliver as many crosses and take shots as we wanted, so we must be more aggressive in that aspect. Ichiritsu Funabashi had the upper hand in terms of collecting the loose ball, and we were forced to spend more time in defence. They were anticipating the loose ball more than we were and showed more aggression to win the ball. Our next fixture is at our home. We cannot afford to lose any more matches from here on, so we will take each match at a time and accomplish our goal to avoid relegation.
Results of other matches
FC Tokyo U-18 2-2 (0-0, 2-2) Ryutsukeizaidai Kashiwa High School
Shimizu S-pulse Youth 0-1 (0-0, 0-1) Kashima Antlers Youth
Toyama Daiichi High School 0-3 (0-2, 0-1) Urawa Red Diamonds Youth
Aomori Yamada High School 1-0 (1-0, 0-0) Kashiwa Reysol U-18
FC Tokyo U-18 (Tokyo) welcomed Ryutsukeizaidai Kashiwa High School (Chiba) at their home, and despite conceding a two-goal lead in the second half, the home side managed to level the match in dramatic fashion as they scored the equaliser in the 90th minute. First place Kashima Antlers Youth (Ibaraki) won their away match against Shimizu S-pulse Youth (Shizuoka) with the game winner coming in the 81st minute, taking them one step closer to the title. Urawa Red Diamonds Youth (Saitama) won their match against Toyama Daiichi High School (Toyama) with the help of OSHIRO Kei's (#5) hat-trick. With their win over Kashiwa Reysol U-18 (Chiba), Aomori Yamada High School (Aomori) marked their fourth consecutive victory to put the pressure on the league leaders Kashima.

Tournament Period:Sat. 7 April 2018 ~ Sun. 9 December 2018