NEWS
Urawa prevail, Gamba Osaka draw in ACL opener
25 February 2016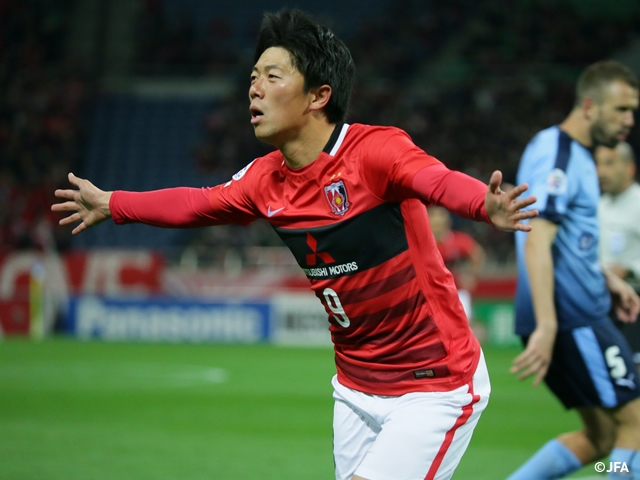 The AFC Champions League (ACL) 2016's group stage had its second day on 24 February as Urawa Reds beat Sydney FC of Australia 2-0 at home and Gamba Osaka were held to a scoreless draw at Suwon Samsung Bluewings FC.
Urawa went out for their opening match with a winning attitude with an eye on advancing to the group stage for the first time since 2008.
Midfielder KASHIWAGI Yosuke, who just made a comeback from injury, was placed on the bench, but midfielder MUTO Yuki and UMESAKI Tsukasa aggressively challenged and built up their side's attacks along with striker Zlatan.
The opening goal came in the 8th minute. After Umesaki penetrated from the right flank into the middle and sent a pass to upfront, Muto reacted and kicked it into the back of the net. The goal was scored when Muto sneaked into space in front of goal, taking advantage of a move by Zlatan who pulled defenders to the near post.
Against the defensive Sydney playing with five defenders, Urawa's Muto and defender MORIWAKI Ryota came close to goal, but the Japanese side failed to add a goal. After 25 minutes, Sydney had stretches with a string of corner kicks and free kicks, and Urawa's attacking pace slowed down. Urawa defenders struggled to send the ball to the players upfront trying to find space behind the opposing defensive line.
Despite the struggle, defender MAKINO Tomoaki threatened the opponents with an overhead kick in the 40th minute, but it was denied by a defender. The match entered half-time with Urawa's 1-0 lead.
Urawa got sharper and picked up an attacking rhythm in the second half, and the pace of their offence got enhanced even more when forward KOROKI Shinzo came off the bench in the 60th minute. Just three minutes later, Koroki was brought down in the box for a penalty kick before the striker himself netted from the spot one minute later to give his side a 2-0 lead.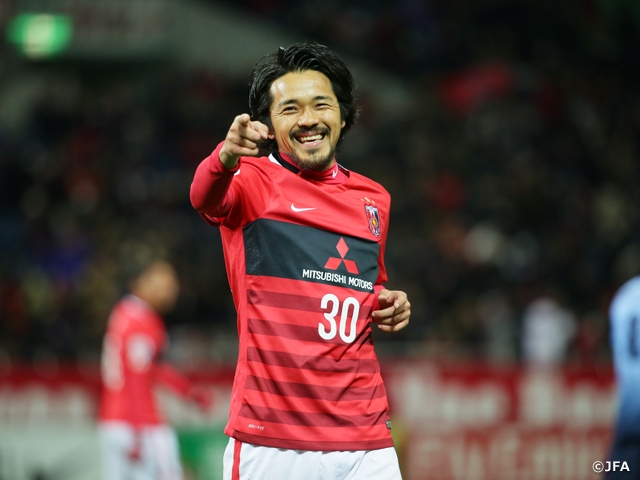 After the Australian side changed the formation to a 4-4-2 and subbed in two players after 70 minutes, substitute midfielder Milos NINKOVIC fired a shot from the edge of the box only to find Urawa goalkeeper NISHIKAWA Shusaku make a superb save. And Sydney looked for more chances through the next four corner kicks, but Urawa players coped well with the opponents' efforts before ending the match with a clean sheet.
Muto said after the match, "we were winning battles like on the ball and created our rhythm."
See more match details (Japanese version only)
Urawa began their ACL campaign at top place in Group H with three points after the match day 1 as defending champions Guangzhou Evergrande (China) settled for a 0-0 home draw with Pohang Steelers (Korea Republic).
Gamba Osaka draw to Suwon
Gamba Osaka, who look to win the Asian championship, played at Suwon in Korea Republic and finished with a 0-0 draw.
While former Japan National Team midfielder ENDO Yasuhito sat on the bench, KONNO Yasuyuki and IDEGUCHI Yosuke were slotted into defensive midfield. Midfielder KURATA Shu and forward USAMI Takashi initiated their attack early in the away contest. In the 13th minute, forward Patric created a golden opportunity, where his shot hit off the post. Gamba threatened the opponents as USAMI Takashi's shot went wide of the right post soon after Patric's effort.
But Suwon's KWON Changhoon came close at times as well, firing a shot onto the post in the closing minutes of the first half.
Gamba's clear-cut chance of the second half came just after half-time. Usami ran through the heart of defence and cut into the box, but his incisive shot went inches wide.
Although Gamba then struggled to create chances for the rest of the half and allowed Suwon to attack, the Japanese side finished their opener with a 0-0 draw.
See more match details (Japanese version only)
In another match of Group G, Melbourne Victory (Australia) defeated Shanghai SIPG (China) 2-1, taking top spot of the group. Gamba Osaka and Suwon on equal points follow the Australian side while Shanghai stand at fourth place.
The matchday 2 will take place on 1 and 2 March as F.C. Tokyo and Gamba Osaka host their match and Hiroshima and Urawa play on the road.
Coach and Players' Comments
Mihailo PETROVIC, Coach (Urawa Reds)
The opening match is difficult for any team in any season. But I'm satisfied because my players showed their strong winning attitude and tried to win battles on the ball. I can give credit as it was the season opener. Because the opponents' coach used to lead Vegalta Sendai, they knew a lot about us and we had hard time attacking the sides after scoring first. The opening win gives us confidence, and it's going to lead to positive results at the ACL and J.League campaigns. Today's win means a lot for us.
FW MUTO Yuki (Urawa Reds)
Knowing what happened the last year, we were determined it's important to get three points in the home opener. I'm satisfied with the outcome. The opposing side's coach ARNOLD put trust in and played me when I didn't get playing time at Vegalta Sendai. That gave me confidence. I said I would score a goal today. I'm happy to actually get a goal.
MF UGAJIN Tomoya (Urawa Reds)
We shared understanding like when it's not your time, you don't want to take a risk. The opponents' coach knew our style of football. But we all were able to hold up in such a situation.
Graham ARNOLD, Coach (Sydney FC)
We came here to win the match, but the outcome was not what we desired. We went neck and neck with Urawa but gave up two goals and three points because of defensive mistakes. I used to coach Muto at Vegalta Sendai, so I'm proud to see his performance later on. I told my players to be careful of him being quick, having good reaction inside the box and good finishing touch, though. What is important at the ACL is to win at home. If we win the three home matches, there should be a good chance for us.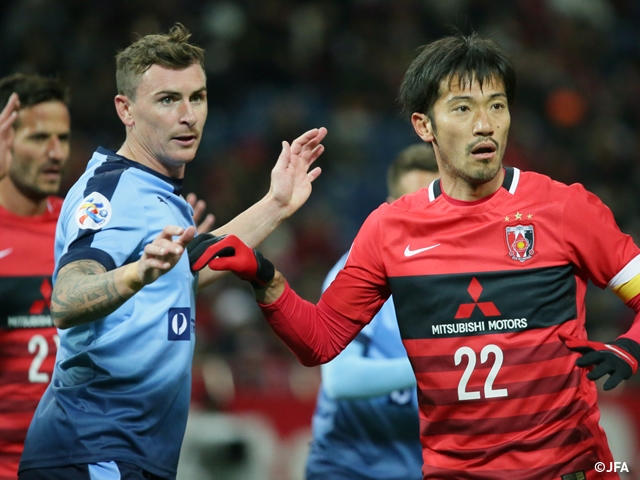 AFC Champions League 2016
27 January 2016 - 26 November 2016