NEWS
U-19 Japan National Team lose to Spain, falls short of Copa del Atlantico title
03 February 2018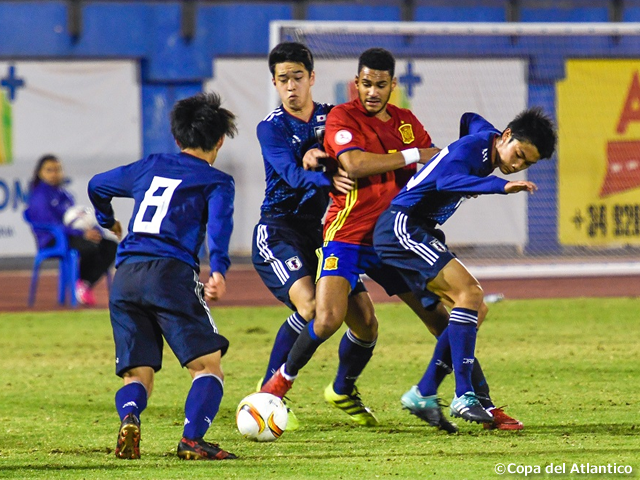 U-19 Japan National Team vs U-19 Spain National Team
2 February 2018 (Fri.) Kick-off 18:30(Local Time) Playing Time 90min.(45min.×2)
Maspalomas Municipal Stadium (Canary Islands/Spain)
U-19 Japan National Team 0-2 (0-0, 0-2) U-19 Spain National Team
Scores
59' goal against (U-19 Spain National Team)
87' goal against (U-19 Spain National Team)
Starting Line-ups
GK: NAKANO Kojiro
DF: SUGAWARA Yukinari, TANIGUCHI Hiroto, KOBAYASHI Yuki, HIGASHI Shunki
MF: YOKOYAMA Rui, FUKUOKA Shimpei, KIDA Hinata, KOZUKI Soichiro
FW: MIYASHIRO Taisei, KATO Takumi
Reserves
GK: AOKI Kokoro
DF: ANDO Tomoya, TANAKA Kosuke, NAKAMURA Yuta, KATO Shintaro
MF: SEKI Yamato, IIJIMA Riku, YAMAMOTO Rihito
FW: HANYA Yosuke
Substitutions
64' KATO Takumi → IIJIMA Riku
87' KOZUKI Soichiro → HANYA Yosuke
87' FUKUOKA Shimpei → YAMAMOTO Rihito
Match Report
On Friday 2 February, U-19 Japan National Team played against Spain in their third and last match in the Copa del Atlantico, where they lost the match 0-2 coming short in winning the tournament.
The U-19 Spain National Team are one of the title contenders at the UEFA U-19 Europe Championship 2018 Finland that is going on this year. Japan and Spain fought a very fierce battle last year as well.
The highly skilled and speedy Spain side showed dominance early in the match with their ability to possess the ball with quick and accurate ball movement. Both of their flank players displayed great speed and their offence took advantage of the full width of the pitch. Led by game-captain and defender TANIGUCHI Hiroto and defender KOBAYASHI Yuki, the Japanese defence limited the opponents' shot attempts and survived through the rough stretches early on. As the match progressed, Japan gradually began to gain momentum in their offence. In the 18th minute, midfielder FUKUOKA Shimpei and forward MIYASHIRO Taisei exchanged passes to move the ball upfront before sending a through ball to forward KATO Takumi. The Japanese forward got to the end of the through ball and attempted a loop-shot over the opposing goalkeeper, however the shot was barely denied by another defender.
Spain continued utilising the flanks, bombarding crosses to create chances. In the 35th minute, Spain got close to scoring following a corner kick, but Fukuoka managed to clear the ball right on the goal line. In the 42nd minute, Japanese midfielder KIDA Hinata initiated an attack which allowed defender SUGAWARA Yukinari to feed a well-controlled cross. Miyashiro got to the end of the cross but his shot went just inches off target. The first half finished with both teams being scoreless.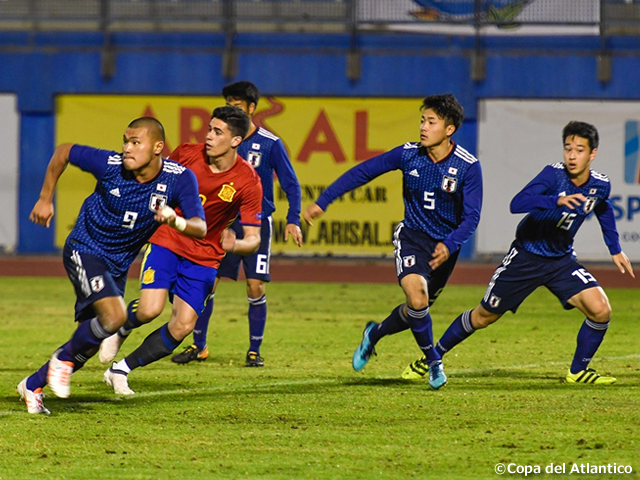 Spain, who needed a victory to grab the title, came out full-on early in the second half. Japan kept their composure through another long defensive stretch. In the 59th minute, Sugawara shook off the opposing defenders to meet Taniguchi's long pass, but his shot was denied by the goalkeeper, and his second attempt went wide also. Spain, however, did not miss out on their opportunity. Japan gave up possession in their attacking third after mishandling the ball. Spain quickly sent a long ball behind the Japanese defenders, which created an one-on-one situation against the Japanese goalkeeper. The Spanish side calmly converted the opportunity to give them the 1-0 lead. In efforts to equalise the match, the Japanese substitute midfielder IIJIMA Riku reacted to Sugawara's cross in the 67th minute, but could not find the back of the net. In the 76th minute, following a deflection of a long-range effort by Kida, defender HIGASHI Shunki drove a cross in, only for it to hit the woodwork. Frustrating moments continued for Japan with just one finishing touch away from tying the match. They kept on the pressure, chasing the ball around upfront, but it conversely ended up with Spain's second goal through a counter-attack in the 87th minute. At the end, the match resulted with Japan losing 2-0, denying their second straight championship of this tournament.
Even though the team consisted with multiple age groups and many first-time invitees, this version of the U-19 team showcased a very unified team. They were able to outrun their opponents, showed extremely quick transitions and communicated better than any other teams. Their courageous challenge could not hand them the title, but they were able to head home with great amount of satisfaction ahead of the AFC U-19 championship 2018 Indonesia in October. They were certainly able to find new talents and successfully integrate various generations. They are now scheduled for a trip to Indonesia at the end of March.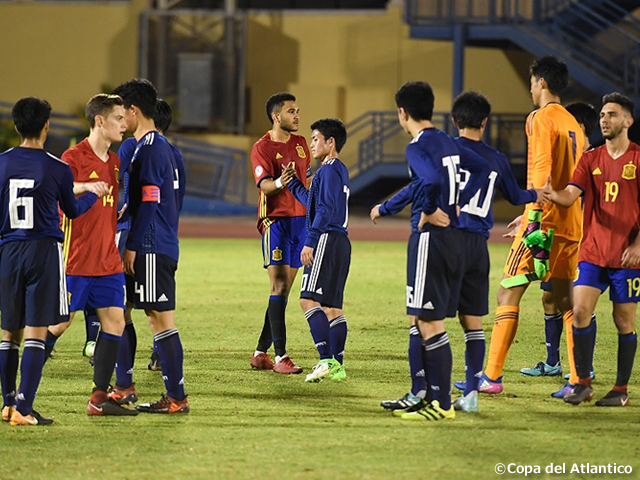 Coach's and Players' Comments
KAGEYAMA Masanaga, Coach
Following last year, we played this tournament with U-19 Japan National Team. The U-18 team from last year consisted only with players born in 1999. Our selection this time consisted players who were born in 2000 and onwards, many of whom played in the FIFA U-17 World Cup in India. Unfortunately, players in the J. League did not get to play due to their rookie training program, but it turned out to be a valuable training opportunity for the AFC U-19 Championship 2018 Indonesia which will take place in October. We were able to win the first two matches against U-19 Canary Islands Selection and U-19 Czech Republic National Team, setting ourselves with a tournament decider against U-19 Spain National Team. With almost a totally new squad, and with very little time for preparation, our players overcame the age difference and communicated well with each other. They showed great growth as a team each game, as they challenged themselves to play with high intensity both offensively and defensively. We saw great team coordination in the match against Spain and we put up an equally matched fight against them. However, we conceded a goal from a simple error upfront, allowing them to carry the ball all the way to our goal. Being down a goal, we were then forced to put more numbers upfront to level the match, but we conceded another goal towards the end and loss the match 0-2.
It's quite typical for a Japanese team to concede a goal after being caught off guard, and losing an equally matched game. This game reminded us that in a match with such high level of intensity, we cannot lack in quality, especially in front of the goal. With our two wins prior to today's match, we were able to force Spain to play their best with the championship on the line. Although we lost the match, we were able to gain great experience from it. More players born in 1999, who has great experiences will be added to the team, and that would generate high levels of competition within the team. Once they go back to their clubs, I would like our players to improve on their skillsets, especially under high intensity situations.
GK #1 NAKANO Kojiro (Hosei University)
I am greatly honoured to play with the U-19 national team. With the championship at stake, we lost our match today 0-2, and we're deeply disappointed. I learned from this trip how to play against opponents with superior pressure and physical advantages. I also learned the importance of persistent defence. In order to stay competitive in the National team level, I need to keep in mind how I play under high intensity matches. I will feed off of this experience and utilised what I have learned once I go back to my club, and continue to work hard to be selected to the National team again.

DF #4 TANIGUCHI Hiroto (Tokyo Verdy Youth)
Although we lost the match today, we were able to force turnovers as we intended, and limit our opponents' opportunities by controlling our defensive line. Through the three matches we played, I was impressed by the attitude and high-level motivation that the younger players displayed. The match against Spain presented us what it meant to play against the world's best. I will take home what I learned and felt through this trip, and work on those aspects so that I will be invited to the U-19 national team again.

MF #8 FUKUOKA Shimpei (Kyoto Sanga F.C. U-18)
We were able to play with good focus from the beginning of the game. We showed good offence, but couldn't create a goal scoring opportunity, and that's definitely something we need to work on going forward. We showed good heart playing defence, but the fact that we conceded a goal from our own mistake was something regretful. I personally felt for the need to improve on my ball control and vertical passes. Having said all that, I think we managed to play well as a team with very limited time to work with each other. I will work on my fundamentals in order to become a player that can impact the game a little more. Once I go back to my club, I will keep in mind all the things I've learned during this trip and work hard to improve myself, so that I will be re-invited to the next trip.
Schedule
U-19 International Tournament "Copa del Atlantico"
Tue. 30 January
2-1
1st Match vs U-19 Canary Islands Selection
(Maspalomas Municipal Stadium)
Wed. 31 January
1-0
2nd Match vs U-19 Czech Republic
(Maspalomas Municipal Stadium)
Thu. 1 February
AM/PM
Training
Fri. 2 February
0-2
3rd Match vs U-19 Spain
(Maspalomas Municipal Stadium)
*Local Time
*The schedule is subject to change due to the team condition, the weather, etc.