NEWS
U-19 Japan National Team wins first game in U-19 International Tournament "Copa del Atlantico"
31 January 2018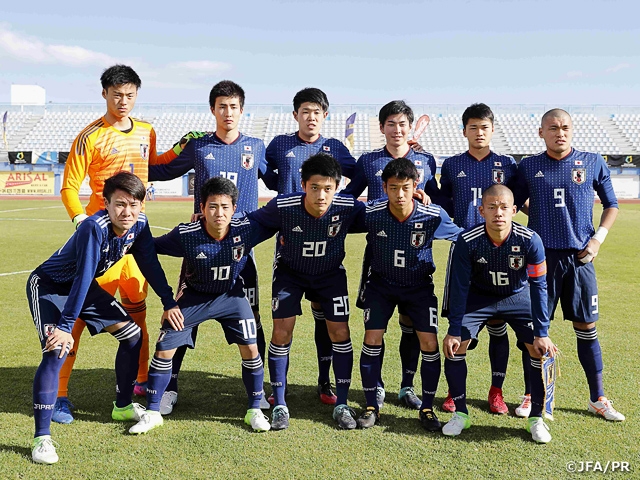 U-19 Japan National Team vs U-19 Canary Islands Selection
30 January 2018 (Tue.) Kick-off 16:00(Local Time) Playing Time 90min.(45min.×2)
Maspalomas Municipal Stadium (Canary Islands/Spain)
U-19 Japan National Team 2-1 (1-0, 1-1) U-19 Canary Islands Selection
Scores
44' IIJIMA Riku (U-19 Japan National Team)
48' Goal against (U-19 Canary Islands Selection)
55' YOKOYAMA Rui (U-19 Japan National Team)
Starting Line-ups
GK: NAKANO Kojiro
DF: KATO Shintaro, ANDO Tomoya, NAKAMURA Yuta, HIGASHI Shunki
MF: YOKOYAMA Rui, KIDA Hinata, SEKI Yamato, KOZUKI Soichiro
FW: KATO Takumi, IIJIMA Riku
Reserves
GK: AOKI Kokoro
DF: TANAKA Kosuke, TANIGUCHI Hiroto, SUGAWARA Yukinari, KOBAYASHI Yuki
MF: HANYA Yosuke, FUKUOKA Shimpei, YAMAMOTO Rihito
FW: MIYASHIRO Taisei
Substitutions
63' KIDA Hinata → FUKUOKA Shimpei
63' YOKOYAMA Rui → MIYASHIRO Taisei
63' KATO Shintaro → SUGAWARA Yukinari
77' IIJIMA Riku → HANYA Yosuke
90' KATO Takumi → TANIGUCHI Hiroto
Match Report
The 'Copa del Atlantico' in the Canary Islands in Spain has finally started. The U-19 Japan National Team won their first game 2-1 against the local U-19 Canary Islands Selection team on Tuesday 30 January, getting things off to a good start. The U-19 Canary Islands Selection team consists players from Club Deportivo Tenerife, in which the Japan international SHIBASAKI Gaku has played until last year, and from Union Deportiva Las Palmas in the Liga Española division 1. They are a strong side who has beaten the Spanish national team in past tournaments.
Coach KAGEYAMA encouraged the players before kick-off to "perform with all you've got from the start," and the Japanese side did just that, applying pressure from the top entering the game. The opponent, however, countered with their physical strength and long balls against the Japanese attacks. Just three minutes into the game, Japanese defenders gave up the ball in front of their own goal, creating an one-on-one situation, but the goalkeeper NAKANO Kojiro came to the rescue and saved it. Japan managed to gather their composure after this play, and with both teams desperate to win their first game, they stayed highly competitive in fifty-fifty situations. In the 30th minute, forward IIJIMA Riku showed brilliance in receiving the ball, then dribbled through the defenders and fired a shot, but the shot was straight at the goalkeeper. Japan gradually found their rhythm, and in the 44th minute, coordinating with midfielder KOZUKI Soichiro, defender HIGASHI Shunki ran up the left flank sending a sharp cross. IIJIMA was able to get to the end of this cross, opening the score with a header. Then in the third minute of injury time, forward KATO Takumi flicked the ball with his head, creating another opportunity for IIJIMA, but his shot was saved by the goalkeeper this time. The game went into half time at 1-0.
The Spanish side fought back in the second half to equalise the game. In the 48th minute, Japan turned over the ball from their mistake, allowing the opponent to break through the right flank. Canary Islands capitalised on this situation, heading home superbly from a cross to level the match. However, Japan kept their cool, and in the 55th minute, midfielder YOKOYAMA Rui dribbled through two players before drawing a foul in the penalty area. He calmly converted the penalty kick to give Japan the lead once again. Japan was then forced to stay patient against the opponent's fierce attack. In the 72nd minute, Canary Islands took a strong shot following a corner kick, but NAKANO denied the shot to keep their lead. Japan stayed focused for the remainder of the game, earning the much wanted victory in their first game 2-1. Japan will meet U-19 Czech Republic, who drew with U-19 Spain 1-1 today.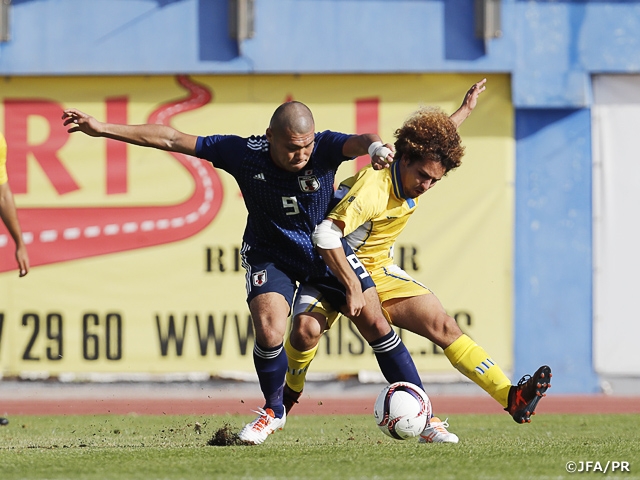 Players' Comments
DF #3 NAKAMURA Yuta (Kashima Antlers Youth)
I'm very pleased to be selected for the new U-19 Japan National Team. It was good that we won today's game, achieving the team's minimum goal. I think as a team, we shared a mutual understanding in terms of transition and in our approach in the defensive end. But including myself, there are lots to improve in the individual level. I felt the need to be able to adjust flexibly in many aspects, including the pitch condition, referees' judgement, and the opponent's strength, some of which are hardly ever experienced in Japan. We will take it day by day to win the tournament, and I will also cherish each day to improve myself during this tour.
MF #16 SEKI Yamato (Ryutsu Keizai University)
It was my first time to represent my country in the U-19 Japan National Team. I was a little nervous, because I was captained for the game, so I'm glad that we won the game. I tried playing simple today, while sharing mutual understanding with my team in transitions. Although it was not our ideal performance at all, I do believe that the team has been improving through practice sessions and matches. I will play hard, so that our team can win two more games before going back to Japan.
FW #10 IIJIMA Riku (Maebashi Ikuei High School)
I was very excited to be selected for the U-19 Japan National Team for the first time, and was very much looking forward to this tour. I'd like to stay eager to score goals, lead the team to victory, and play against strong opponents. It was great to score a goal today, but I could have scored more. I also lost possession of the ball many times, so I'd like to be able to keep possession against physical opponents and improve the quality of shots as well. Our opponent was a selection team, but they showed a lot of heart, and I was able to feel that I was participating in a national competition. I'm still adjusting to play with my teammates, but it's definitely improving, so it will get better as we play together. I'd like to play hard tomorrow, so that we can book another win.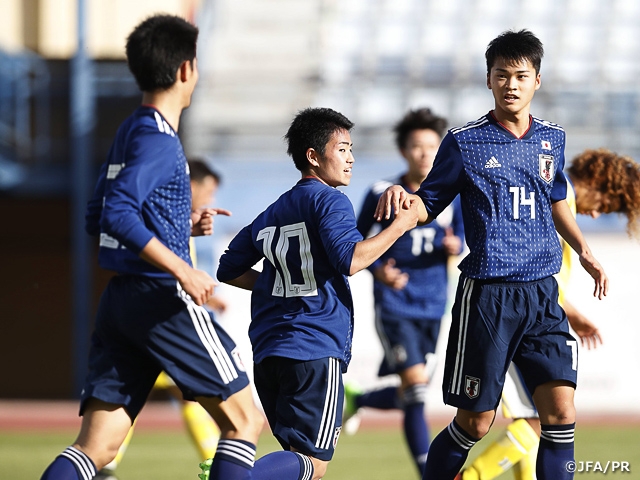 Schedule
U-19 International Tournament "Copa del Atlantico"
Tue. 30 January
2-1
1st Match vs U-19 Canary Islands Selection
(Maspalomas Municipal Stadium)
Wed. 31 January
16:00
2nd Match vs U-19 Czech Republic
(Maspalomas Municipal Stadium)
Thu. 1 February
AM/PM
Training
Fri. 2 February
18:30
3rd Match vs U-19 Spain
(Maspalomas Municipal Stadium)
*Local Time
*The schedule is subject to change due to the team condition, the weather, etc.