NEWS
International Tournament "Copa del Atlantico"~ U-19 Japan National Team wins two consecutive games to set up decider against Spain in U-19 International Tournament 'Copa del Atlantico'
01 February 2018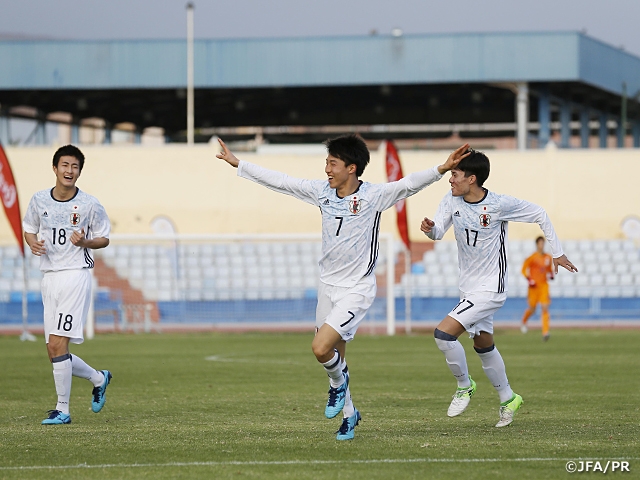 U-19 Japan National Team vs U-19 Czech Republic
31 January 2018 (Wed.) Kick-off 16:00(Local Time) Playing Time 90min.(45min.×2)
Maspalomas Municipal Stadium (Canary Islands/Spain)
U-19 Japan National Team 1-0 (0-0, 1-0) U-19 Czech Republic
Scores
46' HANYA Yosuke (U-19 Japan National Team)
Starting Line-ups
GK: AOKI Kokoro
DF: SUGAWARA Yukinari, TANIGUCHI Hiroto, KOBAYASHI Yuki, HIGASHI Shunki
MF: YOKOYAMA Rui, FUKUOKA Shimpei, KIDA Hinata, IIJIMA Riku
FW: MIYASHIRO Taisei, HANYA Yosuke
Reserves
GK: NAKANO Kojiro
DF: ANDO Tomoya, TANAKA Kosuke, NAKAMURA Yuta, KATO Shintaro
MF: SEKI Yamato, KOZUKI Soichiro, YAMAMOTO Rihito
FW: KATO Takumi
Substitutions
HT HIGASHI Shunki → KATO Shintaro
59' IIJIMA Riku → KOZUKI Soichiro
69' YOKOYAMA Rui → SEKI Yamato
87' MIYASHIRO Taisei → KATO Takumi
Match Report
The U-19 Japan National Team played the second match of the Copa del Atlantico on Wednesday 31 January, and beat U-19 Czech Republic 1-0, winning two matches in a row.
Japan came out aggressively, initiating attacks against a strong U-19 Czech Republic team, who had drawn with U-19 Spain team in the first game. One minute into the game, forward HANYA Yosuke coordinated with forward MIYASHIRO Taisei to get through, creating a goal-scoring opportunity. The shot, however, was saved by the goalkeeper. A minute later, Japan caught their opponents off-guard from a quickly started free kick. Midfielder YOKOYAMA Rui got to the end of the loose ball, but his shot went over the cross-bar. In the 8th minute, YOKOYAMA reacted to MIYASHIRO's through ball and struck the ball well, but the opponent's goalkeeper made a superb save. Japan came out with a good start finding their rhythm, but could not capitalise on their chances, keeping the game tied. Czech Republic tried to take advantage of their physical superiority by utilising long balls. But the Japanese defence led by team captain TANIGUCHI Hiroto and KOBAYASHI Yuki, gave no chances away to their opponents, skilfully controlling the defensive line. In the 24th minute, MIYASHIRO intercepted a long pass from the Czech goalkeeper and fired a shot. Defender SUGAWARA Yukinari penetrated the right flank and took a shot after coordinating with HANYA in the 39th minute. Both shots, however, went slightly wide of the target. Despite seeing numerous goal-scoring opportunities, the match remained scoreless heading into half time.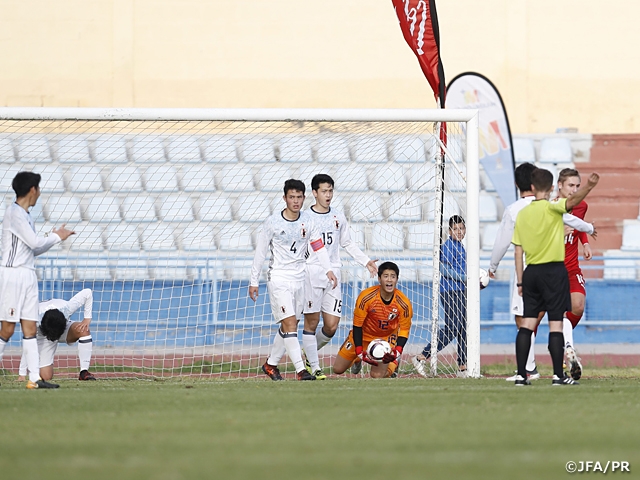 In the second half, Japan maintained their momentum from the first half, aggressively attacking from the start. In the 46th minute, Japan forced a turnover at the centre of the field. MIYASHIRO found HANYA who dribbled into the box before unleashing a powerful shot to put Japan into the lead. The Czech side replaced multiple players in efforts to level the match, and in the 56th minute, they created a chance in the left flank, but TANIGUCHI repeatedly blocked their efforts. With their opponent seemingly gaining momentum, Japan was forced to play patiently. In the 76th minute, goalkeeper AOKI Kokoro made a superb save against a shot taken by a wide open Czech player following a corner kick. Midfielder FUKUOKA Shimpei also contributed by clearing a shot right at the goal line, preventing the opponent from scoring the equaliser. The Czech Republic kept their pressure on, but the Japanese defenders stayed focused, using the time well, and the game ended at 1-0. Japan managed to win two consecutive matches and will play against U-19 Spain, who has beaten U-19 Canary Islands Selection 4-0 (3-0). The final match against Spain will determine the winner of the tournament.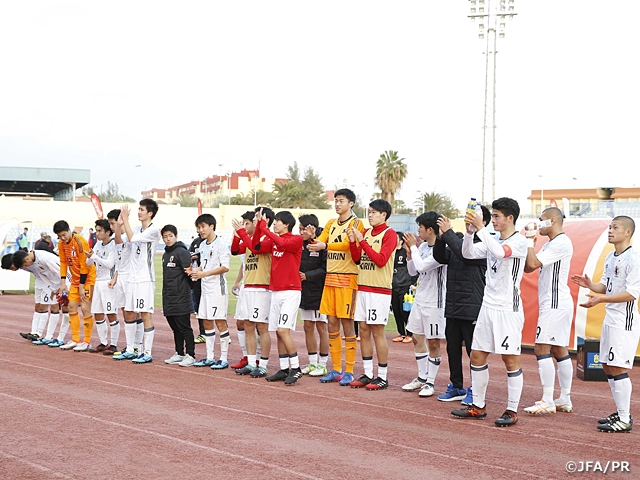 Players' Comments
GK #12 AOKI Kokoro (JFA Academy Fukushima U18)
It was disappointing that I wasn't able to play in the 2017 FIFA U-17 World Cup in India, but I'm very pleased that I was selected for the U-19 Japan National Team. It's a category above my age group, but I won't let that hold me back from showing my abilities. In today's game, we made too many mistakes from lack of communication. Personally, I made some kicking errors and caused trouble for my team. Having said that, I'd like to point out that we defended with physical efforts and stayed focused throughout the entire game to keep a clean sheet. We also reacted well against the opponent's side attacks. We'd like to learn from the two matches we played, and beat Spain to win the championship.
DF #15 KOBAYASHI Yuki (Vissel Kobe U-18)
The experience I had at the 2017 FIFA U-17 World Cup in India was a very bitter one. I'd like to participate and perform well in the FIFA U-20 World Cup, so that I can improve myself in a similar set up. It was great that we played well as a team to keep the clean sheet in today's game. We managed to keep our focus and defended well from up front, but in terms of offense, we need to make better decisions according to our opponents and remaining time of the game. Personally, I was able to control the defensive line well with TANIGUCHI, but there were small things I felt like I need to improve on, such as fifty-fifty balls and quality of instructions. I'll have to improve on those things, because our final opponent, U-19 Spain, is a very good team. We'll give our best to win the championship.
MF #6 KIDA Hinata(Cerezo Osaka U-18)
The atmosphere of the 2017 FIFA U-17 World Cup was something that I've never experienced in my life and I think it had a great impact on my career. I'll have to start from scratch and do my best to show off my abilities, because this is my first time selected in this category of the Japan National Team. We made today's match difficult for ourselves by not capitalising on our early chances. And even after we scored the goal in the second half, we gave up the ball away too easily, which led to tough stretches. In those situations, we had to be a little more creative, perhaps settling the ball upfront or in the midfield area. We'd like to learn from today's experience and work on our tasks before the game against U-19 Spain, so that we can finish this tour with a victory.
FW #7 HANYA Yosuke (Tokyo Gakugei University)
I haven't been selected to the team for a while, so I'm very excited to be here. We were able to score with good ball movement, but as a whole we were forced to be on the defensive end and I felt like I couldn't show off my attacking ability as much as I wanted to. I also feel like I could have contributed a little more defensively by coordinating with my teammates and apply pressure from up top. Spain is both very skilled and physical team, but we'll do our best as a team to grab a win. The atmosphere of the team is really good, so we'll keep our communication active and win the championship together.
Schedule
U-19 International Tournament "Copa del Atlantico"
Tue. 30 January
2-1
1st Match vs U-19 Canary Islands Selection
(Maspalomas Municipal Stadium)
Wed. 31 January
1-0
2nd Match vs U-19 Czech Republic
(Maspalomas Municipal Stadium)
Thu. 1 February
AM/PM
Training
Fri. 2 February
18:30
3rd Match vs U-19 Spain
(Maspalomas Municipal Stadium)
*Local Time
*The schedule is subject to change due to the team condition, the weather, etc.