NEWS
U-15 students of JFA Academy FUKUSHIMA experience Sumo stable
13 February 2018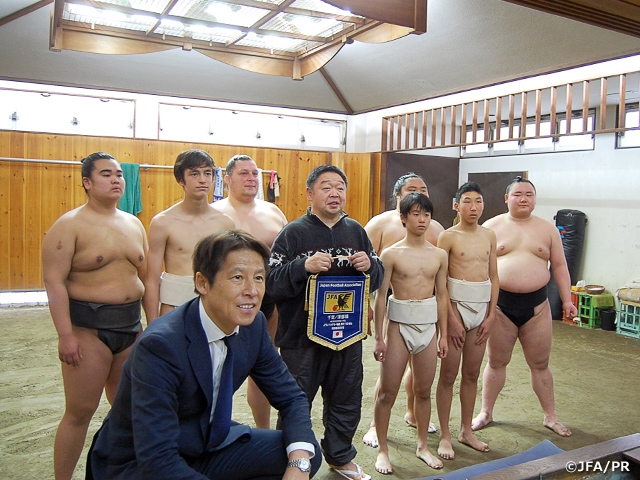 The annual training experience at Sumo stables were held for the U-15 students (men's 10th graduation class) of JFA Academy FUKUSHIMA on Friday 9 to Sunday 11 February. The event was organised with the help of the Japan Sumo Association as part of the elite training programme and it marked the 10th time for this training experience. Total of 15 academy students were sent to five stables; Kasugano, Dewanoumi, Takasago, Takanohana, and Chiganoura. For two nights, the students were given the chance to experience in first hand to train and live the life of a Sumo wrestler.
On Sunday 11 February, Technical Director NISHINO Akira paid a visit to Chiganoura stable to observe the academy students' morning practice session. Surrounded by a traditional and enthusiastic atmosphere, three students were there to practice the basic Sumo routine with the wrestlers. The students had a chance to experience a sparring session against Masutoo, a wrestler 186cm in height, weighting in at 160 kg. There were scenes where Master Tokiwayama told the players, "don't stop pushing," "you're getting a hang of it," "you can be both a soccer player and a Sumo wrestler!"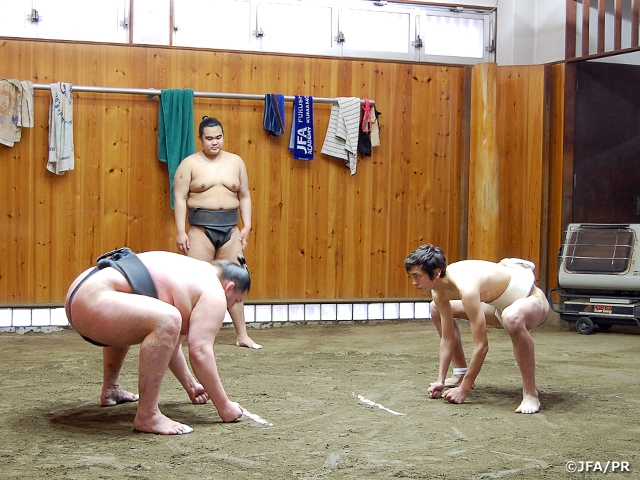 After the visit, Technical Director NISHINO commented, "I appreciate their support and acceptance of our academy students. Through these sessions our students get to experience in first-hand the explosiveness, the acceleration, and the high level of concentration, in which different sports can present to them. Especially with the rich traditional background Sumo presents, it teaches dedication, politeness, and manners for the young kids."
After the final morning session on Sunday 11 February, each students expressed their appreciation to the masters and wrestlers to finish their three-day experience.
Academy Students' Comments
DF NAGATA Yuri (10th graduation class)
I really got to feel and realise how strong these wrestlers were. No matter how many times I tired, I had no chance against them. I learned that the wrestlers train so hard all the time. The Chanko-nabe we ate at the stable was delicious. It was so different from what I normally eat.
DF KOKUBO Kyo (10th graduation class)
What I remember the most is, how strong these wrestlers were. We trained together and no matter how hard I pushed, I couldn't even move them. Their basic training got harder and harder as we repeated the routine. I was looking forward to eating their Chanko-nabe. It was so much more delicious than I expected, and I ate a lot.
FW YOSHIDA Kenjiro (10th graduation class)
I got to learn how seriously the wrestlers practiced the basic routines. I was also impressed how hard they trained every day. I would like to incorporate what I learned and experienced to my daily life and soccer training.