NEWS
U-20 Japan National Team suffers tough loss after conceding late goal against Korea Republic at the FIFA U-20 World Cup Poland 2019
05 June 2019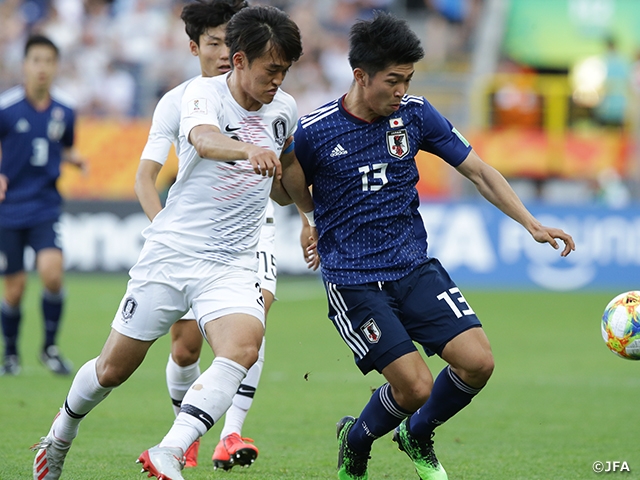 On Tuesday 4 June, the U-20 Japan National Team faced the U-20 Korea Republic National Team in their first match of the knockout stage at the FIFA U-20 World Cup Poland 2019, and lost the match 0-1, ending their campaign in the round of 16.
The starting line-up against Korea Republic featured five changes from their match against Italy, as WAKAHARA Tomoya remained in goal, along with SUGAWARA Yukinari, SEKO Ayumu, KOBAYASHI Yuki, and SUZUKI Toichi in defence. SAITO Mitsuki and FUJIMOTO Kanya were positioned as the defensive midfielders while GOKE Yuta and YAMADA Kota were placed in the flanks. NISHIKAWA Jun and MIYASHIRO Taisei were named as the two strikers leading the offence.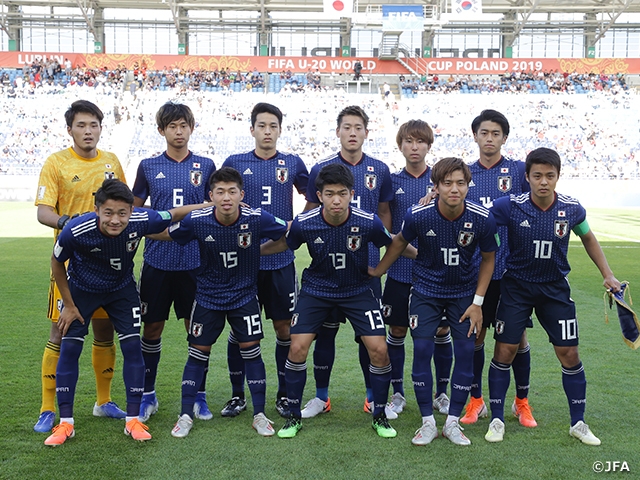 The match saw Japan taking the initiative in the early minutes. With Nishikawa and Goke making frequent position changes, Japan constructed their offence from the build-up plays initiated from their defence line. The team effectively utilised both the flank and central spaces to break down the opponents with their combination plays. A close opportunity was created in the 20th minute, when Sugawara struck a shot from distance, while Yamada also came close with his shot taken in the 40th minute. Despite keeping 70% of the ball possession during the first half, Japan entered halftime scoreless.
In the second half, Korea Republic switched their formation from a five-back to a four-back formation and brought in a player with great speed in the right side. However, Japan managed to respond well against this change and created a golden opportunity of their own. In the 50th minute, Saito delivered the ball into the goal area, allowing Miyashiro to strike a shot. Despite the opposing goalkeeper making a save, Goke was there to convert the loose ball and sent the ball across the goal line, but the play was called offsides after it was reviewed by the VAR.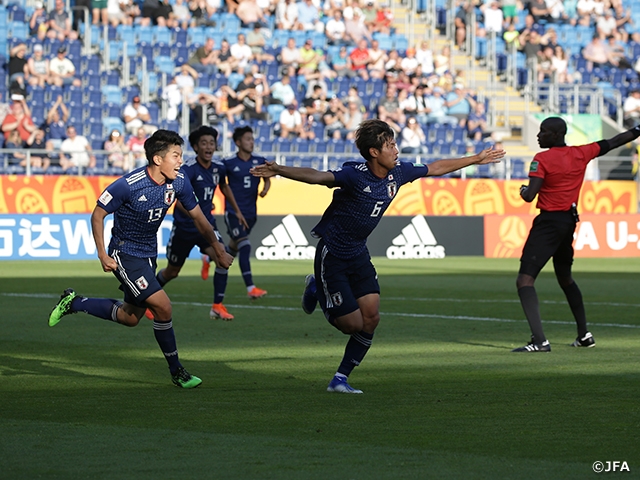 Japan continued to create chances following this play but fell short from capturing the goal. After Miyashiro's shot struck the post in the 78th minute, the deciding goal was scored by Korea Republic in the 84th minute, when their forward struck a header to convert a cross delivered from the left side.
In efforts to level the match, Japan utilised their substitute, but failed to score the equaliser. After finishing the match scoreless, Coach KAGEYAMA Masanaga praised his players, "The dynamics of the match changed dramatically between the two halves, but the players did well to make the adjustments and fought vigorously until the very end. I am proud of my players." With this loss, Japan exited the tournament at the round of 16.
Coach and Players' Comments
KAGEYAMA Masanaga, Coach
First of all, I am saddened by the fact that we are leaving the tournament at the round of 16 and weren't able to meet the expectations of our supporters in Japan. The dynamics of the match changed dramatically between the two halves, but the players did well to make the adjustments and fought vigorously until the very end. I am proud of my players. This loss marks the end for this team, but I hope the players have gained a precious experience that will lead them to a higher step at their club teams and their success at higher categories of the national team.
DF #3 KOBAYASHI Yuki (Vissel Kobe)
It was a match we could've won, and it felt like it ended so quickly. The result was disappointing, but I feel like we shouldn't be ashamed of ourselves. We hope to improve as individuals and return to the Japan National Team in the future. At that time, we will overcome matches like this and strive to reach higher goals at the World Cup.
DF #5 SUGAWARA Yukinari (Nagoya Grampus)
After losing some of our core players prior to the tournament, we were definitely worried about our team and we heard people talking about our team that made us even more nervous about ourselves. However, I feel like we were able to overcome that pressure and anxiety as a team to showcase a great performance throughout the tournament. By advancing through the group stage without losing a match, it proved that Japan is capable of competing with the top teams of the world. However, losing a match like today tells us that we still have long ways to go.
MF #8 FUJIMOTO Kanya (Tokyo Verdy)
This was a match that could have gone either way. The round of 16 has always been a huge wall for us, and it's very disappointing to leave the tournament at this stage. We entered the match with a strong intention to advance through the round of 16, and with our opponent being Korea Republic, it gave us more motivation to win the match. Now we are left with a bitter feeling, regrets, and many mixed emotions. I will not forget what I felt today and use that as motivation to work hard every day once I return to Japan.
MF #10 SAITO Mitsuki (Shonan Bellmare)
In the sport of football, you must score to win. Today, we didn't score any goals, while Korea Republic scored a goal, so they won the match. It's simple as that. I also came to realise that this team is a great team, and I wish we could have played longer as a team. I hope we can compete at the Tokyo Olympics and the future tournaments with this team, so I will set that as my new goal and work hard towards it. My feelings towards this team got stronger because we fought as a team.
FW #13 MIYASHIRO Taisei (Kawasaki Frontale)
The fact that we couldn't capitalise on our opportunities exposed our lack of quality at the final third. When competing at the world level, missing out on one opportunity can change the momentum of the entire match. In that sense, we have lots to improve on. However, I feel like we gave it all we've got, and managed to grow as a player through this tournament. In that sense, we were able to gain a great learning experience, both as a team and as an individual.
FW #14 NISHIKAWA Jun (Toko Gakuen High School)
We played defence as a team and kept Korea Republic scoreless for a while, but it was a matter of centimetres, or even millimetres that determined the results. I was able to learn many things through this tournament, and it made me want to become a player that thrives for teams overseas, so once I return to my team, I will work hard to become the player I wish to be.
Schedule
FIFA U-20 World Cup Poland 2019
Thu. 23 May
1-1
1st Group Stage Match vs U-20 Ecuador National Team
(Bydgoszcz Stadium, Bydgoszcz)
Fri. 24 May
AM
Training
Sat. 25 May
PM
Training
Sun. 26 May
3-0
2nd Group Stage Match vs U-20 Mexico National Team
(Gdynia Stadium, Gdynia)
Mon. 27 May
PM
Training
Tue. 28 May
PM
Training
Wed. 29 May
0-0
3rd Group Stage Match vs U-20 Italy National Team
(Bydgoszcz Stadium, Bydgoszcz)
Tue. 4 June
0-1
Round of 16 vs U-20 Korea Republic National Team
(Lublin Stadium, Lublin)
*Local time
*The schedule is subject to change due to the team condition, the weather, etc.
FIFA U-20 World Cup Poland 2019
Tournament Dates: Thu. 23 May - Sat. 15 June 2019
Round of 16:
Wed. 5 June 2019, 0:30 (Japan time)
vs Korea Republic