NEWS
U-20 Japan National Team to face Korea Republic in Round of 16 at the FIFA U-20 World Cup Poland 2019
02 June 2019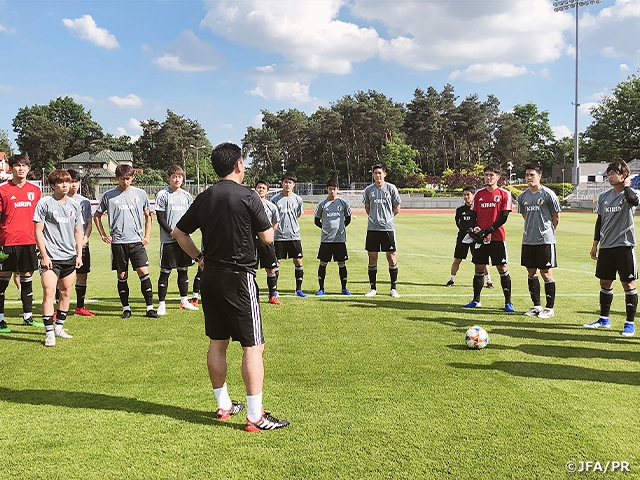 After finishing in second place at the group stage, the U-20 Japan National Team travelled to their next match site, Lublin, on Friday 31 May. After a seven-hour bus ride, the team took the day off to give the players time to recover their body. Also, on this day, the two injured players, TAGAWA Kyosuke and SAITO Koki departed Poland to make their ways back to Japan.
On Saturday 1 June, the team held their first training session in Lublin. Under clear skies, the team started the session by stretching up thoroughly and taking a light jog. The players were then seen going over their combinations in both offence and defence while conducting variations of passing drills. The one-hour session concluded with the team playing a mini-game to work up a sweat, as the players and staffs actively communicated with each other to show their enthusiasm throughout the session.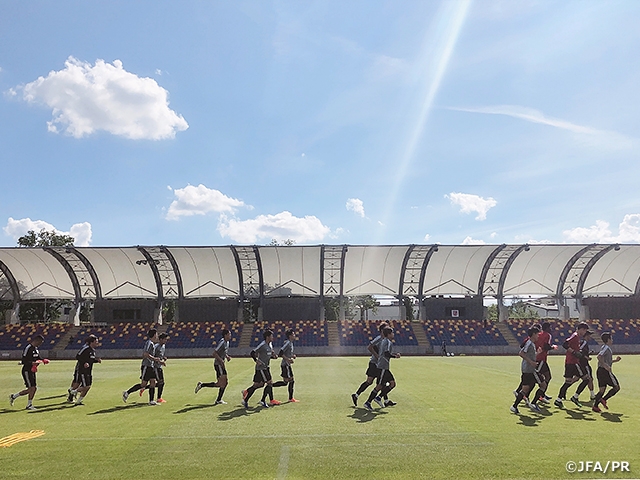 With the results of the other group stage matches played on the night before, it was determined that Japan will face Korea Republic in the round of 16. Korea Republic secured their spot into the knockout stage after finishing in second place of Group F with a record of two wins and one loss. Besides Japan, Korea Republic was the only team from Asia to advance through to the group stage.
The U-20 Japan National Team will face Korea Republic on Tuesday 4 June at 17:30 (24:30 Japan time).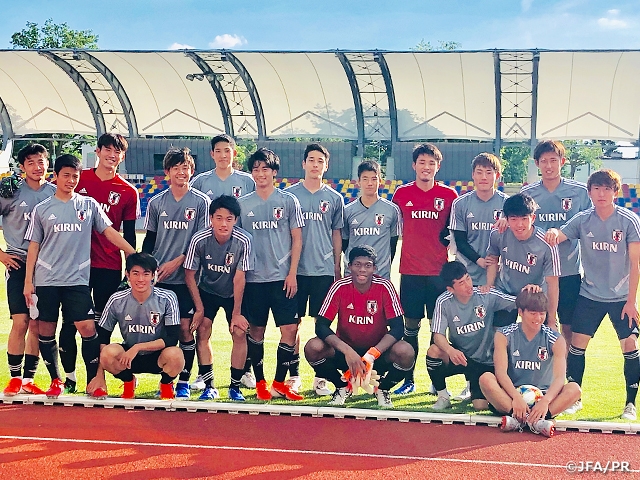 Players' Comments
DF #15 SUZUKI Toichi (Shonan Bellmare)
Our team consists many players who have played in the U-17 World Cup India 2017, so we all share a strong bond and the will to fight for the team. I personally feel confident enough that I can play at any position for the team, and I will give my very best effort regardless of who we face in the next round.
MF #6 GOKE Yuta (Vissel Kobe)
It was determined that we are going to face Korea Republic in the first match of the knockout stage, and I feel like we can showcase an entertaining match between the two representatives of Asia. We hope to give an extra effort to fight in behalf of the two players who were forced to leave the team with injuries. I was sharing the same room with Tagawa, so even when he cheered off the team with a smile, I knew how disappointing he looked at our room. I will bring an extra enthusiasm to the match, in behalf of Tagawa.
FW #20 NAKAMURA Keito (Gamba Osaka)
I have been seeing most of my playing time as a flank midfielder, but regardless of where I'm positioned, I hope to get involved in our team's goals. Saito and I shared the same offensive position and we were very close, so I will work even harder in behalf of Saito and Tagawa.
Schedule
FIFA U-20 World Cup Poland 2019
Thu. 23 May
1-1
1st Group Stage Match vs U-20 Ecuador National Team
(Bydgoszcz Stadium, Bydgoszcz)
Fri. 24 May
AM
Training
Sat. 25 May
PM
Training
Sun. 26 May
3-0
2nd Group Stage Match vs U-20 Mexico National Team
(Gdynia Stadium, Gdynia)
Mon. 27 May
PM
Training
Tue. 28 May
PM
Training
Wed. 29 May
0-0
3rd Group Stage Match vs U-20 Italy National Team
(Bydgoszcz Stadium, Bydgoszcz)
Tue. 4 June
17:30
Round of 16 vs U-20 Korea Republic National Team
(Lublin Stadium, Lublin)
Fri. 7 or Sat. 8 June
TBC
Quarterfinals
Tue. 11 June
17:30/20:30
Semi-Finals
Fri. 14 June
20:30
3rd Place Match
Sat. 15 June
18:00
Final
*Local time
*The schedule is subject to change due to the team condition, the weather, etc.
FIFA U-20 World Cup Poland 2019
Tournament Dates: Thu. 23 May - Sat. 15 June 2019
Round of 16:
Wed. 5 June 2019, 0:30 (Japan time)
vs Korea Republic