NEWS
U-20 Japan National Team resumes trainings following match against Italy at the FIFA U-20 World Cup Poland 2019
31 May 2019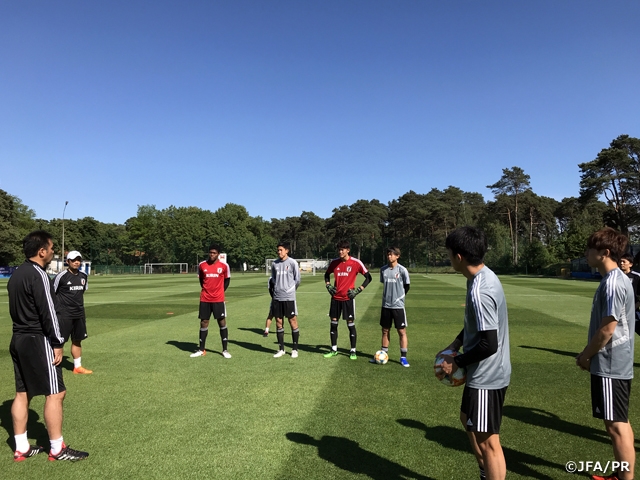 On Thursday 30 May, one day following their 0-0 draw against Italy at the final group stage match, the U-20 Japan National Team resumed their trainings with most of their players conducting a recovery session at the hotel.
The six players who didn't play or had limited minutes in the match against Italy, MOGI Shu, SUZUKI Zion, GOKE Yuta, FUJIMOTO Kanya, MIYASHIRO Taisei, and HARA Taichi, took the field to conduct a training session for about an hour.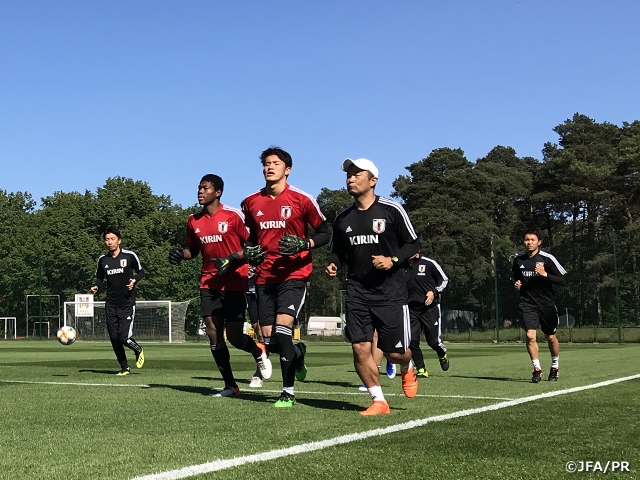 The session was held under clear skies where the players were seen going over conditioning drills to maintain their fitness ahead of the next match. Among the six players, Hara was seen going through an intense shooting drill, where he repeatedly received the ball from Coach KAGEYAMA Masanaga and other staffs to take shots towards two different goals with a goalkeeper in each.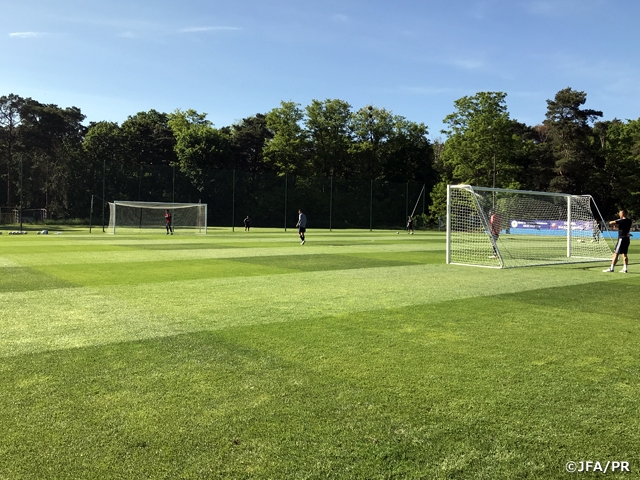 Each player devoted themselves in the training session that lasted for an hour. Ahead of their match at the round of 16, the team will leave Bydgoszcz to make their ways to Lublin on the following day.
The U-20 Japan National Team will have a five-day rest ahead of their next match, as they will face the runners-up of Group F (either Argentina, Korea Republic, Portugal) on Tuesday 4 June.
Players' Comments
GK #21 SUZUKI Zion (Urawa Reds Youth)
I am joining a tournament of an older category and the level of plays are so much higher than what I am used to. I feel like I am getting a wonderful learning experience. Our team consists with three goalkeepers, Wakahara, Mogi, and I. We are all competing for the same position, but not in a negative way. We have been able to support each other to heighten the quality of our plays. When Wakahara is out there playing in the matches, it is important that Mogi and I show our full support to him, so we will continue to do that.
FW #13 MIYASHIRO Taisei (Kawasaki Frontale)
I am happy about the goals I scored against Mexico in our second group stage match, but right now I am fully focused on preparing myself ahead of our next match. My team, Kawasaki Frontale has been doing well in the recent J. League matches, and that gives me more motivation to do well here. I will give my best efforts to earn a spot in the next match and earn good results at the match.
FW #18 HARA Taichi (F.C. Tokyo)
I have been given the opportunity to play in two matches as a substitute, and despite the fact that this is the World Cup, I am not feeling very nervous. However, I haven't taken a single shot yet, so I hope to improve on my offensive plays if I am given the opportunity to play again. Including today's session, I have been able to prepare myself well, so I am in good condition.
Schedule
FIFA U-20 World Cup Poland 2019
Thu. 23 May
1-1
1st Group Stage Match vs U-20 Ecuador National Team
(Bydgoszcz Stadium, Bydgoszcz)
Fri. 24 May
AM
Training
Sat. 25 May
PM
Training
Sun. 26 May
3-0
2nd Group Stage Match vs U-20 Mexico National Team
(Gdynia Stadium, Gdynia)
Mon. 27 May
PM
Training
Tue. 28 May
PM
Training
Wed. 29 May
0-0
3rd Group Stage Match vs U-20 Italy National Team
(Bydgoszcz Stadium, Bydgoszcz)
Tue. 4 June
17:30
Round of 16 vs Runners-up of Group F
(Lublin Stadium, Lublin)
Fri. 7 or Sat. 8 June
TBC
Quarterfinals
Tue. 11 June
17:30/20:30
Semi-Finals
Fri. 14 June
20:30
3rd Place Match
Sat. 15 June
18:00
Final
*Local time
*The schedule is subject to change due to the team condition, the weather, etc.
FIFA U-20 World Cup Poland 2019
Tournament Dates: Thu. 23 May - Sat. 15 June 2019
Round of 16:
Wed. 5 June 2019, 0:30 (Japan time)
vs Runners-up of Group F