NEWS
U-20 Japan National Team holds training session and official press conference ahead of clash against Korea Republic at the FIFA U-20 World Cup Poland 2019
03 June 2019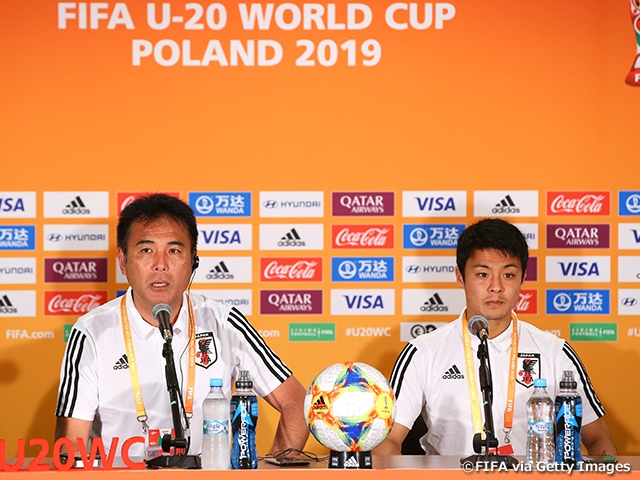 With the FIFA U-20 World Cup Poland 2019 round of 16 match against the U-20 Korea Republic National Team scheduled in a couple days, the U-20 Japan National Team held a training session and an official press conference on Sunday 2 June. On this day, many of the players who were training under a restricted menu came back to join the full training session. With the big match fast approaching, the players worked up a sweat in the one-hour session to polish up their conditions under a tense atmosphere.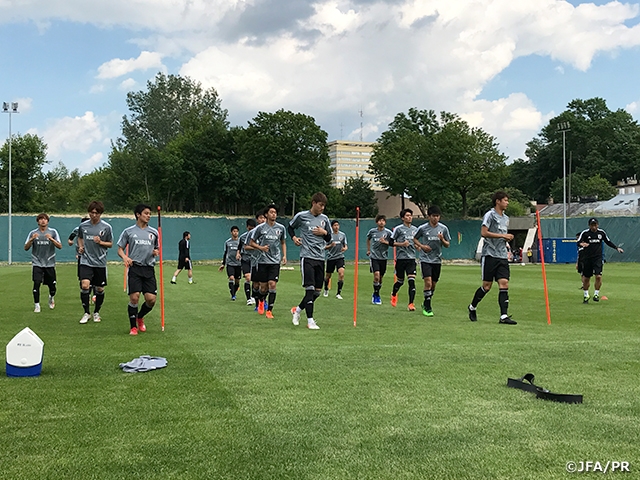 Following the training session, Coach KAGEYAMA Masanaga and team captain SAITO Mitsuki appeared in an official press conference to share their aspirations for the round of 16.
During the official press conference held at Lublin Stadium, the match venue for the round of 16, Coach Kageyama started off by stating, "We will take one match at a time and give our utmost efforts to win each match. Our preparation process has begun from the moment we finished our third group stage match against Italy. We will prepare ourselves in the best way possible, so that we can showcase our best performance on the match day." Saito followed by sharing his aspiration, "With Korea Republic being our opponent, I am sure it will be a fascinating match, but regardless of who we face, we will just focus on what we need to accomplish and make our way to the next round."
When asked about his impression on Korea Republic, Coach Kageyama mentioned, "The team consists with players who have great power and techniques," and continued by sharing his take on the match, "In terms of the team strengths, we are the challengers in this match."
Ahead of his first match against Korea Republic, and the first match of the knockout stage, Saito spoke about the upcoming match, "I personally think that Korea Republic has the upper hand over Japan in both physical and technical aspects. In that sense, I am certain that this is going to be an intense and competitive match. It is not a fun match if everyone knew what the outcome was going to be. I think our match is going to be a very entertaining match for the viewers."
The U-20 Japan National Team and the U-20 Korea Republic National Team will compete for the ticket to the quarterfinals on Tuesday 4 June at 17:30 (24:30 Japan time).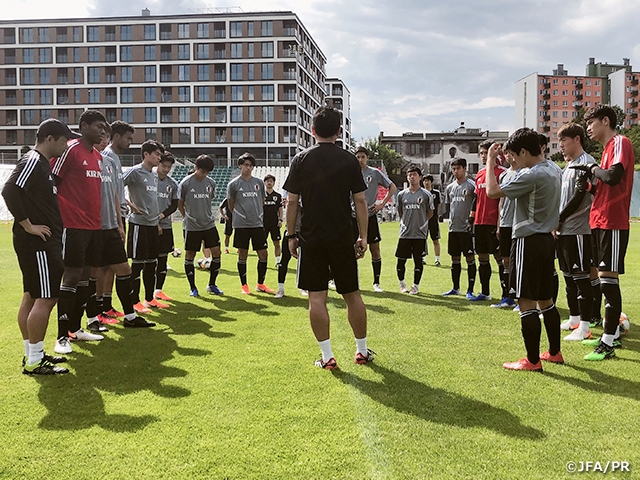 Players' Comments
DF #2 HIGASHI Shunki (Sanfrecce Hiroshima)
Out of the two matches I played in, I think I was able to perform better in the match against Italy. If I can deliver more assists, I feel like I can help the team win more matches, so I will heighten the quality of my plays in the final third. Regardless of who we face, we are committed to win our match, so we will continue to give our best efforts to prepare ourselves ahead of the next match.
DF #4 SEKO Ayumu (Cerezo Osaka)
I know that the match against Korea Republic is going to be a tough one, so I will focus on keeping my composure while maintaining a high intensity. The opponent has very powerful players upfront, and they may opt to send many long balls towards these players, so our centre halves must be able to withstand the pressure. In that sense, I might be playing a major role in this match.
Schedule
FIFA U-20 World Cup Poland 2019
Thu. 23 May
1-1
1st Group Stage Match vs U-20 Ecuador National Team
(Bydgoszcz Stadium, Bydgoszcz)
Fri. 24 May
AM
Training
Sat. 25 May
PM
Training
Sun. 26 May
3-0
2nd Group Stage Match vs U-20 Mexico National Team
(Gdynia Stadium, Gdynia)
Mon. 27 May
PM
Training
Tue. 28 May
PM
Training
Wed. 29 May
0-0
3rd Group Stage Match vs U-20 Italy National Team
(Bydgoszcz Stadium, Bydgoszcz)
Tue. 4 June
17:30
Round of 16 vs U-20 Korea Republic National Team
(Lublin Stadium, Lublin)
Fri. 7 or Sat. 8 June
TBC
Quarterfinals
Tue. 11 June
17:30/20:30
Semi-Finals
Fri. 14 June
20:30
3rd Place Match
Sat. 15 June
18:00
Final
*Local time
*The schedule is subject to change due to the team condition, the weather, etc.
FIFA U-20 World Cup Poland 2019
Tournament Dates: Thu. 23 May - Sat. 15 June 2019
Round of 16:
Wed. 5 June 2019, 0:30 (Japan time)
vs Korea Republic