NEWS
U-20 Japan National Team holds final training session ahead of match against Korea Republic at the FIFA U-20 World Cup Poland 2019
04 June 2019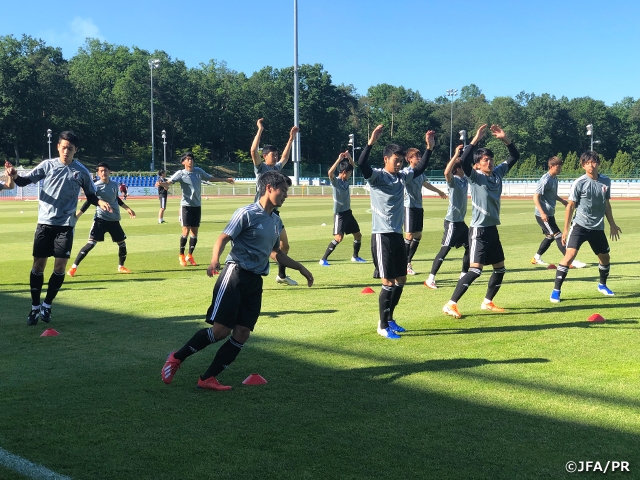 One day before the round of 16 match against Korea Republic at the FIFA U-20 World Cup Poland 2019, the U-20 Japan National Team held a training session on Monday 3 June.
Five days following their final group stage match against Italy, the players showed improvements in their conditions. While the session was conducted under a tense atmosphere, the players and staffs were seen sharing occasional laughter during the session to display a relaxed and positive vibe as a team. With the session being held under closed doors except for the first 15 minutes, the team went over the tactics ahead of their clash against Korea Republic.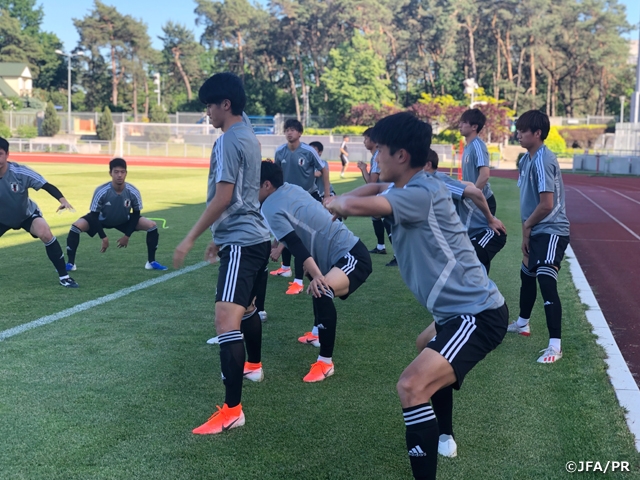 With their teammates, TAGAWA Kyosuke and SAITO Mitsuki forced to leave the squad due to injuries, the remaining 19 players left the training ground with a strong sense of commitment and enthusiasm to win the next match. After returning to their hotel, the players took their time to review the training session and discussed the team tactics for the match scheduled on the following day.
The U-20 Japan National Team will face the U-20 Korea Republic National Team in the round of 16 on Tuesday 4 June, at 17:30 (24:30 Japan time).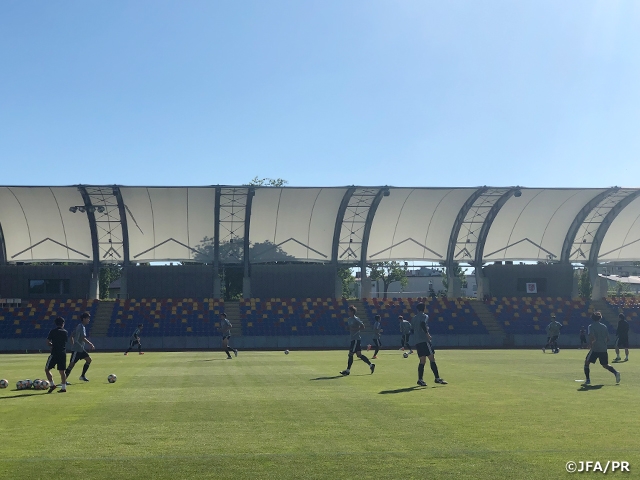 Players' Comments
DF #5 SUGAWARA Yukinari (Nagoya Grampus)
They have many target players upfront, and I am sure they will play a style of football that is hard to play against. However, I am confident that we have prepared ourselves thoroughly to win the match, so regardless of who we face, I will just focus on playing our game. This tournament features the best players of our generation, and I am looking forward to playing against such players.
MF #10 SAITO Mitsuki (Shonan Bellmare)
With this being a Korea-Japan match up, we hope to display an exciting match tomorrow. There is a rich history between the two teams, as the older generations have showcased many epic battles over the years, and I hope to be a part of that history when I step on the field tomorrow. The anticipation is getting higher as we reach the round of 16, and all the players must execute our job, while staying together as a team. If we can all play beyond our potential, victory should come towards our way.
FW #14 NISHIKAWA Jun (Toko Gakuen High School)
Since the start of the tournament, my teammates at Toko Gakuen High School have given me many words of encouragement before each match, and I am feeling very blessed to be supported by so many people. We will be facing a very talented and strong Korea Republic team. They will play very aggressive in both offence and defence, so I will give my utmost efforts to fight against them.
Schedule
FIFA U-20 World Cup Poland 2019
Thu. 23 May
1-1
1st Group Stage Match vs U-20 Ecuador National Team
(Bydgoszcz Stadium, Bydgoszcz)
Fri. 24 May
AM
Training
Sat. 25 May
PM
Training
Sun. 26 May
3-0
2nd Group Stage Match vs U-20 Mexico National Team
(Gdynia Stadium, Gdynia)
Mon. 27 May
PM
Training
Tue. 28 May
PM
Training
Wed. 29 May
0-0
3rd Group Stage Match vs U-20 Italy National Team
(Bydgoszcz Stadium, Bydgoszcz)
Tue. 4 June
17:30
Round of 16 vs U-20 Korea Republic National Team
(Lublin Stadium, Lublin)
Fri. 7 or Sat. 8 June
TBC
Quarterfinals
Tue. 11 June
17:30/20:30
Semi-Finals
Fri. 14 June
20:30
3rd Place Match
Sat. 15 June
18:00
Final
*Local time
*The schedule is subject to change due to the team condition, the weather, etc.
FIFA U-20 World Cup Poland 2019
Tournament Dates: Thu. 23 May - Sat. 15 June 2019
Round of 16:
Wed. 5 June 2019, 0:30 (Japan time)
vs Korea Republic