NEWS
Local Japanese students sending cheers to Nadeshiko Japan ahead of the FIFA Women's World Cup France 2019
05 June 2019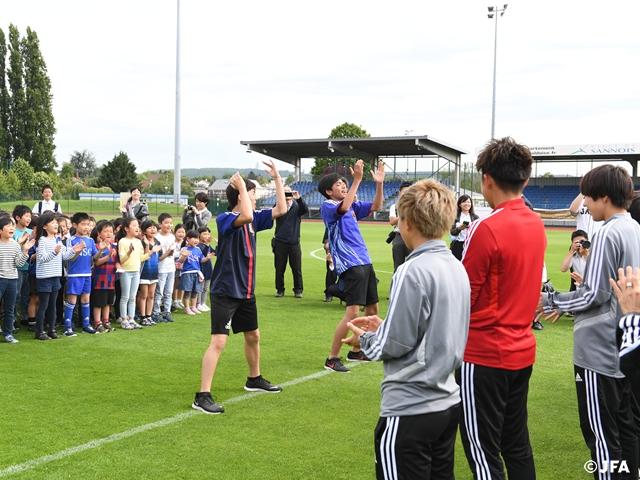 With the first match of the FIFA Women's World Cup France 2019 approaching on Monday 10 June, the Nadeshiko Japan (Japan Women's National Team) entered their second day in Paris. On this day, Coach TAKAKURA Asako cancelled the scheduled training session to give the team a day off.
Following the welcome event hosted by FIFA in the morning, the team made their ways to the training field to attend an exchange event with the students of the Paris Japanese School. With over 200 students arriving at the venue, the students spent their time taking pictures and communicating with the players of Nadeshiko Japan. A female student gave a speech in behalf of the school, followed by a duo of male students leading the group to send cheers to the Nadeshiko Japan. It gave the players time to reflect on their past and remind them that they are representing the country.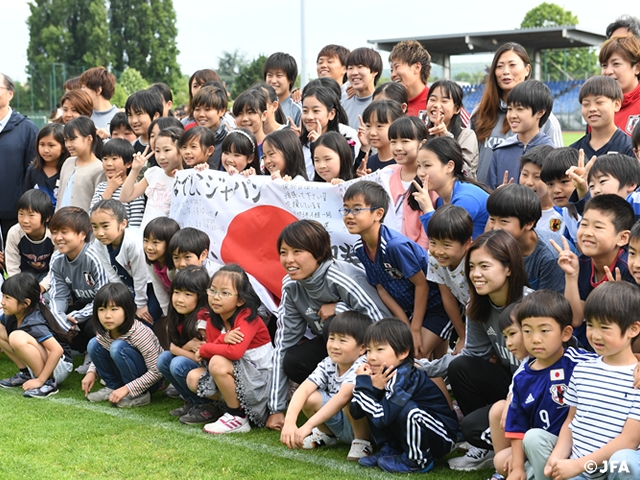 During the meeting held after dinner, the team watched the match films to review their match against Spain. While Coach Takakura praised their defensive efforts to a certain degree, she continued by mentioning that there is space for improvements in offence.
The FIFA Women's World Cup France will kick-off on Thursday 6, and the Nadeshiko Japan will face the Argentina Women's National Team in their first group stage match on Monday 10.
Players' Comments
GK #21 HIRAO Chika (Albirex Niigata Ladies)
I was very moved by the speech given by the girl from the local Japanese school. It really showed her love for the sport and her words really made me feel like I need to give my very best efforts. I normally feel pressured when I receive words of encouragement and messages to cheer me up, but today I was able to embrace the words very naturally and convert them into power. Our training session was cancelled today, and gave us a rare day off, so I spent my time getting refreshed. I was able to take care of my body and it allowed me to refresh both my body and soul.
FW #8 IWABUCHI Mana (INAC Kobe Leonessa)
The kids were so adorable. When I was their age, I was playing football, but I never got to meet a player from the national team. The entire school took their time to cheer for us, so it leaves us with no option but to give our best efforts at the tournament. We hope to achieve great results, so that more people will look up to us, and that ultimately gives me more motivation to work harder.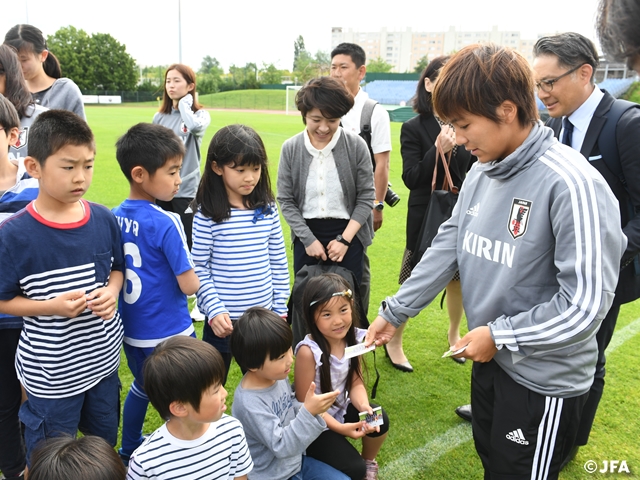 Schedule
Nadeshiko Japan (Japan Women's National Team) Squad, Schedule
FIFA Women's World Cup France 2019
Tournament Dates: Fri. 7 June - Sun. 7 July 2019
Group Stage:
Tue. 11 June 2019 01:00 (Japan time)
vs Argentina Women's National Team
Fri. 14 June 2019 22:00 (Japan time)
vs Scotland Women's National Team
Thu. 20 June 2019 04:00 (Japan time)
vs England Women's National Team