NEWS
Shoshi and Aomori Yamada to clash in the "Tohoku Derby" at the 6th Sec. of Prince Takamado Trophy JFA U-18 Football Premier League
09 May 2019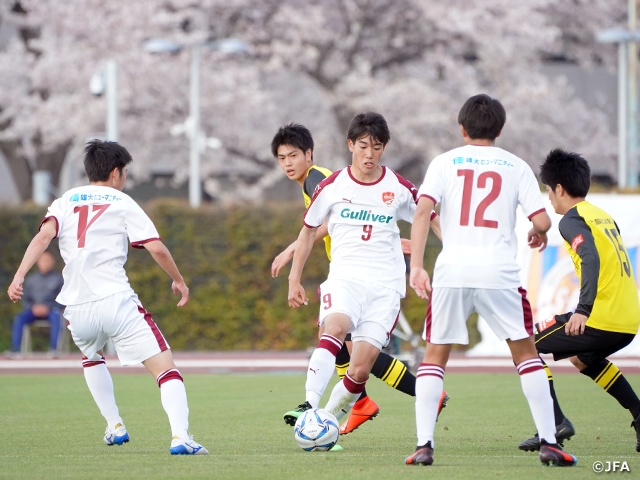 The sixth Sec. of the Prince Takamado Trophy JFA U-18 Football Premier League will take place on Saturday 11 and Sunday 12 May.
EAST
In the EAST, second place Kashiwa Reysol U-18 (Chiba) will seek to bounce back from their 1-2 loss against Aomori Yamada High School (Aomori) from last week, when they host Jubilo Iwata U-18 (Shizuoka) at their home. After being blanked in their previous fixture, forward KAWAMOTO Riyo (#6) will lead the offence for Shimizu S-Pulse Youth (Shizuoka) against Funabashi Municipal High School (Chiba).
The Saitama Derby will feature the matchup between Omiya Ardija U18 (Saitama) and Urawa Red Diamonds Youth (Saitama). The two aces will lead each other's offence, as Omiya's TAKADA Soya (#10) and Urawa's HATA Shota (#9) will both seek to score goals.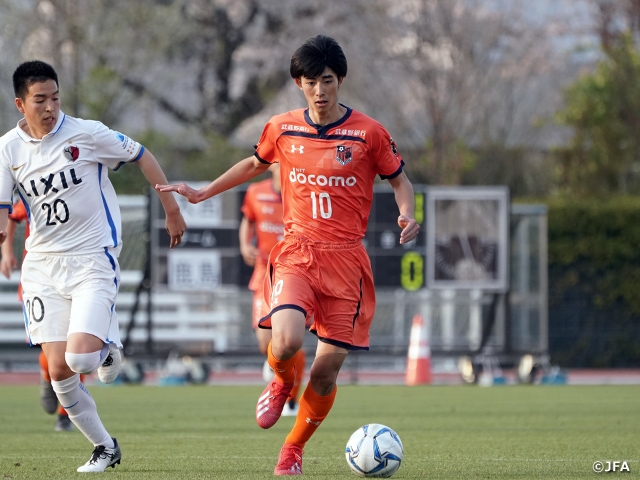 A solid defensive match is expected in the fixture between Kashima Antlers Youth (Ibaraki) and Ryutsu Keizai University Kashiwa High School (Chiba), where two sides who has struggled at the start of the season will go head to head to pick up their momentum.
The pick-up match of the EAST will feature two teams from the Tohoku region, Shoshi High School (Fukushima) and Aomori Yamada High School. In their second ever season at the Premier League, Shoshi has one their season opener, but lost four consecutive matches since. Defender WATANABE Koyo (#4) will play a key role to revitalise the defence for the Fukushima side. In contrast, Aomori Yamada is yet to be defeated this season, but they will be without their midfielder TAKEDA Hidetoshi (#10) this week, as he will be serving his suspension. Their focal point will be on how they fill the vacancy of their ace. The fixture between the two sides who featured last year's All Japan High School Soccer Tournament Semi-finals will be an intriguing match from start to end.
WEST
In the WEST, Cerezo Osaka U-18 (Osaka) will welcome Vissel Kobe U-18 (Hyogo) to their home. Following their sweeping victory from last week, Cerezo's midfielder KONDO Kuraba (#50) will seek to lead his side to back to back victories. Second place Sanfrecce Hiroshima F.C Youth (Hiroshima), who has been undefeated since the second Sec., will take on the league leaders, Gamba Osaka Youth (Osaka). It will be interesting to see if Hiroshima can contain the Gamba offence who has scored a league leading 14 goals thus far.
After conceding two goals from their mistakes in the previous Sec., Nagoya Grampus U-18 (Aichi) will seek to rebuild their defence when they face Avispa Fukuoka U-18 (Fukuoka). The focal point will be on whether they can stop Avispa's speedy forward MATSUDA Tomoki (#8) to avoid losing back to back matches. The fixture between Kyoto Sanga F.C. U-18 (Kyoto) and Higashi Fukuoka High School (Fukuoka) will feature an enticing matchup in front of the goal, as the league's top scorer, KOMIYA Takeru (#9) will seek to seek to score goals for Kyoto by breaking down Fukuoka's defence led by MARUYAMA Kaito (#4).
The Pick-up match of the WEST will feature Ehime FC U-18 (Ehime) and Ozu High School (Kumamoto) clashing head to head. Despite showcasing a wonderful performance to earn three points in their season opener, Ehime has struggled since, as they dropped four consecutive matches. Team captain TANIOKA Masashi (#6) will strive to navigate his side to play more collectively and end the losing streak.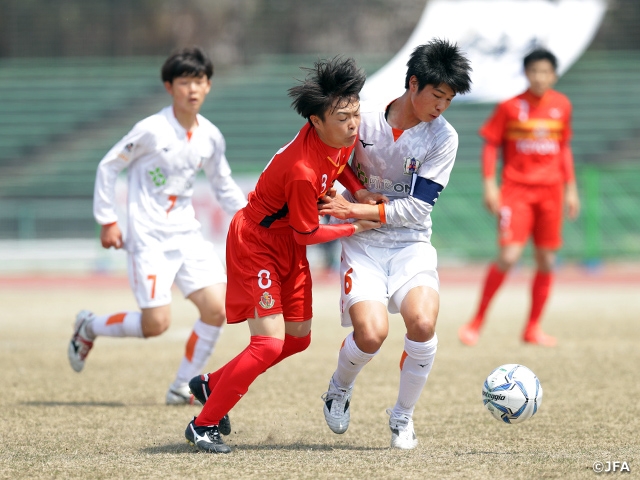 Meanwhile, Ozu currently sits in third place in the WEST. If they can continue to score the opening goal, their chances of earning three straight victories are within their reach.

EAST Sec. 5 Highlights
WEST Sec. 5 Highlights
Prince Takamado Trophy JFA U-18 Football Premier League 2019
League Duration: Sat. 6 April - Sun. 8 December 2019