NEWS
Cerezo Osaka marks second win of the season at the 5th Sec. of Prince Takamado Trophy JFA U-18 Football Premier League WEST
06 May 2019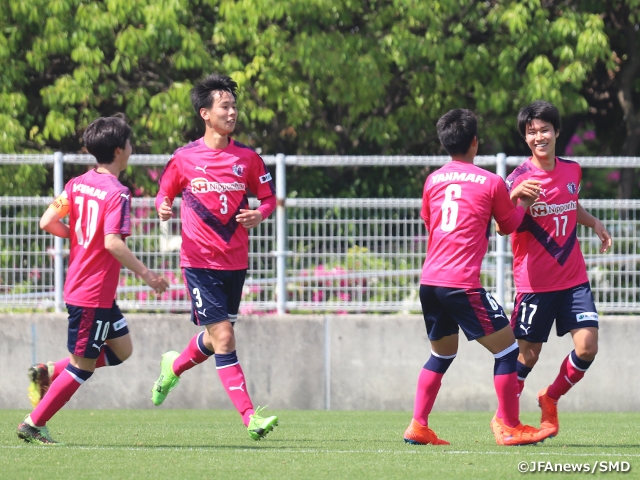 The fifth Sec. of Prince Takamado Trophy JFA U-18 Football Premier League took place on Saturday 4 and Sunday 5 May, where ninth place Cerezo Osaka U-18 (Osaka) played against tenth place Avispa Fukuoka U-18 (Fukuoka).
Pick-up Match
Cerezo Osaka U-18 3-0 (1-0, 2-0) Avispa Fukuoka U-18
With both teams registering just one win since the start of the season, it was a match for both sides to change the momentum. "We were not able to showcase good performances in the previous four matches, not only as a team, but also as individuals. We cannot afford to lose against Avispa, who also has just one win so far, and we are fully prepared for this match," said Cerezo Osaka's midfielder YOSHIDA Yushi (#23). In fact, it was Cerezo Osaka who took control of the match in the early goings. The opening goal came in the 10th minute, when Cerezo utilised the width of the pitch to penetrate deep in the Avispa's territory and earn a free kick in the left flank. Midfielder KONDO Kuraba (#50) delivered the ball into the mix to allow SASAKI Tomu (#17) to strike a header that shook the net.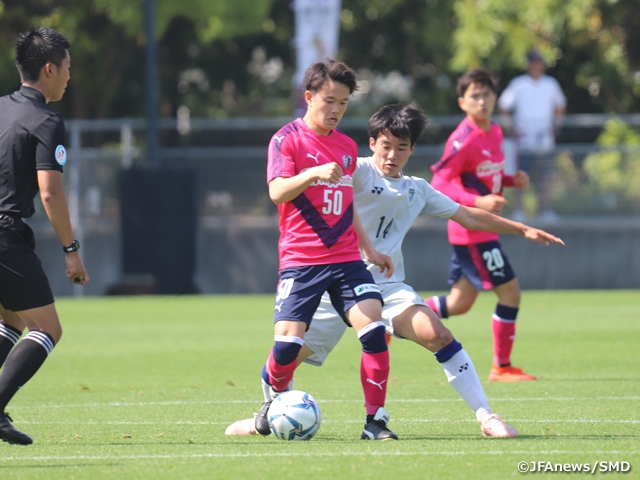 Despite conceding the opener to Cerezo, it was the Fukuoka side who gained control of the match following the goal. In the 16th minute, Avispa's YOSHIMURA Ginga (#7) struck a shot at goal, but it was blocked by the diving effort of SHIMOKAWA Taiyo (#16). As the Cerezo defender later reflected, "Our transitions and efforts to win the ball was no there last week, so we kept in mind to showcase our best performance this week," the Osaka side showed great persistence to keep their lead into halftime.
While Avispa showed signs of fatigue in the second half, Cerezo retook control of the game. In the 56th minute, forward NISHIMURA Masaki (#13) responded to the pass delivered by Shimokawa and sent the ball towards the right side. It was Yoshida who converted this pass with a wonderful strike that pierced the left corner of the goal, as he later reflected, "We were playing passively after scoring the first goal, and we were told during halftime to be more aggressive. I didn't take any shots in the first half, so I wanted to take one early in the second half."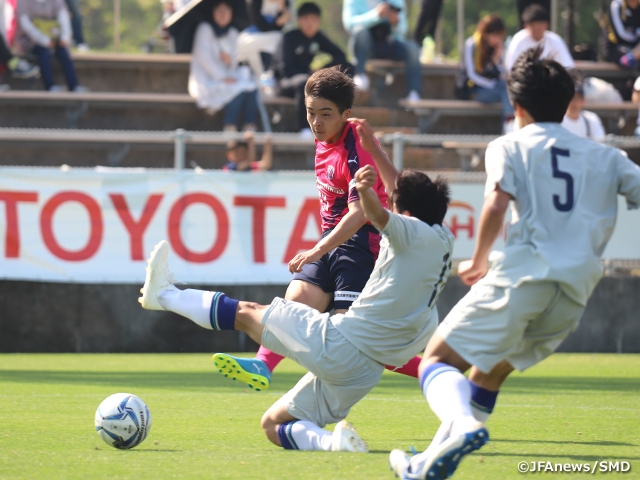 Cerezo managed to add another goal in the 88th minute, as OZAWA Nozomi (#3) converted the corner kick delivered by Kondo to give the Osaka side a 3-0 victory to get out to the relegation zone.
Coaches and Players' Comments
KAIMOTO Keiji, Coach (Cerezo Osaka U-18)
I wanted my players to play with no hesitation, so prior to the match, I told them to have confidence in their plays. Although we ended up with three goals to win the match, we played too passively after scoring the first goal. It's not always a bad thing, but I rather wanted my players to keep challenging themselves. The fact that we managed to add more goals, shows me that our players were keen on capitalising the opportunities. The timing of the goals couldn't have been better, and it helped us out greatly.
MF #23 YOSHIDA Yushi (Cerezo Osaka U-18)
We lacked intensity in the first four matches, so we focused on showing more aggression in our training sessions leading up to this match. I personally wasn't able to score any goals, so I was eager to get myself involved in plays that can produce goals. With Gamba Osaka Youth's (Toyama) Shoji scoring goals in three consecutive matches, while Kyoto Sanga F.C. U-18's (Nakano) Keita showing a great performance against us last week, I was fully motivated to earn some positive results today. Following our victory in the third Sec., our team sat on our laurels and failed to earn back-to-back wins, so this time we will remain focused to win another match next week.
FUJISAKI Yoshitaka, Coach (Avispa Fukuoka U-18)
Considering where we currently stand in the rankings, this was a match we desperately needed to win. We managed to showcase a positive performance to win over Vissel last week, so I told my players to keep up the efforts, but we entered the match too passively today. After we conceded the opening goal, we started to pick up our rhythm. If we could have equalised while we had the momentum, this would have been a totally different outcome, but we looked heavy in the second half. We will face another away match next week, so we must get ourselves prepared and play an aggressive match while showcasing our strong points.
DF #6 ITO Tomoo (Avispa Fukuoka U-18)
We entered the match poorly and conceded a goal from a foul we committed early in the match. This result is disappointing, especially after seeing ourselves putting up a good performance after we conceded the first goal. Out of the three goals we've conceded today, two were from set-plays. We weren't necessarily beaten by run of plays, but simply gave up too many goals. We will be facing another match on the road, and we really need to earn points, so as a defender, I will be fully focused to keep a clean sheet. Our supporters have been very loyal to us, so we hope to meet their expectations by winning matches.
Results of other matches
Higashi Fukuoka High School 0-1 (0-0, 0-1) Sanfrecce Hiroshima F.C Youth
Ozu High School 2-1 (2-1, 0-0) Nagoya Grampus U-18
Vissel Kobe U-18 0-2 (0-1, 0-1) Gamba Osaka Youth
Ehime FC U-18 0-3 (0-1, 0-2) Kyoto Sanga F.C. U-18
The deadlock was broken in the 79th minute in the match between Higashi Fukuoka High School (Fukuoka) and Sanfrecce Hiroshima F.C Youth (Hiroshima), as Hiroshima took the 1-0 victory. Ozu High School (Kumamoto) exploited the defensive flaws of Nagoya Grampus U-18 (Aichi) to score two goals and earn three points at home. League leading Gamba Osaka Youth (Osaka) marked a goal apiece in both halves to win over Vissel Kobe U-18 (Hyogo) 2-0. Kyoto Sanga F.C. U-18 (Kyoto) cruised passed Ehime FC U-18 (Ehime) with their three goals.
Prince Takamado Trophy JFA U-18 Football Premier League 2019
League Duration: Sat. 6 April - Sun. 8 December 2019