NEWS
U-20 Chinese Taipei Futsal National Team holds training camp in Sakai, Osaka
19 April 2019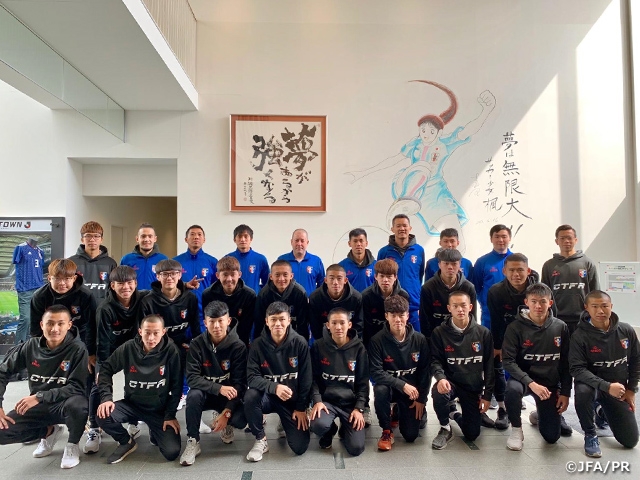 The U-20 Chinese Taipei Futsal National Team held their training camp in Sakai, Osaka from Saturday 6 to Friday 12 April. Former coach of the Nagoya Oceans, Mr. Jose Ajiu AMARANTE, attended the camp as the team's technical director. The training camp was held to strengthen the team ahead of the AFC U-20 Futsal Championship Iran 2019 scheduled in June. During their stay the team played a total of four training matches.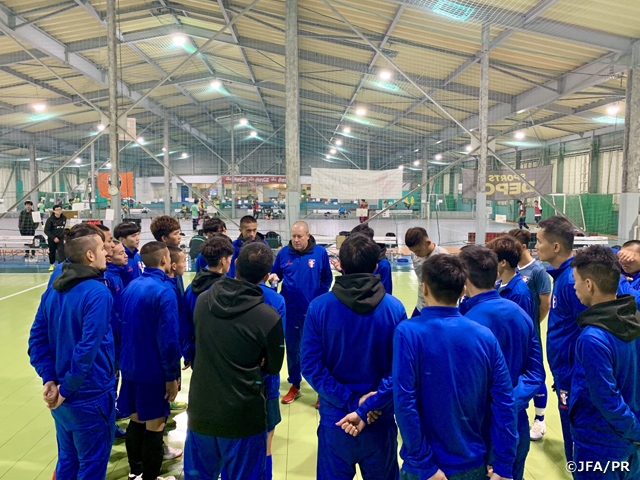 The results of the training matches are as follow:
| | | |
| --- | --- | --- |
| Sun. 7 April | ○ 9-3 (2-0, 5-2, 2-1)/(30mins×2+25mins×1) | vs Doshisha University Second Team |
| Mon. 8 April | ● 0-3 (0-0, 0-2, 0-1)/(30mins×2+20mins×1) | vs Shriker Osaka Satellite |
| Wed. 10 April | ● 5-6 (2-2, 2-2, 1-2)/(30mins×2+20mins×1) | vs Biwako Seikei Sport College |
| Thu. 11 April | ● 0-9 (0-3, 0-2, 0-4)/(30mins×1+20mins×2) | vs Shriker Osaka Satellite |
The players were seen spending their free-time by visiting sceneries of Osaka and shopping at sports shops. The team also held a barbeque on the final day and enjoyed their time in Japan.
Comments from U-20 Chinese Taipei Futsal National Team
Jose Ajiu AMARANTE, Technical Director
It was a wonderful camp for our players, as the team managed to conduct productive trainings and training matches. The meals served at the facility were delicious and we were able to spend a pleasant time here. With the facility located far away from the city and the busy areas, the team was able to focus on the trainings, which was our top priority. This time we brought our U-20 Futsal National Team, but next time we hope to bring our senior team and play against teams like Shriker Osaka.
LU Chia-Hsien, Coach
The main purpose of this camp was to strengthen the team ahead of the AFC U-20 Futsal Championship. The facilities were astonishing, and we were able to spend a very productive week in Japan. The meals severed here were especially satisfying for the players and staffs of Chinese Taipei. We were also given the opportunity to observe training sessions conducted at J-GREEN. By observing sessions held for various age-groups, it provided a great learning experience for the coaches and staffs. The teams we faced in the training matches were wonderful opponents. They were teams we cannot face in our country and it allowed our players to gain many positive experiences. Lastly, I would like to thank all the local staffs for supporting us. It allowed us to conduct our team activities smoothly. Thank you very much.
CHENG Ching-Hsuan, Captain
We were able to spend a wonderful time in a great environment, which is something we don't have in Chinese Taipei, and it has given me an unforgettable memory. Everywhere we go in Japan was so clean and the people were so kind. The meals were prepared perfectly to suite the athletes and the players didn't have to worry about the nutritional balance. The taste was also good, too. Although we are considered to be at the top level in our country, with Japan having so many futsal teams and players with great knowledge of the sport, we were able to learn so much from our matches against them. By facing opponents with different playstyle and mentality, it gave us great inspiration and allowed us to improve as a player. The Japanese players are so fortunate to have such a wonderful environment and I envy them so much.
LIU Ju-Ming
As a player, I am very honoured to be here in Japan, and in Osaka. The accommodations and the training facilities here were fantastic. The local staffs welcomed us with warm hospitality, which allowed us to spend a very comfortable time here. In terms of futsal, we don't normally get to face strong opponents in our country, so every match was so exciting and gave us a fascinating experience. We were able to enjoy ourselves during the stay, and if I can get another opportunity to visit Japan, I would like to visit again.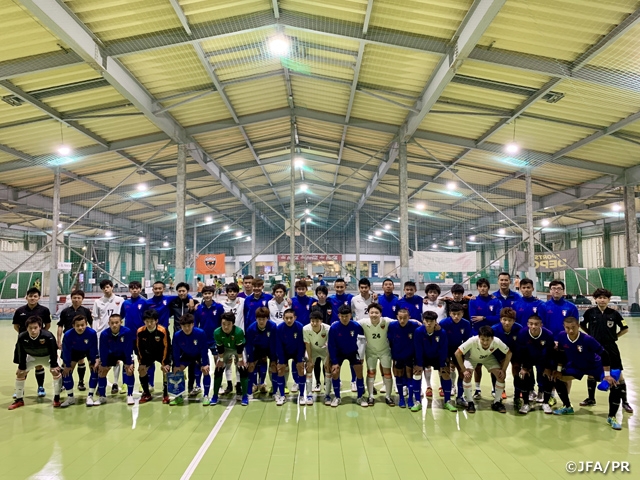 Accepting teams from the AFC Member Associations to hold training camps in Japan
Upon receiving requests to hold training camps in Japan, JFA will make all arrangements including training-matches in efforts to support the strengthening of the national teams of the Member Associations.
For more information