NEWS
Japan take down Croatia in futsal friendly game 2
21 December 2014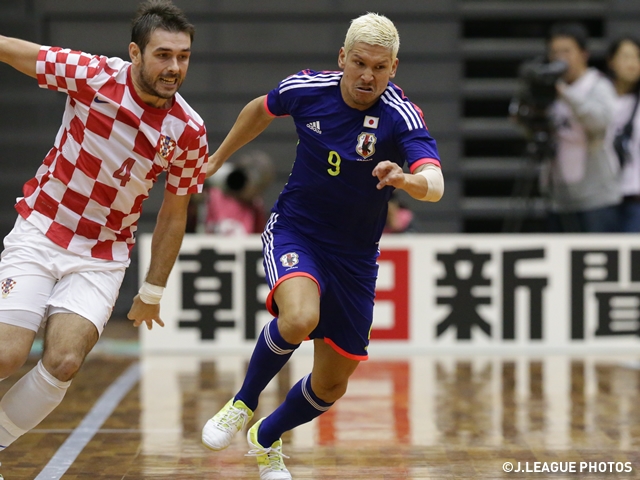 Japan National Futsal Team played the second international friendly match against Croatia at Green Arena Kobe in Hyogo, and won it 5-2 to give themselves the total result of one win and one draw in this two match series.
Japan National Futsal Team 5-2 (1st 3-0, 2nd 2-2) Croatia National Futsal Team
Japan finished the first half 3-0 with goals including Morioka Kaoru's (Nagoya Oceans) career-first in national team matches played at home. In the second half, Osodo Nobuya added two more goals and Japan enjoyed a big victory against one of the best teams in Europe.
Japan made a small line-up change to the one they employed for the 1-1 first match in Tokyo. Nibuya Kazuhiro (Vasagey Oita) replaced Osodo Nobuya to start the match with Minamoto Akira (Fuchu Athletic F.C.), Morioka, Yoshikawa Tomoki (Nagoya Oceans) and goalkeeper Sekiguchi Yushi (Espolada Hokkaido). The starters laid out an aggressive attack from the beginning.
Some highlights from the first 10 minutes of the match are Morioka's right-footed try of his own shot's rebound, Nibuya's attempt with his heel in front of the goal a minute later, and Nibuya's right footed shot in the 9th minute.
Croatia, on the other hand, kept their guard high and waited for their chance as they kept kicking long balls. In the 8th minute, Franco Jelovčić intercepted the ball and took it up for a shot by himself. One minute later, they started a powerplay rather early in the match. In the 11th, Kristijan Grbeša fired a mid-range shot off a corner-kick, but Japan's goalkeeper Sekiguchi denied it with his remarkable save.
It was in the 14th minute that the match saw the first goal. After Croatia's sixth foul of the match, Japan acquired the second penalty kick, which Morioka calmly took advantage of and put it into the right corner of the Croatia goal.
Minutes later, Japan had Maedonchi Matial Hernan (Nagoya Oceans) fired his shot off a corner kick, and the rebound deflected by the goalkeeper was put into the goal by Hoshi Shota's (Bardral Urayasu Futbal Sala) left-footed volley to give Japan 2-0 lead. On minute after that, Nibuya went up the left flank and struck a shot on his own and Japan's early first-half lead went up to three.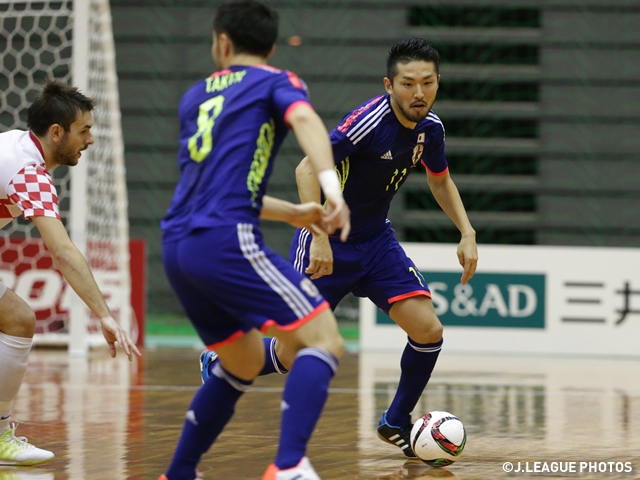 At the beginning of the second half, Fujiwara Jun (Bardral Urayasu Futbal Sala) replaced Sekiguchi to man the goalkeeper position. Japan kept on aggressive attacks. In the 24th minute, Osodo shot a return pass from Nishitani Ryosuke (Deucao Kobe) to the back of the net for Japan's fourth goal of the match.
Croatia, one minute later, started rallying back with Jelovčić's mid-range shot, but a moment later, the deficit was put back to four goals again by Osodo's second goal of the day. It was the first time since the AFC Futsal Championship semi-final against Kuwait in May for Osodo to score multiple goals in a match.
In the 30th minute, Croatia took advantage of their powerplay and broke through Japan's defence to have Grbeša score the second goal for Croatia. However, Japan survived through Croatia's continued powerplay offence and closed out the match 5-2.
See the details of the match here.

Comments
Miguel RODRIGO, Head Coach, Japan National Futsal Team
We wanted to take the initiative from the beginning by putting our five most offensive players on the court, and it worked perfectly in the first half. We took advantage of our strength and kept putting pressure on them in terms of both tactics and player motivation, and we always tried to attack the goal when we possessed the ball. In the second half, their powerplays made it difficult for us to adjust, but Osodo's brilliant attacks changed the course of the match in favour of us.
I am very satisfied. We could match up well against Croatia who have got one of the good seeds in the UEFA Futsal EURO. We could put together the players again since the AFC Championship final and we could show how we had wanted to play to our strength and potential. I believe we are on the right track for the FIFA Futsal World Cup in 2016.
This year was the best in these five years. We gained confidence by beating Iran in the AFC Championship and we grew our strong mindset to be able to stay calm against good teams. In the Italy trip and Kuwait trip, we could find a new talent like Kato Ryuma, and a player like Minamoto Akira who had been on the team for a while got extra confidence and skills. In the next AFC Championship two years later, winning the third straight championship will be a difficult challenge not only for players but also for coaching staff. We want to achieve that and we want to get into the top eight in the world. I think it's an attainable goal, so we will keep our poise and keep firmly moving forward.
TAKITA Manabu (ASV Pescadola Machida)
Our first match was a draw, so I really wanted to get a better result in this match. We could do what we wanted to do in the first match, so we thought we could win this match if we could push ourselves even harder. We can easily expect that teams in the world competition will layout long stretches of powerplay, so it was a good experience for us. All the guys who won the AFC Championship together have built up many things together. It was good we proved that we could win like this, and this team have confidence that we can match up against any team. With that confidence, now I feel even stronger that I want to keep moving forward.
OSODO Nobuya (Vasagey Oita)
Today we had a good first half by leading by three goals, but during the halftime, our head coach said "we play this second half as if the match was 0-0." So we could stay focused. I had been told that if there was a chance to score, I should go for it. Winning the AFC Championship was big and it was a very fruitful year. I want to get better until I can say this kind of achievement is normal for us, so I will go back to my club and keep showing good plays to many fans in the F.League as well. I want to keep working hard to stay on this national team as long as possible.
NIBUYA Kazuhiro (Vasagey Oita)
In the first match, I made too big strides, so I made some adjustments there. I kept smaller steps and that's why I could take it all the way to shoot the ball. I could score a goal in this match, because I experienced that first match. I wanted to score a goal to help my team win, so that was good, but we could have scored at least two more goals. My goal lies at an even higher place, so I still have more to work on. But this team are getting better as we play more matches. Our combinations were better in this second match than the first one, and we could play more collectively. We are getting more accurate in our plays, so I think we can go even further next year.
Mato STANKOVIĆ, Head Coach, Croatia National Futsal Team
I would like to congratulate Japan for their win. Today Japan were a much better team than us, highly motivated, aggressive and played very fast. All twelve players showed quality plays, and their frequent rotations confused us. Their plays today deserved this win. We were tired and not as motivated as Japan were. In the first match two of our starters got injured and they had to take a shot to kill pain to play this match. We took timeouts early in the first half and made powerplays to change the course of the match, but we have so many young players that we couldn't play as we wanted. Next time when we play against Japan, we will have our best players and play the best match we can play, so we would like to have Japan come to Croatia.
Schedule
Mon. 15 December
AM
Training
Tue. 16 December
PM
Training
Wed. 17 December
PM
Official Training
Thu. 18 December
1-1
International Friendly Match vs Futsal Croatia National Team
(Komazawa Olympic Park Gymnasium)
Fri. 19 December
PM
Official Training
Sat. 20 December
18:30
International Friendly Match vs Futsal Croatia National Team
(Green Arena Kobe)
International Friendly Match
Sat. 20 December (Green Arena Kobe)
International Friendly Match vs Futsal Croatia National Team
Kickoff 18:30 (plan)