NEWS
Chinese Taipei Women's Futsal Team arrive in Japan for international friendly vs Japan Women's
19 December 2014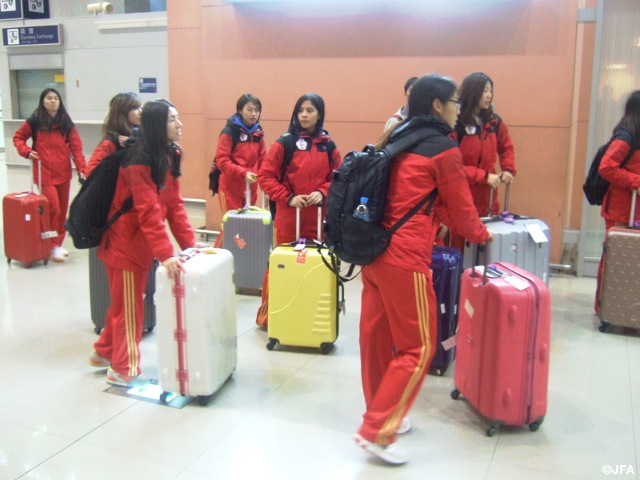 Chinese Taipei Women's Futsal Team arrived in Japan on 18 December for international friendly match against Japan Women's Futsal national team on Sat. 20 December in Hyogo Green Arena Kobe.
Although they arrived in the night, they mostly young players, all looked relaxed not showing any sign of exhaustion from the flight.
Head Coach and Players Comments
Mehmet Fatih KALE, Head Coach
First of all, I would like to thank Japan Football Association for giving us this opportunity. This is special game held in Japan and the first time for us to play international friendly overseas. I am honored to play the game against Japan, the number one team in Asia. I know this is going to be difficult match but we want to play exciting game in which the spectators would never get bored.
CHIANG Pei-Ling, Captain
I would like to express my gratitude toward Japan Football Association. I really look forward to meeting many people and want to contribute to the development of Chinese Taipei's Futsal by experiencing the games like this.
Huang Yi-Chen, Assistant Coach
In the international friendly, I believe we are going to have first-hand experience of facing the team we usually cannot face. I want to raise standard of Chinese Taipei's Futsal.
Staff
Head Coach Mehmet Fatih KALE
Players
GK
18 CHU Fang-Yi (TAIPEI SCSC)
37 WU Yu-Hsuan (TAIPEI SCSC)
FP
2 WANG Chia‐Yu (TAIPEI SCSC)
3 CHIANG Pei-Ling (TAIPEI SCSC)
6 CHANG Su-Hsin (NTNU)
4 HSIEH Pei-Fen (NTNU)
14 CHANG Shu-Chin (NTNU)
9 HSU Chen-Chen (TAIPEI SCSC)
7 CHEN Ya-Chun (TAIPEI SCSC)
11 CHUNG Yi-Hsuan (NTNU)
10 CHEN Yi-Ping (CHIAYI SENIOR H.S.)
8 TENG Wen-Fang (CHIAYI SENIOR H.S.)
JFA-TV
There will be Japan Women's Futsal national team's international friendly match against Chinese Taipei before the match against Croatia Futsal national team, in the same venue. This is the first international friendly match for Japan Women's Futsal national team. Please see the players' message. (Japanese version only)
International Friendly Match
Sat. 20 December 2014 Green Arena Kobe/Hyogo
Japan Women's Futsal National Team vs Chinese Taipei Women's Futsal National Team
Kickoff 15:00(plan)
More information