NEWS
Japan women's futsal national team's first international friendly in Japan - an upset victory against Chinese Taipei
21 December 2014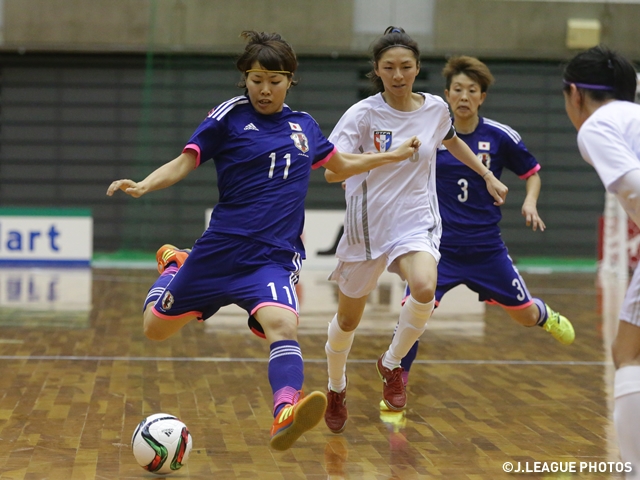 The Japan women's futsal national team had a friendly against Chinese Taipei on Saturday 20 December at the Green Arena Kobe. They registered an upset 3-1 victory, which was their first international friendly in Japan.
Japan Women's Futsal National Team 3-1(1st 0-1, 2nd 3-0) Chinese Taipei Women's Futsal National Team
The Japan women's futsal national team started this historic game with HARUYAMA Ai (acro-iris KOBE), KOIDE Natsumi (VEEX TOKYO Ladies), KICHIBAYASHI Chikage (Universidad de Alicante), SEKINADA Minako (acro-iris KOBE), and YAMAMOTO Ayaka (Futsal Club VALE Neyagawa Ladies).
From the beginning, the Japan women's national futsal team tried to set the tempo with short passes against the opponent, whom they were playing for the first time. However, Chinese Taipei, who were bigger and more powerful, defended solidly and intercepted Japan's passes to move up front with long passes. Japan conceded a goal during the initial rise. After two minutes, CHIANG Pei-Ling intercepted Japan's ball in their area and dribbled up towards the goal. Although the goalkeeper Yamamoto saved once, CHIANG Pei-Ling slotted home a rebound off the goalkeeper with her right foot.
Japan women's futsal national team finished the Women's Futsal World Tournament in Costa Rica and had a two-day break before their first match in Japan. The players seemed to be still recovering and could not continue passing around or face forward with the ball against Chinese Taipei's solid defence with a wall in the centre. This frustrating period continued for a while.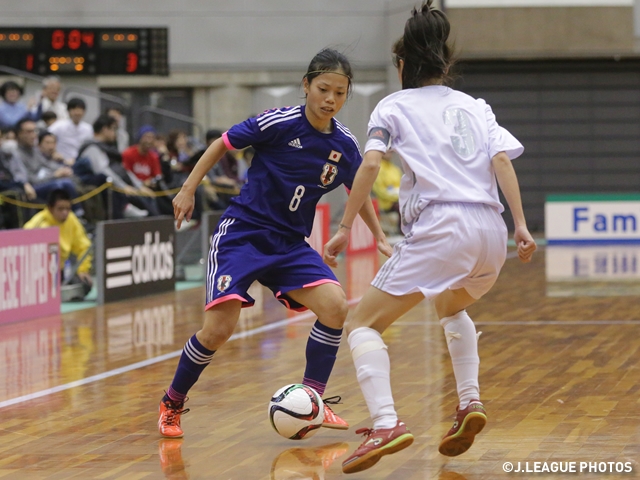 Japan stayed patient, passing the ball around and looked for their chance to counter-attack. SONODA Mizuki (Kyoto Seika Gakuen), FUJITA Yasuka (acro-iris KOBE) and KICHIBAYASHI showed plenty of ambition for a goal. In the 8th minute, SAKATA Mutsumi (SWH Ladies Futsal Club) hit the goalpost and one minute later KICHIBAYASHI struck a superb shot, only for it to be saved by the goalkeeper. Although Japan kept possession, continuing their attack and SONODA tried an over-the-head shot just before the whistle, it hit the right goalpost and could not find the back of the net.
In the second half, Japan passed quickly around from the beginning and speeded up their attacks. After 22 minutes, FUJITA reacted to a pass from YOKOYAMA Junko (FUGADOR SUMIDA Ladies) on the left wing and struck a goal with her right foot. Japan, who built up positive momentum by levelling the game, continued their attack. After 30 minutes, SEKINADA received a pass from KOIDE and scored. Then shortly after that, KICHIBAYASHI, who received a pass from KOIDE, scored a goal with her left foot, building a two-goal lead. There were 1291 spectators, who were all cheering.
It became a one-sided game. FUJITA, SEKINADA and HARUYAMA kept aiming at the goal. Then SAKATA and NAKANO Emi (acro-iris KOBE) consecutively hit the bar just before the final whistle. Although there were no more additional goals, Japan continued pressing the opponent. They won the game, which was an historic victory for the Japan women's national team.
JFA-TV match video can found here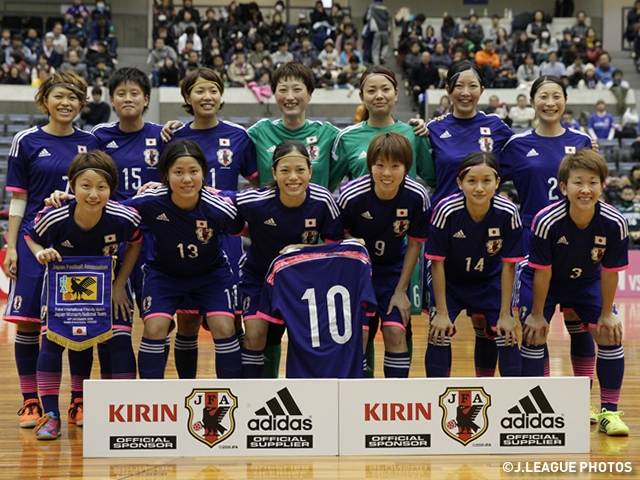 Comments
ARIHARA Masaaki, Head Coach
I'm grateful that this match was prepared in such a short period. Although we were getting ourselves ready to show off the national team's game, the players were very nervous due to some uncertainties. The opponent's defence was organised and difficult to get through, and we conceded a goal in the first half. After a time-out in the first half, the players pressed more and moved more strongly up front and had more opportunities on goal. During half time, I told them that they needed to show responsibility and fighting spirit as Asian champions. Then the team showed their attitude by deciding the game in the early time in the second half, which brought them their first and second goals.
Although I found many issues to be fixed from the match before the AFC Women's Futsal Championship next year, I was really impressed that so many people came to see our match. It meant a lot to Japan's women's futsal. As we only have a limited time to prepare as the national team before the AFC Women's Futsal Championship next year, each player's everyday game will directly affect the level of the national team. So I need to think how to raise the general level of Japan's futsal and how to cooperate among the club teams. If the players can play exactly how I want, the level will improve and we can become nearer to the world standard.
SEKINADA Minako (acro-iris KOBE)
I was bit nervous and not relaxed but I am glad to win the game. I was upset when we conceded the goal in the very beginning and the head coach woke us up in the half time. We had a good change of pace for scoring goals after equalizing the game in the second half. I just thank my teammates for my goal. Unlike the opponent in the World tournament last week, it was rather difficult to play against totally defensive team. Each player would brush up their skills by giving her feedbacks to the team belong to and I will do my best to be called up for the national team.
KICHIBAYASHI Chikage (Alicante/Spain)
We were talking about how grateful to have this game. That made us play unusually tensioned in the beginning and it was bit difficult game for us to play as usually we do. Ending the first half 0-1, we managed to finish the game 3-1 for switching our motivation in the second half. This is the status quo of our team and I felt there is a lot of room to develop. For preparing for the AFC Championship next year, my teammates going back to her team and me going back to Spanish clubs playing with the players of Brazil and Spain international. I am eager to hold more training to get myself upgraded to be called up by Japan national team.

FUJITA Yasuka (acro-iris KOBE)
Everybody didn't say a word but I must admit we were pretty nervous in the first half. Playing in Kobe, my hometown, I was really glad to get a goal in front of many of those who supported me in the past. I got a clean pass and all I should do was to just kick the ball to the empty space. I was really happy to find the net.
NAKANO Emi (acro-iris KOBE)
As it was the first international match in Japan, in Kobe, I was thinking to generate a positive result. Having been carrying a heavy load on our shoulders for nervousness, I was anticipating it will change if we can score the goal before the other side do in the second half and I was doing image training for sending the ball forward and running diagonally once I get on the pitch. That was something I could demonstrate but I am going to keep on training hard to get more chances of playing. Japan won three consecutive Asian Indoor Games, it is our ultimate goal to become the first champion of the AFC Women's Futsal Championship next year for enhancing the team's ability. I am going to continue working out to be eligible for an international cap.
Mehmet Fatih KALE, Head Coach (Chinese Taipei Woman's Futsal International Team)
It was the first international match after forming our Chinese Taipei Women's Futsal national team.
I would really appreciate for inviting us to Japan. We don't have Futsal league in Chinese Taipei and we came here after I called up the players who usually play football on 10 December and held training for three days. Given that I was prepared for a crushing defeat as we are facing against the Asian champion but I was quite satisfied with the result. I understand it was unfortunate for Japan to suffer the opener but I came up with the strategy to take on Japan after reviewing numbers of Japan Women's games. Our players really played well implementing the strategy. It was disappointing we will not be able to participate in the AFC Championship next year due to the regulation stipulating to prohibit the team recently formed. I would hope today's game will help the national team's activities and become stepping stone for drawing much domestic attention to futsal in Chinese Taipei.
International Friendly Match
Sat. 20 December 2014 Green Arena Kobe/Hyogo
Japan Women's Futsal National Team vs Chinese Taipei Women's Futsal National Team
Kickoff 15:00(plan)
More information
Sat. 20 December (Green Arena Kobe)
International Friendly Match vs Futsal Croatia National Team
Kickoff 18:30 (plan)
More information