NEWS
Coach Miguel says 'play like back-to-back Asia Champions and go to next level' prior to international friendlies against Croatia
18 December 2014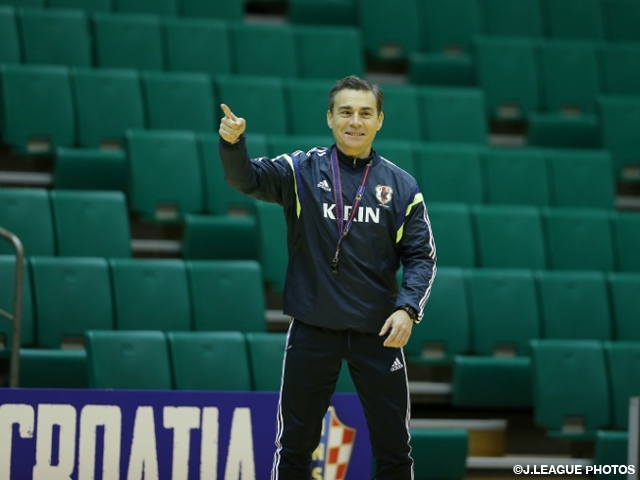 On 17 December, one day before one of the two international friendlies against European powerhouse Croatia at Komazawa Olympic Park General Sports Ground Gymnasium, Miguel Rodrigo, head coach of Japan National Futsal Team, shared his motivation saying "We want to show a match just like we played at the AFC Futsal Championship final."
Japan won the second consecutive AFC Futsal Championship in May by defeating robust Iran team. This match is their first time since then to showcase their play in front of home fans. The roster is centred on the players who played in the AFC Championship with adding Mayedonchi Matias Hernan of Nagoya Oceans and Kato Ryuma of Bardral Urayasu, both looking to debut for the national team,
Croatia advanced to the semi-final at 2012 UEFA Futsal Championship and also played well in this year's same tournament until they lost in the quarter-final. They are a good enough team to play well against European champions Italy and last year's champions Spain. Head Coach Mato Stanković has played against Japan led by coach Miguel when he was Libya National Team's head coach. That Libya team had one-win-one-draw result against Japan.
Coach Miguel is cautious about his opponents saying "They have many talented players on their roster who are stars on their own clubs, and they know how to play modern styles strategies. If we don't play the best defence we can play, it will be a tough match."
His goal is to take his team to the next level for the FIFA Futsal World Cup in 2016 by benchmarking their own plays at the AFC Championship.
"Our challenge this time is to set our own plays at the Asian Championship final as our standard. If we can do that, we can move up to the next step. Winning against Croatia will be one of our tests before we make our team known in the world." added Miguel with expectation for the future. He also shared his plan to play all players on the roster in order to improve his roster overall.
On 15 December, the day 1 of the camp, the players took hot spring and rest their body to remove fatigue accumulated through F.League matches. The next day, they started practicing on the court. On 17, during their scrimmages, Miguel repeatedly stopped the practice to make sure how he wanted his players to move around.
Hoshi Shota of Bardral Urayasu said of his good feeling about the team "I was a little nervous to play with these players (from the AFC Championship), because it's been a while since then, but we started clicking from the moment we started playing. All of us know what we are supposed to do, and we can play together so well at every moment. So we have no worries." Morioka Kaoru of Nagoya Oceans also says "We have some new players, too, but we play against each other in the league matches, so we have communicated well. I haven't scored a goal at home, so I will do my best for my first goal."
"This is a rare opportunity to have home fans see our play, so I want them to witness a good match between two of the best 10 to 13 teams in the world." added the coach.
The first match in Tokyo is scheduled to kick off at 7 p.m. on Thursday 18 as the second match starts at 6:30 p.m. on Saturday 20 at Green Arena Kobe in Hyogo Prefecture.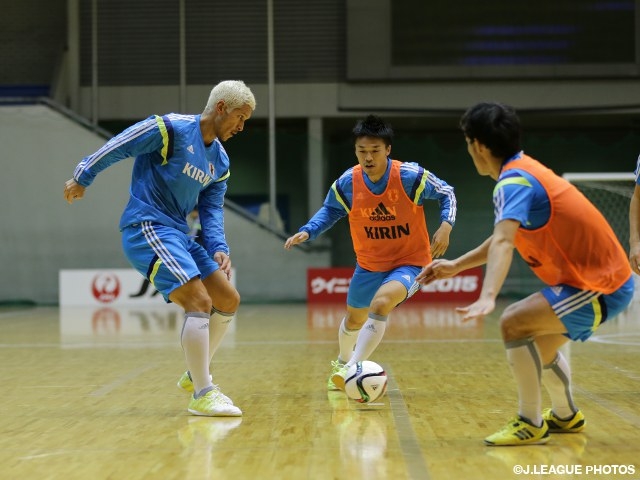 Comments
Miguel Rodrigo, Head Coach, Japan National Futsal Team
We are eyeing playing against one of the top tier teams in Europe, so we are practicing as we pay attention to the conditioning of the players who just finished the league matches. Croatia are so full of talents and every player can change the course of a match individually. Their offence can break through opponents defensive lines and their defence is very aggressive. They play a modern style of futsal and they are very well balanced. We put together the players who played in the Asian Championship again, so the key is whether we can play better than how we played against Iran in that championship final. And also it's whether we can maintain that level of play as our standard. Winning against Croatia will be one of our tests before we make our team known in the world. If we can do that, we can move on to the next step. We are ambitious and we are targeting at higher level. So keeping winner's mentality is more important than which strategies we employ. We don't play many matches in Japan, so we want to have fun together with our fans.
HOSHI Shota (Bardral Urayasu Futbol Sala)
Croatian players have big bodies and good individual skills, so we can never take them lightly. We can't go easy. But they are good opponents for us to test ourselves against. We don't have many opportunities to play national team matches in Japan, so I want to show the fans how and why we won the AFC Championship, and we want to play to be able to celebrate together with our fans.
SEKIGUCHI Yushi (Espolada Hokkaido)
I have been in good shape through the league matches. Croatia don't have (Dario) Marinović this time, but they have many tall players and I am looking forward to playing against them. This is my first national team match to play in Japan, so I don't know what kind of atmosphere it will be. But as the Asia champions, we want to play not to be embarrassed, and we will enjoy playing.
Mato STANKOVIĆ, Head Coach, Croatia National Futsal Team
I know Japan very well. I played against them as the head coach of Libya National Team. I watched their plays in the tournament in Kuwait the other day. They are the champions in Asia and they don't rely on a few individual players. Through these matches we want to get ready for the UEFA Championship Qualifiers. This time we couldn't bring some players here who are playing in Italy and Kuwait, but this roster still has talented young players. We will put good pressure on the opponents, play the modern style of passing game with a few quick ball touches, and show the best futsal we can show at this point.

Ivo JUKIĆ, Futsal Croatia International
It's been a long trip coming here, but we are in the middle of the season, and we are in good shape. We have three or four players not being able to come here, but I think young players will show their quality plays. We have both high individual skills and good cohesiveness as a team, and we have shown good results. Japan have good strategies and are very well disciplined. They play well together as a team. But we want to play good matches against them.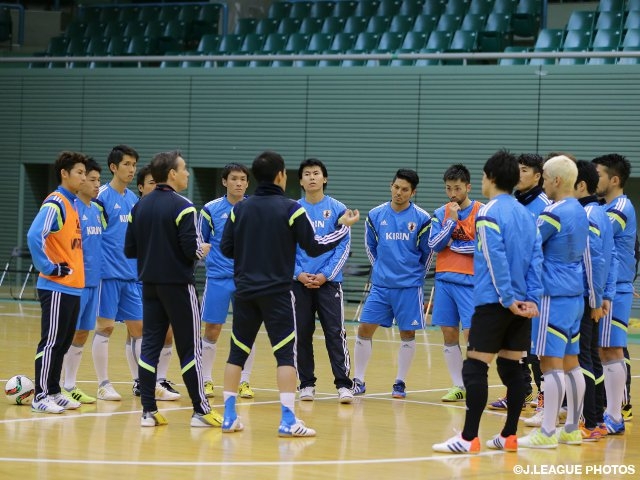 Schedule
Mon. 15 December
AM
Training
Tue. 16 December
PM
Training
Wed. 17 December
PM
Official Training
Thu. 18 December
19:00
International Friendly Match vs Futsal Croatia National Team
(Komazawa Olympic Park Gymnasium)
Fri. 19 December
PM
Official Training
Sat. 20 December
18:30
International Friendly Match vs Futsal Croatia National Team
(Green Arena Kobe)
International Friendly Match
Thu. 18 December (Komazawa Olympic Park Gymnasium)
International Friendly Match vs Futsal Croatia National Team
Kickoff 19:00 (plan)
Sat. 20 December (Green Arena Kobe)
International Friendly Match vs Futsal Croatia National Team
Kickoff 18:30 (plan)