NEWS
Futsal Japan National Team draw with Croatia in friendly #1
19 December 2014
Futsal Japan National Team played the first international friendly match against Croatia National Futsal Team on 18 December at Komazawa Olympic Park General Sports Ground Gymnasium. Kato Ryuma of Bardral Urayasu scored his first goal in his national team career to give Japan a lead, but Croatia tied the match only minutes before the end of the match.
Japan, who won the second consecutive AFC Futsal Championship in May, dominated the first half of their first international friendly match to play at home this year.
In the 9th minute, Nagoya Oceans' Morioka Kaoru was awarded a freekick, and he fired himself only to have his shot hit the post. In the 14th, Morioka attacked the left flank, and struck a shot again. After it hit the crossbar, the rebound hit the goalkeeper and almost went into the goal, but the goalkeeper managed to hold it. One minute later, a long feed from Yoshikawa Tomoki of Nagoya Oceans reached his club teammate Watanabe Tomoaki who dashed into the space behind defenders, but Watanabe's shot was also off target.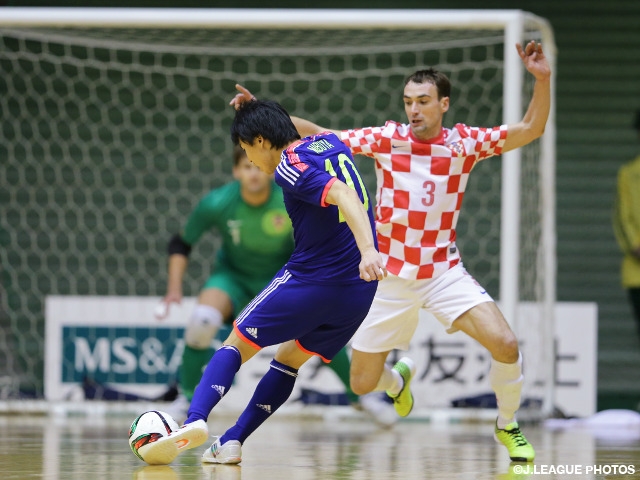 On the other hand, Croatia, who reached the UEFA Futsal Championship semi- final in 2012 and the quarter-final in this year, had Josip Suton and Franco Jelovčić aggressively try to put the ball into the net in the 9th and 11th minutes respectively.
As the match went into the second half with the score remained 0-0, Croatia started to threaten Japan's goal with the series of shots by Kristijan Grbeša, Jakov Grcić and Saša Subotić. Japan's defence, however, put out their bodies and denied all the Croatian attacks. In the 27th minute, Japan also attempted to get the first goal of the match by Kato's powerful shot.
The match finally saw the goal scored in the 28th minute. Croatian goalkeeper blocked a shot by Vasagey Oita's Nibuya Kazuhiro, but Kato fiercely struck the rebound into the right corner of the goal.

Kato, who was playing his career-first national team match on the day, again attempted to score three minutes later. Nibuya also showed his try in the 33rd minute, but the goalkeeper prevented Japan from widening the lead.
In the last four minutes of the match, Croatia moved up their goalkeeper Ivo Jukić for a power-play. In the 38th minute, their change of pace led to a strong shot by Jukić, which could not find the back of the net. But one minute later, after all the attempts to equalise the match, Grbeša at the right flank shot a pass from Jukić finally into Japan's goal. Before the end of the match, Japan also employed their own power-play, but there was no more goals scored for either team.
Match detail (Japanese version only)
The last match of the two international friendly series is scheduled to start at 7 p.m. on Saturday 20 at Green Arena Kobe in Hyogo.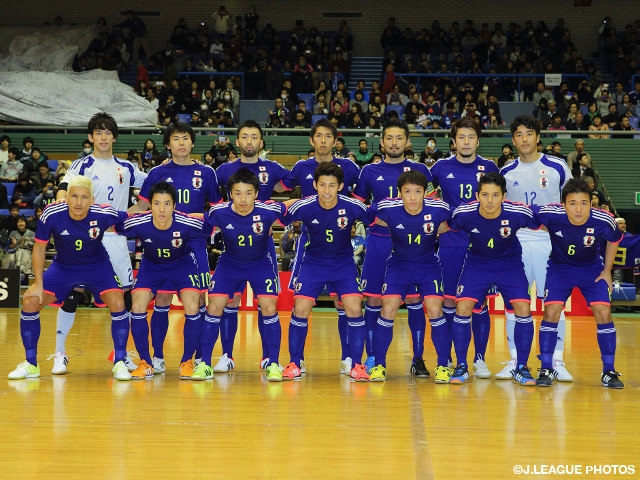 Comments
Miguel RODRIGO, Head Coach (Futsal Japan National Team)
I think this draw is a reasonable result. In the first half, we dominated the match and created many opportunities but we couldn't finish them. In the second half, they moved up their pace and had some crucial moments, but we sent Kato (Ryuma) onto the pitch to put more pressure on them. Then we regained our momentum. Both teams started using powerplay. They scored and we couldn't. So that difference came down to this draw. Kato performed well in our Italy trip. Today was the first national team match for him, but we are like a family, not only on the pitch but also off it. So I don't think it was difficult for him to join us. I am happy he could do well as expected.
KATO Ryuma (Bardral Urayasu Futbol Sala)
It was my first national team match, and I had a very special feeling, but it was good that I could play with appropriate amount of nervousness. (Last year he was playing with the second team in his Urayasu club.) I never thought I would make it to the national team so soon, but I made myself believe that it wouldn't matter on the pitch and I wanted to go all out for a few chances coming to me. Kobe (the next match site) is my hometown, so it will be special for me. Good result will be our first priority and if I have a chance, I will go and score a goal.
Mato STANKOVIĆ Head Coach (Croatia Futsal National Team)
I think this draw well reflects how we played in this match. I couldn't bring four to five starter-level players this time due to their club matters, and instead we had more young players. So I was worried how it would affect the match to play against Japan and one of the best coaches in the world. In some stretches Japan created chances and they were leading and there were also stretches when we were leading. Japan are well-balanced as a team, very quick and able to play modern style of futsal. Morioka and few others were outstanding. But I felt their second unit was not as good as their first unit. I appreciate that they invited us to Japan this time. Next time we want them to visit our Croatia.
JFA-TV
Before the start of the second international friendly against Croatia National Futsal Team, another international friendly between Japan National Women's Futsal Team and Chinese Taipei is held in the same venue with the kick-off time at 3 p.m. It will be the first ever international match for Japan National Women's Futsal Team to play at home. We have received messages from the players.
Schedule
Mon. 15 December
AM
Training
Tue. 16 December
PM
Training
Wed. 17 December
PM
Official Training
Thu. 18 December
1-1
International Friendly Match vs Futsal Croatia National Team
(Komazawa Olympic Park Gymnasium)
Fri. 19 December
PM
Official Training
Sat. 20 December
18:30
International Friendly Match vs Futsal Croatia National Team
(Green Arena Kobe)
International Friendly Match
Thu. 18 December (Komazawa Olympic Park Gymnasium)
International Friendly Match vs Futsal Croatia National Team
Kickoff 19:00 (plan)
Sat. 20 December (Green Arena Kobe)
International Friendly Match vs Futsal Croatia National Team
Kickoff 18:30 (plan)