NEWS
League leaders Hiroshima wins showdown against 2nd place Kyoto to be crowned Champs at the Prince Takamado Trophy JFA U-18 Football Premier League WEST
10 December 2018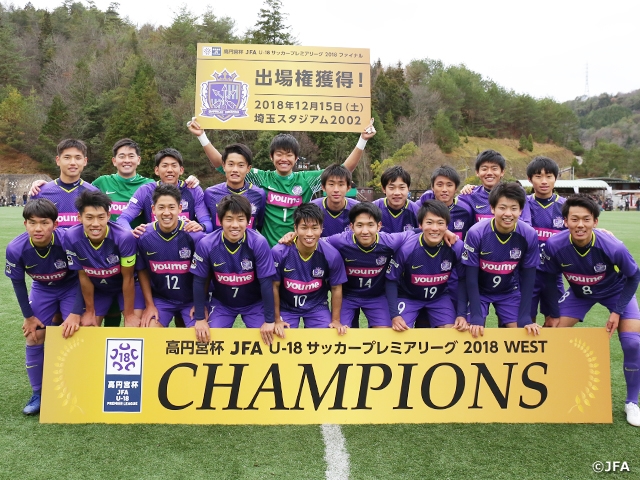 Pick-up Match
Sanfrecce Hiroshima F.C Youth 6-1 (1-0, 5-1) Kyoto Sanga F.C. U-18
The 18th Sec. of the Prince Takamado Trophy JFA U-18 Football Premier League 2018 took place on Sunday 9 December. In the WEST division, first place Sanfrecce Hiroshima F.C Youth (Hiroshima) faced second place Kyoto Sanga F.C. U-18 (Kyoto) in a winner-takes-all final showdown.
With the league title at stake, both teams entered the match with strong intentions. While the Kyoto side showed great aggression in their defence on their pursuit to their first ever league title, the collective efforts made by the Hiroshima defence-line was on full display. As time progressed, the league leaders gradually showcased their dominance over their opponents as KATSURA Rikuto (#10) later reflected, "It's something we have been training all along, so it just came out naturally." The high pressure applied by the Hiroshima frontline managed to limit the options for the Kyoto players, while MATSUMOTO Hiroya (#4) and DOI Kodai (#12) fought for the ball with great intensity. Their midfielder WATANABE Kaito (#9) did superbly to contain Kyoto's key player KOZUKI Soichiro (#14) from breaking through the flanks.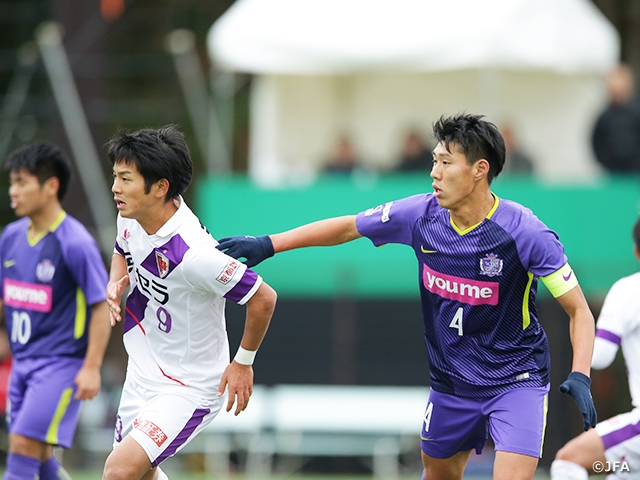 From their solid defence, Hiroshima built their momentum and eventually found the opening goal. In the 17th minute, Doi received a throw-in at the right flank, before sending a cross towards the centre. OHORI Ryonosuke (#14) was there in the box to convert this cross with a header, as he later reflected, "I am not a tall player, but I have scored off many crosses with a header. As soon as the ball was delivered, I knew I was able to capitalise on it."
With the one-goal lead, Hiroshima increased their momentum in the second half. Their second goal came in the 57th minute when Doi forced a turnover in the midfield and Ohori delivered the ball to HIGASHI Shunki (#11) at the left flank. It was Doi who met the cross delivered by Higashi inside the box, who found the back of the net with his header.
The Hiroshima side showed no mercy as they extend their lead to four goals with consecutive goals scored in the 67th and 70th minute. Although Kyoto's EGAWA Genki (#7) scored back a goal in the 76th minute, AYUKAWA Shun (#19) broke through the left flank in the 88th minute, assisting the goal of Katsura. Ohori capped off the match with his third-goal of the match in additional time to make the score 6-1 for Hiroshima.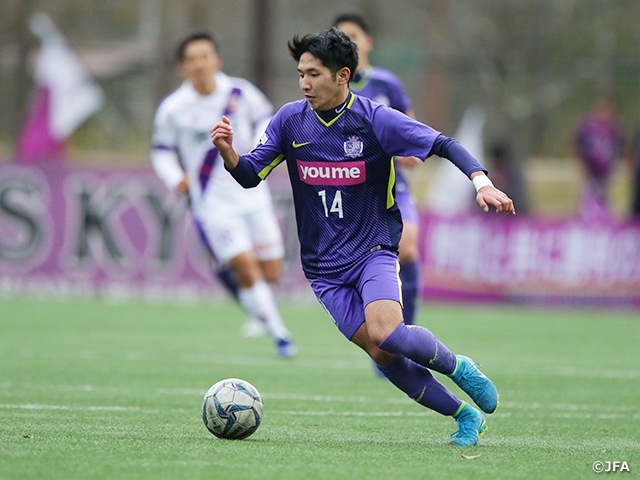 As their defender YAMASAKI Taichi (#8) described, "This was our final match that caps the season. Although we conceded a goal, we are satisfied with our performance," Hiroshima earned their fourth title of the Prince Takamado Trophy JFA U-18 Football Premier League WEST in a convincing style. They will now face Kashima Antlers Youth (Ibaraki) at the Prince Takamado Trophy JFA U-18 Football Premier League Final on Saturday 15 December.
Coaches and Players' Comments
YAMASHITA Hiroki, Coach (Kyoto Sanga F.C. U-18)
We have lost to Hiroshima 0-2 in our previous encounter. Being able to face them again in our final match of the season has given our players a great experience. Although we conceded six goals, the players showcased great intention to fight through the entire match, and I am very proud of them. Even after we conceded consecutive goals in the second half, I still believed in my payers and told them to fight with persistency. With this match, we fell short from winning the title, but we made it this far with the support of all the staffs, parents and supporters who travelled all the way to watch our matches. In order to become a professional football player, the players must be able to deal with the pressure and perform to their fullest even under the spotlight. The players were given the opportunity to play under such pressure and what they felt through these matches has given them a precious experience to grow as a football player.
DF #7 EGAWA Genki (Kyoto Sanga F.C. U-18)
We have worked on ways to apply pressure from the front line and to respond to the balls played behind our defence line all week, and I feel like we were able to showcase that in the first half. However, we were undecisive on how we cleared the ball, and as a result, we allowed our opponents to win the second balls and create opportunities from them, which led to them scoring the opening goal. If we managed to score the first goal instead, maybe we could have played the match in our favour. We still had a good momentum going in the first half, even after we conceded the goal, but the consecutive goals we gave away in the second half really hurt us today.
SAWADA Kentaro, Coach (Sanfrecce Hiroshima F.C Youth)
Our primary goal was to win as many matches at the Premier League and to win the league title. I am proud of my players for accomplishing that goal after taking the lead in the previous Sec. During the long season, each team has their own peak moments. Even though we did face some tough stretches, we managed to keep our performance consistent and I think that has led to our overall victory in this league. With many teams staying in contention to win the title, our players' persistency and eagerness to win matches increased dramatically as the season progressed. I believe that those traits have given us the opportunity to fight for the title.
MF #4 MATSUMOTO Hiroya (Sanfrecce Hiroshima F.C Youth)
We lost the title race in our final Sec. of last year's Premier League, so that bitter experience has helped us enter today's match in great shape. We almost gave up the initiative to our opponents at first, but we managed to get used to their pace as time progressed and played with composure to exploit the gap in their defence. Personally, I feel like I was able to showcase great intensity to win the ball and my aggressive defence, which are my strong points. We entered the second half with a one-goal lead, but we didn't want our opponents to come out attacking, so we told each other to stay aggressive and to press hard to force turnovers when we see the opportunity. I think that is part of the reason why it went well for us.
Results of other matches
Cerezo Osaka U-18 4-0 (1-0, 3-0) Yonago Kita High School
Avispa Fukuoka U-18 2-3 (1-0, 1-3) Higashi Fukuoka High School
Nagoya Grampus U-18 3-1 (1-0, 2-1) Vissel Kobe U-18
Cerezo Osaka U-18 (Osaka) welcomed Yonago Kita High School (Tottori) to their home and won the match after scoring four goals. In the Fukuoka Derby played between Avispa Fukuoka U-18 (Fukuoka) and Higashi Fukuoka High School (Fukuoka), the Higashi Fukuoka side prevailed with their three goals. Following their four-goal victory in the previous Sec., Nagoya Grampus U-18 (Aichi) won the match over Vissel Kobe U-18 (Hyogo) with their three-goal haul.

Tournament Period:Sat. 7 April 2018 ~ Sun. 9 December 2018
Prince Takamado Trophy JFA U-18 Football Premier League 2018 Final
Date: Sat. 15 December 2018 Kick-off 13:00
Venue: Saitama Stadium 2002
Fixture: Kashima Antlers Youth (EAST) vs Sanfrecce Hiroshima F.C Youth (WEST)

Match Information