NEWS
Final surge not enough to capture title for Gamba Osaka at the 18th Sec. of Prince Takamado Trophy JFA U-18 Football Premier League WEST
10 December 2018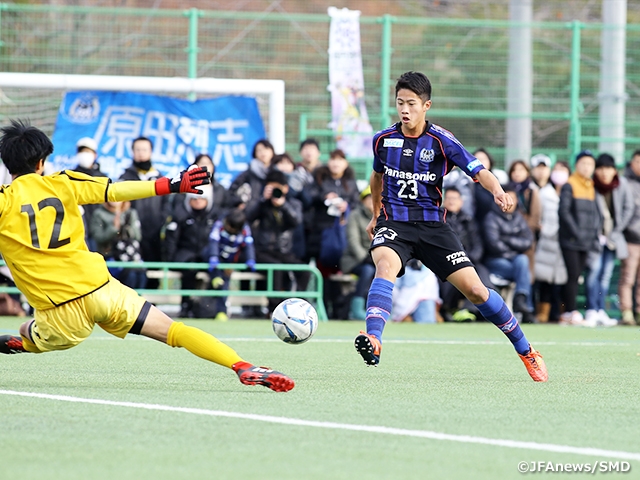 Pick-up Match
Gamba Osaka Youth 5-2(2-0, 3-2)Hannan University Senior High School
After opening the season in April, the Prince Takamado Trophy JFA U-18 Football Premier League finally came to a closure on Sunday 9 December. In the WEST division, Sanfrecce Hiroshima F.C Youth (Hiroshima), Kyoto Sanga F.C. U-18 (Kyoto), and Gamba Osaka Youth (Osaka) were still in contention to take down the title at the final Sec.
Perhaps the long shot among the three possible teams was the third place Gamba Osaka, who trailed two points from the league leaders. Welcoming Hannan University Senior High School (Osaka) at home, their scenario to win the title required the top two teams, Hiroshima and Kyoto, to draw their head-to-head encounter while they win their own match with a more than seven goal margin.
As Gamba's Coach SHIMADA Takahiro sent off his players by telling them, "Although we need seven goals, we have to score one goal at a time. Let's showcase a well-balanced offence with great widths and layers," they orchestrated a well organised offence led by forward HARADA Retsushi (#14) to threaten the Hannan goal. However, as Coach Shimada later reflected, "We looked stiff and lacked quality in our passes," they struggled to break through the Hannan side who emphasised heavily on defence.
The long-awaited goal came in the 38th minute, when Harada received a pass at the central area before redirecting the ball to ADACHI Tubasa (#11), who dribbled into the area and struck a left footed shot that captured the goal. The opening goal allowed Gamba to play with more composure and led to their second goal scored in the 42nd minute, when Harada converted the cross delivered by IWAMOTO Sho (#10).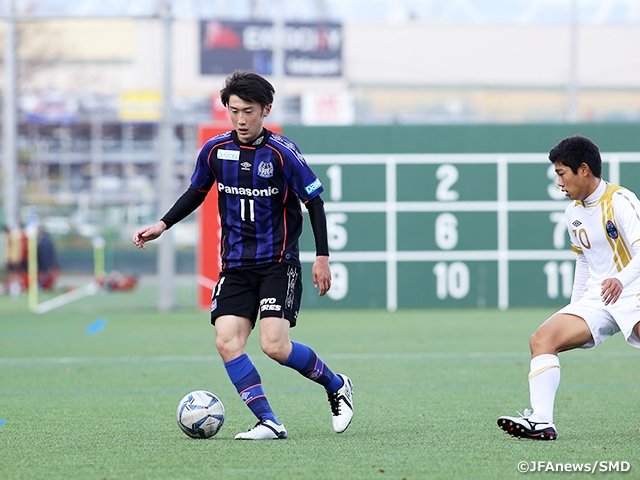 With the team leading the match by two goals, Gamba brought in their speedy forward OTANI Yuto (#23) during halftime. With more options added to their front line, Gamba further extended their lead in the 59th minute, when Iwamoto released a ball that allowed Otani to break through and take on the goalkeeper one-on-one. Otani calmly converted the opportunity to make it 3-0. However, just minutes following their third goal, Gamba conceded a goal to Hannan's defender NAKAGAWA Sora (#3) off a set-piece, which they described, "It was a lingering theme for us all season."
In hopes to win the league title, Gamba continued to press forward as Otani captured the team's fourth goal in the 72nd minute, when he chased down a through ball delivered by OKUNO Kohei (#8). Otani marked a hat-trick with another goal scored in additional time.
However, Hannan caught Gamba pressing forward too far, as SINOHATA Junya (#15) captured the goal off a counter attack. The final whistle was blown right after this goal, as Gamba Osaka fell short from capturing the league title and ended in second place. After scoring his team's second goal of the match, Gamba's Harada Retsushi earned the top scorer award along with Kyoto's HATTORI Kohei (#9), with each scoring 15 goals.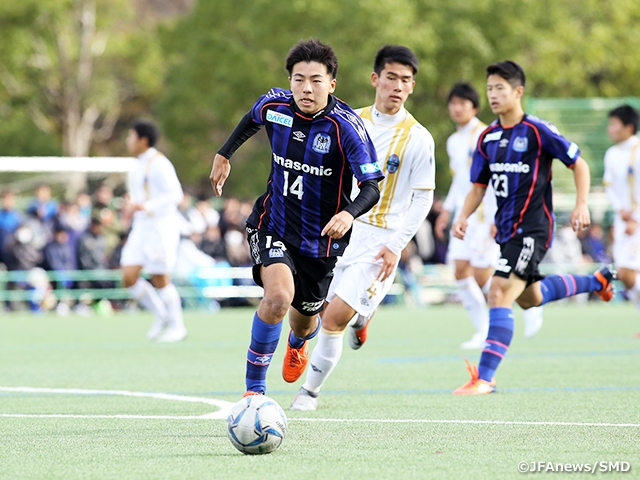 Coaches and Players' Comments
SHIMADA Takahiro, Coach (Gamba Osaka Youth)
Although we needed to score seven goals, we focused on keeping our usual style of football. I told my players to fight for the ball while keeping in mind of the team's overall balance. The fact that we managed to enter the final Sec. with the league title in our sight was purely because of our players efforts. I am satisfied with our players' performance, as they kept on running and fought with great intention until the very end. Defending against set-pieces has been a lingering theme for us all season, and the goal we conceded really represented our weakness. With the team changing the head coach during the season, it must have been tough for the players, but they kept a great attitude and showed great adaptability. We have players who will continue to play at the college leagues and those who will turn professional. For them, this is only a start, so I hope they will feed off of this bitterness and strive for higher goals in the future.
FW #14 HARADA Retsushi (Gamba Osaka Youth)
We aimed to score as many goals as possible by moving the ball around, and while their goalkeeper did a good job making saves, we made too many passing errors and lacked quality in our plays at the final third. After scoring only two goals in the first half, we felt rushed to score more goals. I wish I could have scored seven goals in this match to take the top scorer award by myself. Throughout the season, we drew many matches and dropped so many precious points, ultimately falling short from taking the title, which is very disappointing.
HAMADA Go, Coach (Hannan University Senior High School)
This was a very difficult match, and the fact that we couldn't execute our game plan shows that we have lots to work on ahead of the next season. We wanted to play two-forwards upfront at an earlier timing, but with the team conceding two goals in the first half and the third goal early in the second half, it made it tough for us to make that switch. In order to compete at this league, there are times we must take emphasis on our defence. Our players did well to display great persistency in defence. The past two years, we have been given the opportunity to compete in a very high level at the Premier League. We hope to utilise this experience to build a stronger team for the years to come.
FW #6 WADA Hagumi (Hannan University Senior High School)
(Despite facing a team competing for the league title) Our game plan was simple, as we just wanted to continue on what we had been working on. We knew ahead of the match that the players of Gamba are highly skilled, but the match didn't go in our favour today. As the team captain, I have given my best to unite the team while we faced many tough matches throughout the season, but unfortunately, we are now relegated, and I feel responsible for this result. The two years we played at the Premier League has given me great joy of playing football and a wonderful experience for my career.

Tournament Period:Sat. 7 April 2018 ~ Sun. 9 December 2018
Prince Takamado Trophy JFA U-18 Football Premier League 2018 Final
Date: Sat. 15 December 2018 Kick-off 13:00
Venue: Saitama Stadium 2002
Fixture: Kashima Antlers Youth (EAST) vs Sanfrecce Hiroshima F.C Youth (WEST)

Match Information