NEWS
Hiroshima meet Kobe Koryo to claim title in U-18 Prince Takamado WEST
01 December 2016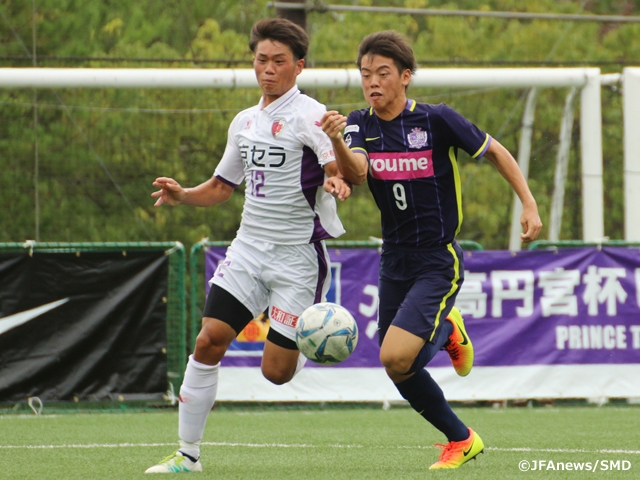 Pick-up match Premier League WEST - Matchday 17
Kobe Koryo Gakuen High School vs Sanfrecce Hiroshima FC Youth
Matchday 17 of the Prince Takamado Trophy U-18 Premier League WEST will be held on Saturday 3 and Sunday 4 December. Sanfrecce Hiroshima FC Youth (Hiroshima), who are one step away from claiming the title in the WEST, will play against Kobe Koryo Gakuen High School (Hyogo) at Miki Sogo Bosai Park Athletic Field in Hyogo Prefecture on the 4th.
Regardless the result of the match of second-placed Cerezo Osaka U-18 (Osaka), Hiroshima will win the WEST if they win or draw their game. The team are in excellent condition, and they performed their aggressive playing style as usual to post a sweeping victory 3-0 against Higashi Fukuoka High School (Fukuoka) in the first game after a break last week. As coach SAWADA Kentaro commented 'the players did not feel too nervous despite my concerns', Hiroshima showcased their all-round strengths.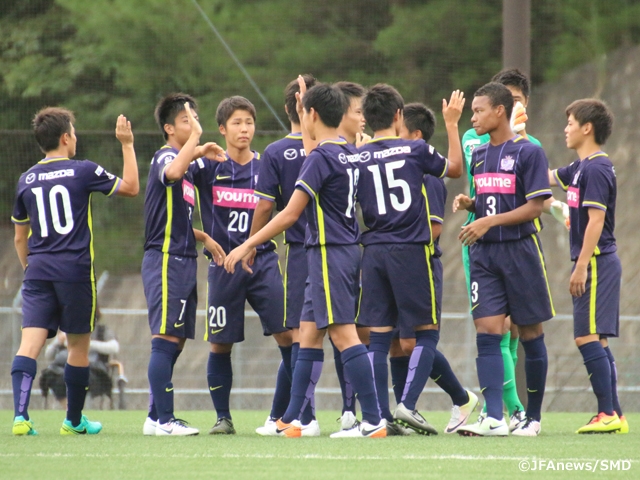 Although the team considers the coming match equal to any other of the 18 games, coach Sawada noted: 'we'd like to win the title in the WEST by ourselves, as we can do so by winning or drawing the next match.' If they succeed in earning at least a point, Hiroshima will win the Premier League WEST for the third time since 2012.
Kobe Koryo will come out strong when they meet Hiroshima at home. During the break in the Premier League, they suffered a defeat in the prefectural qualifying semi-final of the All-Japan High School Soccer Championship. Coach TANI Junichi later noted: 'the players were demoralised by that unexpected result'. However, as the team had a strong chance of staying in the league with three more matches remaining in the season, the players managed to refresh themselves. All the unregistered third-grade players came to see the match against Kyoto Sanga F.C. U-18 (Kyoto) in the previous week in order to support and show the unity of the team.
Kobe Koryo lost to Hiroshima last time 3-1 on matchday 8. Coach Tani expects a tough match: 'by watching match videos, I believe the level of systematic plays, combinations, and individual skills of Hiroshima is top-class'. However, there will still be a chance if the players perform tenaciously. They will defend solidly as a team, waiting for an opportunity to score, which has always been their strategy.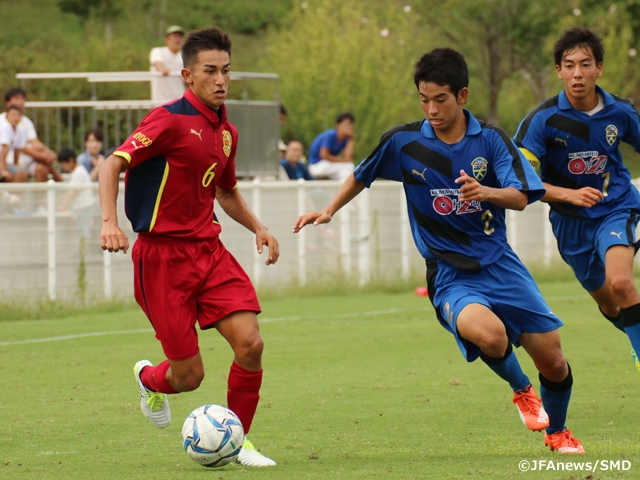 Coaches' and Players' Comments
TANI Junichi, Coach (Kobe Koryo Gakuen High School)
We managed to earn one point against Kyoto in the first game after a break. Although I expect another tough game just like the one in the previous week, we're really keen on earning more than one point this time in order to stay in the league. Thanks to the previous third-grade players' performance last year, we're having this wonderful opportunity here. The current third graders also seem to desire that the younger players will play in the same big league next year. I'm surprised by the strong unity of the team, which they have been developing. We'll try our hardest to remain in the league.
TANIGO Hiroto (Kobe Koryo Gakuen High School)
Hiroshima are a potent team without many weaknesses. We have to play the entire match resiliently, and when we rob the ball we need to make quick transitions to attack the opponents' goal. Including the people who support us, we have to compete as one united team. Personally, even when we have long stretches where the opponents control the match, I will try to send in a pass that directly links to scoring. Hiroshima are looking to claim the title, while we are facing relegation. We cannot allow them to exploit our weaknesses. We will do our best to remain in the Premier League.
SAWADA Kentaro, Coach (Sanfrecce Hiroshima FC Youth)
I believe we're in the lead only because we have been steadily performing our best. So we'd like to play a good game again on this matchday to become the top in the WEST. Our attitude towards winning the match stays the same. Kobe Koryo can aggressively initiate attacks. They pass the ball around in a group and easily break through our defence if we try to steal the ball without thinking. Since they don't play carelessly, I told the players: 'we must prepare well, otherwise we will have an unexpected result'.
IYOHA Osamu Henry (Sanfrecce Hiroshima FC Youth)
We played against Kobe Koryo in Hiroshima in July. Due to our loose defence, we struggled in the match. I hope to fix our problems from that game to perform better. There was not a single game, which was easy for us, in the Premier League, and I'll expect the same for the two remaining matches. I'd like to prepare well for this weekend, focusing on each coming game. I believe that we can achieve a positive result by playing as a united team.
Kobe Koryo Gakuen High School vs Sanfrecce Hiroshima FC Youth
Date:Sunday 4 December (Kick-off 11:00)
Venue:Miki Sogo Bosai Park Athletic Field
Directions:From Midorigaoka Station (Shintetsu Ao Line) take Shinki Zone Bus Bosai-Koen Line and get off at 'Bosai-Koen Mae'
Premier League WEST Matchday 17
Saturday 3 December
11:00 Oita Trinita U-18 vs Higashi Fukuoka High School(Oita Sports Park Ground)
12:00 Nagoya Grampus U18 vs Gamba Osaka Youth(Paloma Mizuho Stadium)
Sunday 4 December
13:00 Ozu High School vs Vissel Kobe U-18(Ozu Athletic Park Stadium)
15:00 Cerezo Osaka U-18 vs Kyoto Sanga F.C. U-18(Cerezo OSAKA Maishima Ground)
Oita Trinita U-18 (Oita) at the bottom will play a home game against another Kyushu team, Higashi Fukuoka High School (Fukuoka). The team need to earn three points this week, since they are five points behind Kobe Koryo in eighth place with only two games remaining.

Nagoya Grampus U18 (Aichi) in ninth place can draw a match to keep their hope alive of staying in the League until the last matchday, depending on the match result of Kobe Koryo. However, they are looking to put pressure on the other rivals, who are competing to remain in the league, by beating Gamba Osaka Youth (Osaka) this weekend.

Ozu High School (Kumamoto) in seventh place cannot feel relaxed. If Nagoya succeed in earning three points on Saturday, the match against Vissel Kobe U-18 (Hyogo) on Sunday will means a lot to the team.

Cerezo Osaka U-18 (Osaka) in second place will meet Kyoto Sanga F.C. U-18 (Kyoto). Although their chances of winning the championship are very slim, they will perform steadily to prepare for the final game against Hiroshima the following week.
JFA-TV (Japanese version only)
Highlights from Matchday 16
Vote for the best goal of the season - U-18 Takamado Prince Premier League (Japanese version only)